Why Eric Trump's Latest Criticism Of Biden Has Twitter Astonished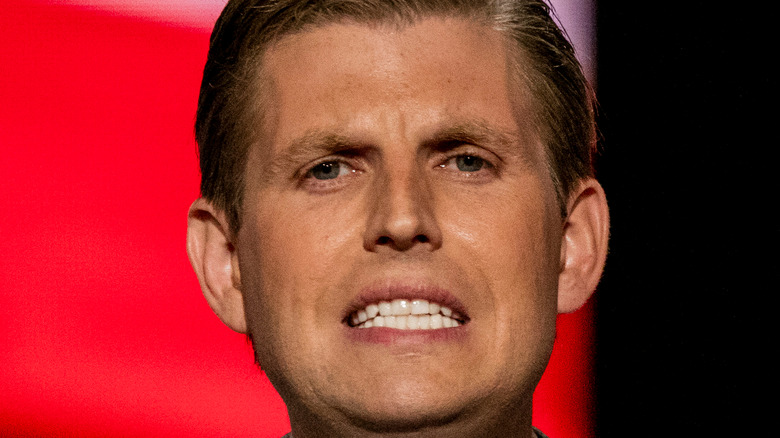 mark reinstein/Shutterstock
Eric Trump seemingly always has something to say about the current Biden administration. The second oldest son of former president Donald Trump has shown time and time again that he has no problem making the rounds on Fox News and other conservative news networks to voice his opinion on Joe Biden, Kamala Harris, and well, pretty much any other Democrat or Republican who disagrees with his views.
Exhibit A: in May 2021, while appearing on Fox News and speaking with host Sean Hannity, Eric claimed that there was actually no one in the White House and that no one in the Biden administration was traveling to the border, overseas, or anywhere for that matter. "There's no fight coming out of the White House," he falsely claimed (via PolitiFact). "There's no one there. They don't travel. They don't go down to the border. They don't go overseas."
And that wasn't the first — or as we'll find out, the last time — Eric complained about Biden not being in the White House. During a Fox News appearance on October 18, 2021, he made another outlandish claim about Biden's "absence" from the White House while he was spending time in his home state of Delaware, and social media users on Twitter did not hold back when it came to ripping the former one-term president's son to shreds.
Eric Trump's quip about Joe Biden has Twitter in a tizzy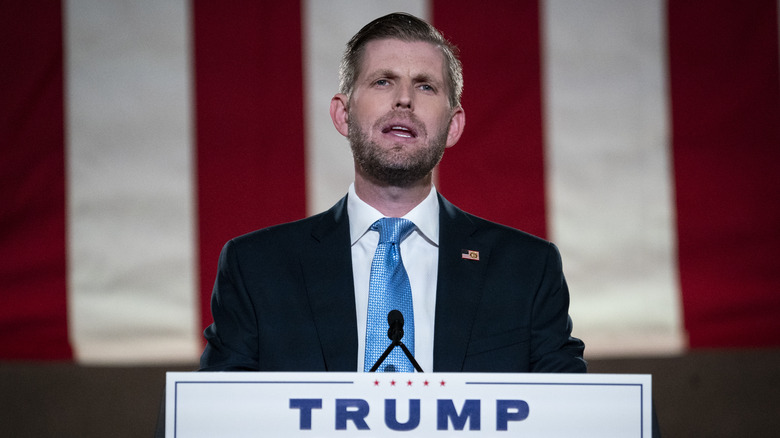 Drew Angerer/Getty Images
During an October 18, 2021 appearance on Fox News, Eric Trump offered his opinion on Joe Biden not being in the White House, telling viewers, "Afghanistan is falling, guess what? You have President Biden, who is in Delaware, not solving that problem," (via Twitter). Of course, Twitter users didn't waste any time pointing out that while his father was president, he spent much of his time golfing and/or visiting Trump-owned properties. "His father golfed like literally EVERY WEEKEND. Holy guacamole," one social media user wrote, while another agreed, adding, "Damn was Eric even a wake during his dad presidency? There are times when you just need to say nothing."
According to The Washington Post, Donald Trump visited Trump-owned properties, on average, about once every 3.4 days, and played golf on nearly most of those visits — something that he had notably criticized former president Barack Obama for, especially during times of tragedy and disaster, even though Donald golfed through much of the coronavirus pandemic while downplaying it. "He may play more golf than any human being in America, and I'm not sure that's good for the president," Donald said about Obama in 2015 (via CNN).
In August 2020, Citizens for Ethics also reported that the former "Apprentice" star had made his 500th visit to a Trump property that month, and per their numbers, had spent nearly a third of his presidency out of the White House and on Trump properties.