The Delicious Candy You Need To Be The Most Popular House On Halloween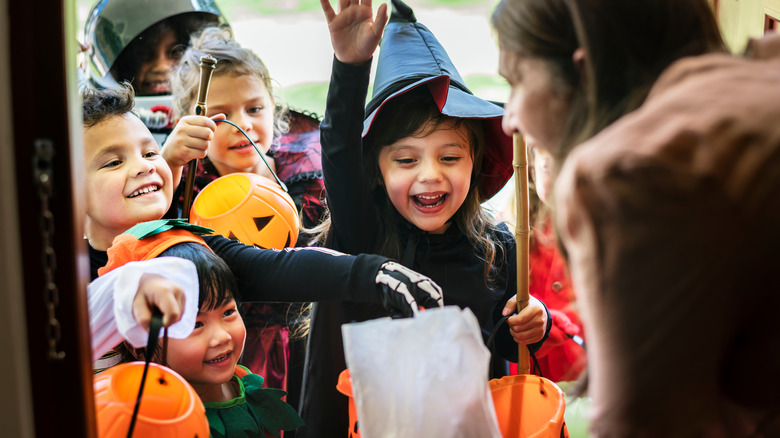 Rawpixel.com/Shutterstock
Many of us are big fans of candy — so much so that we've ranked the worst Halloween candies and delved into discovering the best and worst Halloween candy in each state. Of course, we've also looked into why we give away candy on Halloween in the first place. In any case, who doesn't love a perfect, bite-sized sweet treat?
The only issue when it comes to Halloween candy is determining which one to hand out. Everyone has different tastes, so you'll never be able to please all trick-or-treaters. But at the same time, some candies are definitely more popular than others. According to Candy Industry, popular candies to hand out on Halloween include packs of Hot Tamales, candy corn, Tootsie Pops, and Hershey Kisses. These are staples in stores, too, and kids grow up with these. It makes sense that these familiar treats would be popular among both adults handing out candy and the children accepting them on their trick-or-treating excursions.
Still, a few candy options reign supreme for children, and giving these out will make your house the hotspot this year.
Peanut butter cups are a fave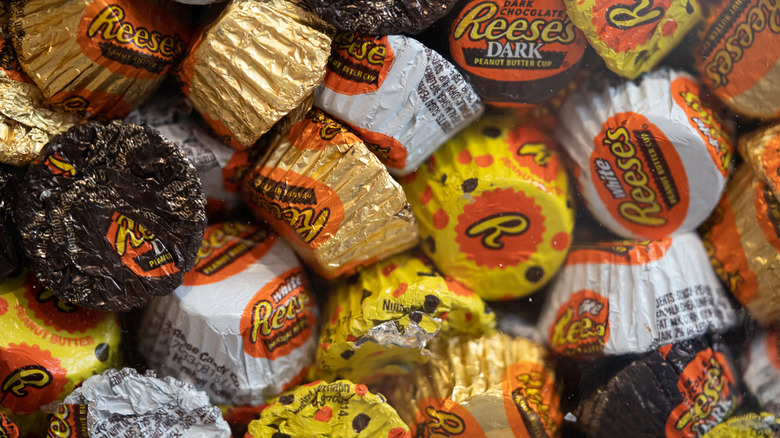 George Sheldon/Shutterstock
While all candy is good candy, children associate special memories and emotions with certain candies, making them a cut above the rest on Halloween night. Plus, kids talk, so if you're giving out the right candy, you can expect to see a lot more trick-or-treaters approaching your door.
According to Forbes, the top three candies that everyone loves on Halloween are M&M's, Skittles, and Reese's Cups in the No. 1 spot. M&M's and Skittles are easy to pop into your mouth while relaxing or on the go, while Reese's Peanut Butter Cups are nostalgic as well as tantalizingly delicious (we're Team Freezer for those bad boys). These numbers come from a poll hosted by Candystore.com, but as Forbes notes, Reese's Cups didn't win the most states despite being the favorite of the nation as a whole. That title goes to both Sour Patch Kids and Starburst, which are popular Halloween handouts, too.
Finally, if you want to ensure your house is everyone's favorite this year, you can also diversify your candy bowl with Cookies 'n' Creme Fangs, Cookies & Creme Twix bars, Peanut Brownie Snickers, and White Chocolate Pumpkin Pie Dove Chocolates (per Good Housekeeping). These are all delicious and will no doubt impress the kiddos on your block.