What To Order At A Fast Food Restaurant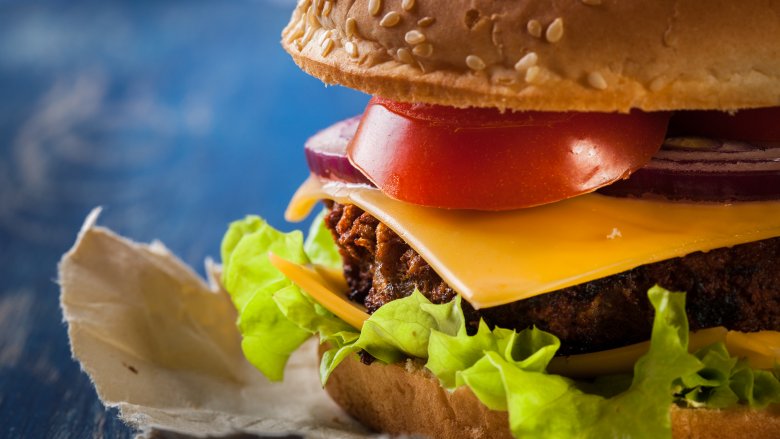 Shutterstock
As a dietitian and health coach working with busy people who have crazy schedules, I spend lots of time discussing how to keep things real with their diet, even when they're on the go. We talk about healthy snacks to pack for trips or stash at work, what to order in restaurants, and how to navigate various situations where they may or may not have control over what's available. That means I scope out lots of menus! It can be tempting to admit defeat when fast food is the only option, but it's totally possible to find foods that won't derail your healthy-eating efforts. I scoured the menus and nutrition facts at some top fast food chains so you don't have to — here are some of my top picks.
McDonald's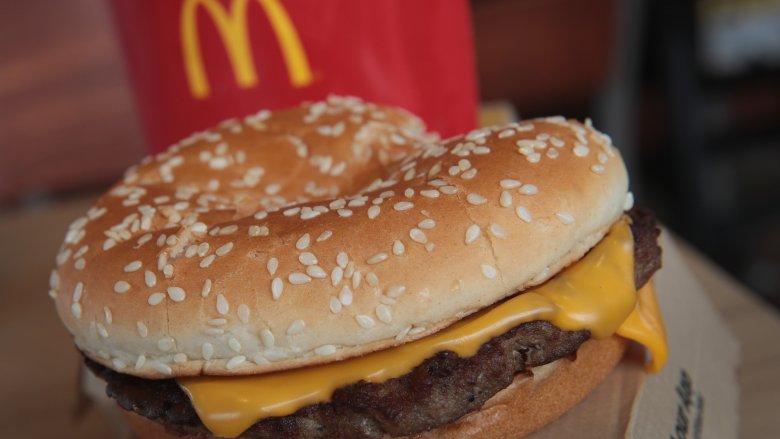 Getty Images
Skip the Supersized stuff and you can actually make some balanced choices here. For breakfast, try the Egg White Delight McMuffin. This satisfying breakfast sandwich, which includes egg white, Canadian bacon, and white cheddar cheese, will only set you back 260 calories, but provides 16 grams of protein.
A plain hamburger has only 250 calories but 13 grams of protein to keep you satisfied. If you need a comparison, a Big Mac from McDonald's has 540 calories. If you just can't bear a plain burger, know that you can minimize the damage by nixing that Big Mac Sauce (saves 90 calories) or the cheese (saves 50 calories). Add a side salad instead of fries to make it a balanced meal. Before dressing, it adds just 15 calories. If you decide to go the entree salad route, try the Southwest Grilled Chicken Salad, which has 27 grams of protein and 7 grams of fiber for 350 calories. Just keep in mind that dressing packets may hold two servings, so use half.
For dessert, try Apple Slices or Cuties (mandarin oranges). If it's ice cream or bust, a Kiddie Vanilla Cone only has 45 calories — just the right fix for when you need a little something sweet that won't send you into a sugar coma.
​Wendy's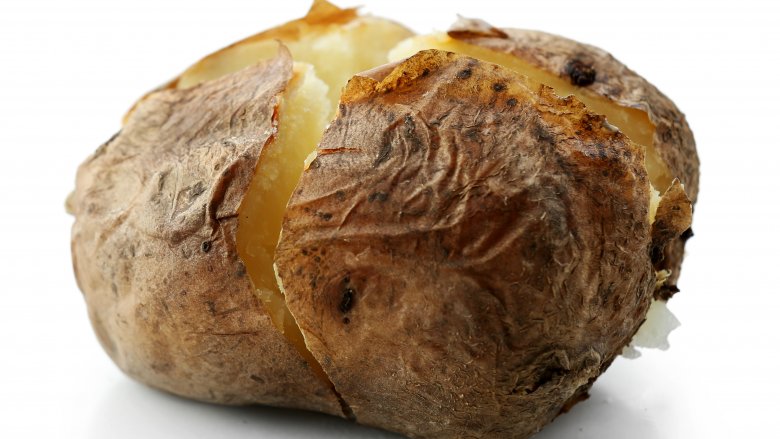 Shutterstock
Surprisingly, the home of the Baconator actually has some legitimately diet-friendly choices. Instead of a burger or fried chicken sandwich, order a Grilled Chicken Sandwich, which has just 360 calories, but 38 grams of satiating protein, or try the Grilled Chicken Wrap, which has 270 calories, and 20 grams of protein.
The chain also offers several salads in full and half-sizes. A Power Mediterranean Chicken Salad has grilled chicken, feta, hummus, and quinoa and provides 39 grams of protein and 8 grams of fiber for its 480 calories. A 260-calorie Garden Side Salad also makes a decent choice if you just want to get your greens fix.
The baked potato gets the "who knew?" award for healthiest things you can find at Wendy's. Yes, I'm a dietitian, and yes, I eat potatoes. They're actually a good source of important nutrients and, in a sea of processed fast food junk, a breath of fresh air. They also happen to be a great gluten-free and grain-free complex carb option. A Plain Baked Potato has 270 calories, 7 grams fiber and 7 grams protein. It's also packed with potassium (1560 milligrams, to be exact), which can help mitigate bloating related to high intake of sodium-rich foods.You could also make it a meal and go for the Broccoli & Cheddar Baked Potato, which is a convenient way to sneak in some veggies. You'll get 380 calories, 8 grams fiber, and 13 grams protein.
The Chili at Wendy's is also a decent option, thanks to its combo of protein and carbs. A small has 170 calories, 4 grams fiber, and 15 grams protein, and a large offers up 5 grams fiber and 23 grams protein, for its 250 calories.
For a sweet fix, try the 35-calorie apple slices, but if you must have a Frosty, order a junior size, which will only set you back about 200 calories.
Taco Bell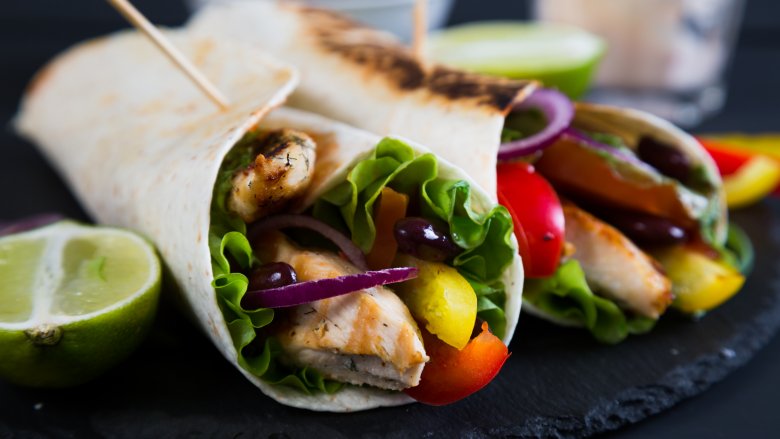 Shutterstock
Let's start with the positive: it's fairly easy to practice portion control at Taco Bell as many of their menu items are meant to be mixed and matched — the key is to choose smartly and go for simpler stuff. You can also customize to suit your needs. The negative? Tons of sodium and minimal fiber. Not to mention that some of the more, um, creative items sound like stuff you'd think up while drunk.
That said, you can find some more moderate options here. A Power Menu Bowl is a balanced, customizable meal that starts with a 480-calorie combo of rice, black beans, lettuce, pico de gallo, reduced fat sour cream, guacamole, and cheese.
If you're doing tacos, go for a Soft Chicken Taco. For 170 calories, you'll get 10 grams protein. On the meatless side, an order of Black Beans and Rice from Taco Bell has 190 calories, 6 grams fiber, and 6 grams protein. For 390 calories, a Black Bean Burrito boasts 14 grams protein, and 8 grams fiber.
Chipotle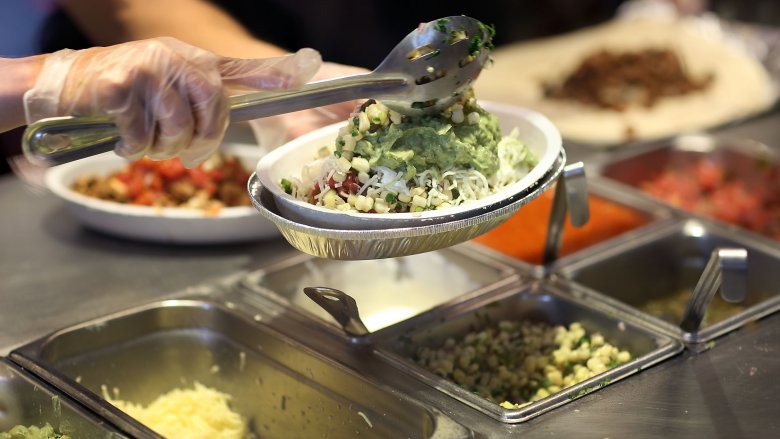 Getty Images
Taking advantage of the ability to customize your order at Chipotle makes this chain a lot less intimidating than many others where you may have to know what to ask for if you're not as familiar with what's available.
Your best bet? Go for a salad. Pick a protein like chicken (180 calories and 32 grams protein), steak (150 calories, 21 grams protein), or black beans (provides 7 grams fiber and 8 grams protein for its 150 calories). Pile on the fajita veggies (20 calories per serving), and top with fresh tomato salsa (25 calories). Choose one higher-cal add-on like cheese (110 calories and 6 grams protein), sour cream (110 calories), or guac (230 calories and 9 grams fiber) instead of all three.
If you get a Burrito Bowl, choose between beans and rice instead of having both to keep carbs in check. If you're doing rice, take advantage of the brown rice option, which has similar calories but more fiber.
Subway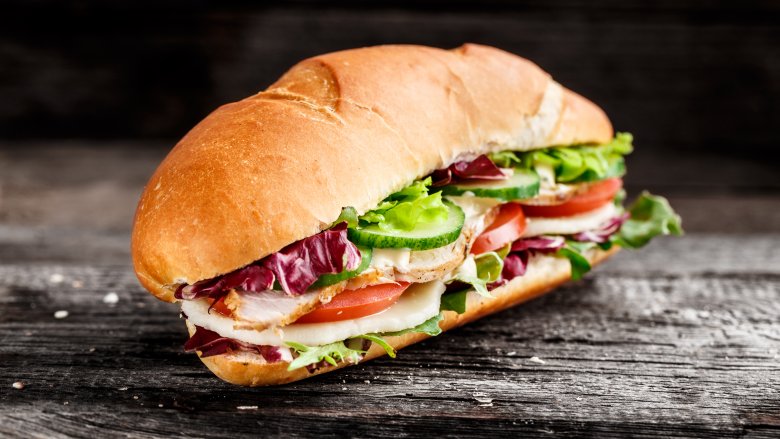 Shutterstock
Subway offers a Fresh Fit menu of 6-inch sandwiches with less than 500 calories. Just keep in mind that's before condiments and add-ons like cheese, bacon, and other veggies. Try the Rotisserie-Style Chicken, which has a little less sodium than the ham, roast beef, and turkey options. You'll get about 350 calories, 5 grams of filling fiber, and 29 grams of protein.
If you're not feeling the bread, go for a salad. You'll get plenty of fiber and protein to help you stay satisfied. Just skip the salty dressings and go with the oil & vinegar option.
For a decent breakfast option try the 380-calorie Egg & Cheese breakfast sandwich, which provides 19 grams protein.
Panera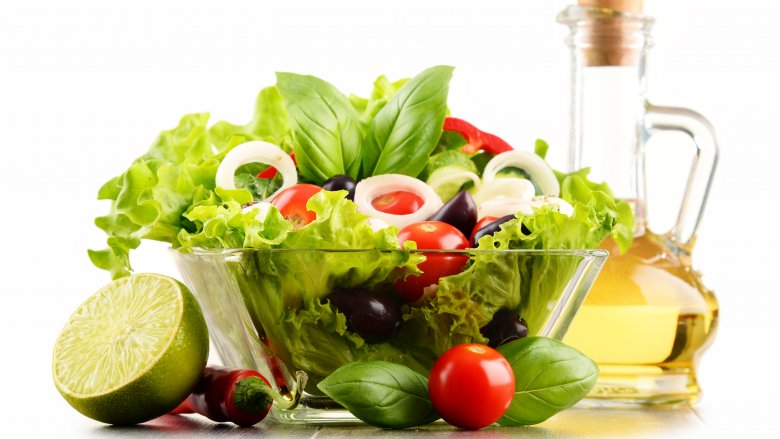 Shutterstock
I'm always relieved to find a Panera when traveling — they have lots of healthy items to choose from. Also great: Panera has put a lot of focus on creating foods that are free of artificial preservatives, flavors or sweeteners and colors from artificial sources.
To get the most nutritional bang for your breakfast buck, try the Avocado, Spinach, and Egg White Breakfast Sandwich, which comes on a whole grain bagel flat. For 410 calories, you'll get 12 grams protein, and 7 grams of fiber.
The chain has a solid offering of salads that are easily customizable. If you're super-hungry, the Green Goddess Cobb with Chicken provides 36 grams protein and 7 grams fiber so those 550 calories will actually fill you up. It's also gluten-free. The Modern Greek Salad, which has almonds and quinoa, is a great vegetarian option. For a full-size, those 510 calories come complete with 11 grams protein and 8 grams fiber. The Seasonal Greens Salad makes a great side or snack option that will set you back 180 calories while providing 4 grams each fiber and protein and only 150 mg of sodium.
While all the soups are salty, if you're going for staying power, the Black Bean soup (another gluten-free choice) will keep you satisfied, thanks to its 17 grams fiber (that's almost half your daily needs!) and 7 grams protein.
If you want a sandwich, try the "you pick two" option, which lets you choose from a half- sandwich, half-salad and cup of soup. Choose an apple as your side to have for a snack later.
If you want something sweet, try the 60-calorie Summer Fruit Cup. Skip the juice and blended drinks and opt for coffee, tea, or seltzer, or check out the new lower-sugar and unsweetened iced teas, frescas, and lemonades at the fountains.
Dunkin' Donuts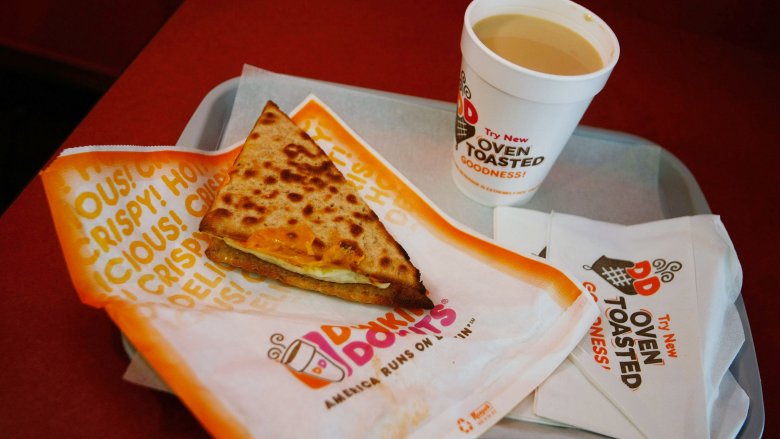 Getty Images
We usually think of sweet stuff when it comes to Dunkin' Donuts, but they actually have a variety of savory choices and a DD Smart menu with some lesser-evil choices — meaning they're a little lower in calories, fat, sugar, and/or sodium.
Sneak in some vegetables (not much, but hey, sometimes every little bit helps) with a 330-calorie Veggie Egg White Flatbread or keep it simple with an Egg & Cheese on an English Muffin, a 300-calorie combo that provides 7 grams of fiber and 13 grams of protein. The Wake-Up Wraps come in a few different combinations of egg and meat, ranging from 180-280 calories and 8-18 grams of protein.
Oatmeal with dried fruit may sound like a healthy option, but this one is packed with sugar (40 grams!). Sure, it has a lot of fiber and some of that sugar is naturally occurring, but this offers minimal protein. Honestly, you may as well just have a donut for that sugar load. To put that in perspective, a Boston Creme Donut from Dunkin Donuts has 300 calories and 37 grams of sugar.
To drink, skip the blended stuff and go for a plain coffee or an unsweetened cappuccino or latte.
In-N-Out Burger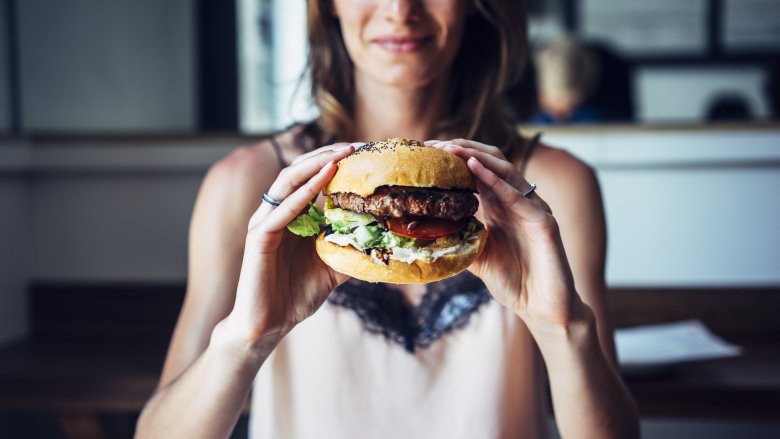 Shutterstock
The In-N-Out Burger menu isn't particularly long, but it's possible to make some moderate choices here. Skipping the classic spread special sauce will save you 80 calories right off the bat so you can have your 310-calorie hamburger (or 400-calorie cheeseburger) and eat it too. For a lower-carb option, you can opt to have your burger "Protein Style"—aka on lettuce instead of a bun. To keep portions realistic, stick with one patty instead of two.
Sonic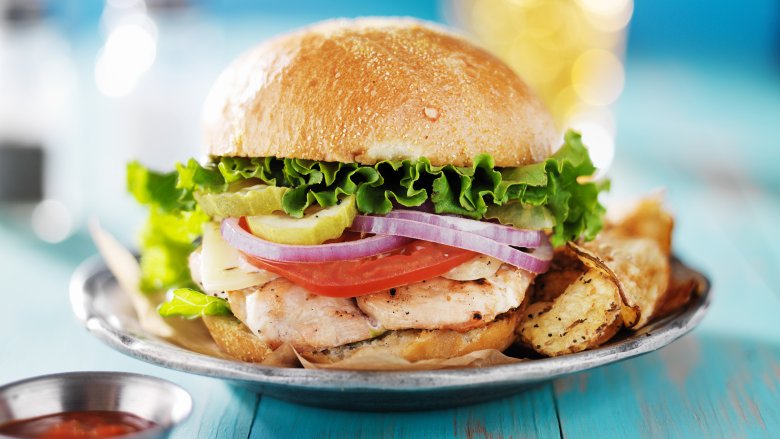 Shutterstock
The menu at Sonic can be overwhelming, but it is possible to find some diet-friendly options. The Jr. Burger, Jr. Deluxe Burger and Cheeseburger are all under 450 calories and have 16-20 grams of protein. A 450-calorie Classic Grilled Chicken Sandwich provides 16 grams protein, and veggie burgers are also available for just under 500 calories. When it comes to sandwich toppings, pick one high-cal add-on like cheese, mayo or avocado.
At breakfast, scoop up a Jr. Breakfast Burrito. For 280 calories, you'll get 12 grams of protein.
Sidestep the fries and tater tots, but if you absolutely have to have them, go for the mini size, which will only set you back about 130 calories.
While you'd be hard-pressed to find a shake or sundae under 500 calories (basically a meal right there), remember that you can split with a pal. Want your own? A 250-calorie vanilla cone is a more moderate option.
Keep drinks simple by sticking with water or regular coffee. Sorry, Slushie fans.
Chick-fil-A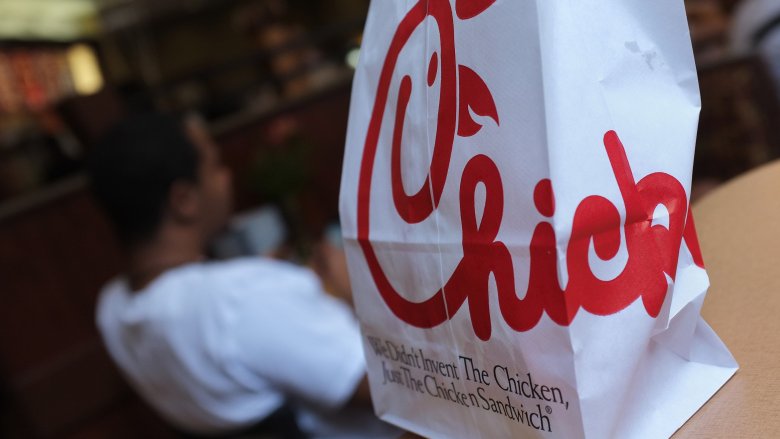 Getty Images
Like many fast food chains, Chick-fil-A has been playing up its efforts to source responsibly and eliminate use of antibiotics and additives like artificial colorings and flavorings. From a nutritional standpoint, you can also find some options that won't be a dietary deal-breaker.
A Grilled Market Salad provides 200 calories, 25 grams protein, and 4 grams fiber. Just keep in mind that dressing will add additional calories, fat, and sodium. If you're in the mood for a sandwich, try the 310-calorie Grilled Chicken Sandwich, which has 25 grams of protein and 3 grams of fiber.
An order of Grilled Nuggets (I love that this is a thing) provides 25 grams of protein and 140 calories — a perfect high-protein snack. An 80-calorie Side Salad makes a decent pairing and provides 5 grams of protein and 3 of grams fiber. The Superfood Side of leafy greens with dried cherries and almonds, at 190-calories plus 4 grams of fiber and 3 grams of protein, makes a convenient snack or side.
For breakfast, try a 300-calorie Egg White Grill sandwich. It's got 25 grams of protein.
Waffle House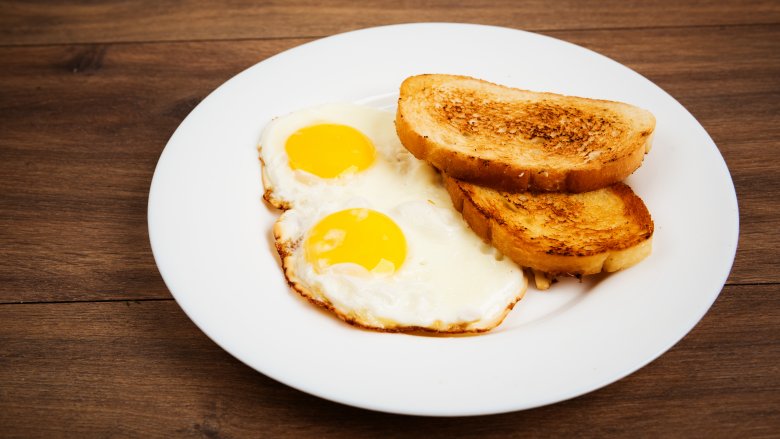 Shutterstock
To keep things healthy at a Waffle House, stick with whole-food breakfast basics and pass on the waffles. For example, 2 eggs with whole wheat toast and sliced tomatoes provides a protein-rich balanced meal that's just under 400 calories. Go slow with hash browns and add-ons like bacon and other breakfast meats. To drink, say "no thanks" to juice and sip coffee or tea.
For a lighter lunch or dinner option, try the Grilled Chicken Salad, which has 170 calories before you add dressing. A Grilled Chicken Dinner platter is also a decent option at 570 calories. It comes with a breast of chicken, a side salad, hash browns, and Texas toast. To keep the meal balanced, choose between the hash browns and toast instead of having both.
Chili is another great option. Bowls start at 280 calories, and you can add on topping like grilled tomato or sauteed onions.
KFC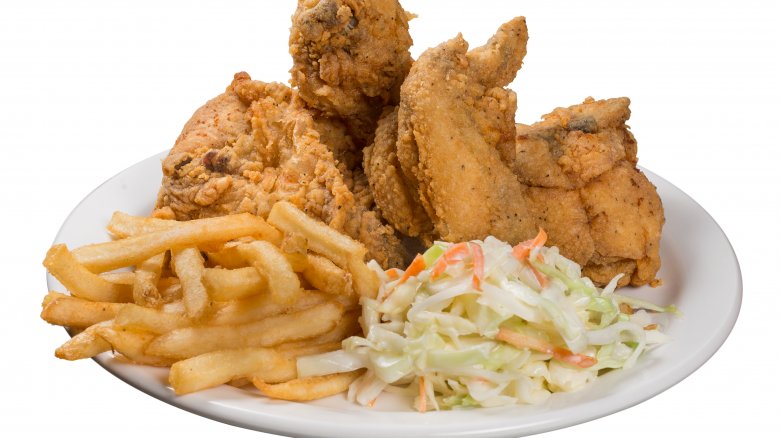 Shutterstock
I'm not gonna lie, this one is tricky. However, it's not impossible to cobble together a decent meal at Kentucky Fried Chicken. You just might have to skip the fried chicken part. Make a meal out of sides. Try these:
A serving of BBQ Baked Beans provides 240 calories, 9 grams of fiber, and 14 grams of protein. A Green Beans Side has 25 calories, 2 grams of fiber, and 1 gram of protein. Corn on the Cob side has 70 calories, 3 grams of fiber, and 2 grams of protein. Altogether, you'll get a balanced meal that provides 335 calories, 14 grams fiber, and 17 grams protein — not too shabby, huh?
If you're craving chicken, opt for grilled. A Grilled Chicken Breast provides 210 calories (compared to 390 calories in the original recipe) and 38 grams protein. A thigh has 150 calories and 19 grams protein.
You also have the option of a 15-calorie (before dressing) salad if you want to get in some greens.
Aim for balance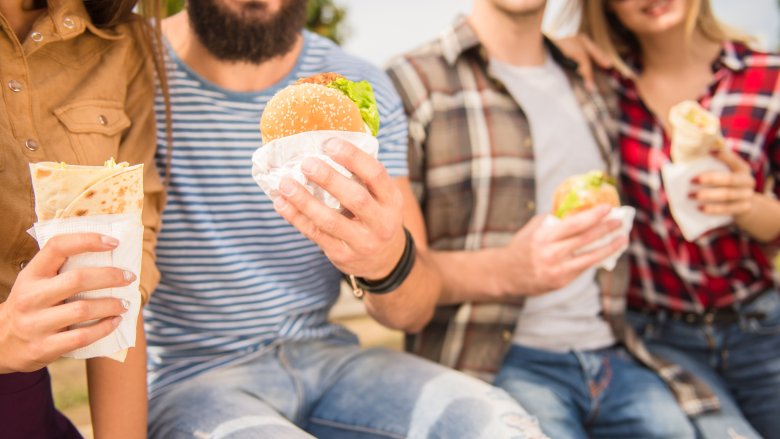 Shutterstock
I know fast food is not a perfect choice and likely outside the norm of what you'd eat in your everyday life. Make "better" your goal instead of putting pressure on yourself to track down an organic acai bowl on a desert highway. Aim for a balanced meal that provides a combination of protein, carbs, and fat. Prioritize protein and veggies, and keep in mind that higher fiber foods like beans, whole grains, vegetables, fruit, nuts, and seeds will help your stay full for longer than sweet stuff and simple carbs like white bread and rice.
Because most fast food is super-salty, try to limit other salty foods that day. Sugar is another thing to minimize. Sure, it tastes good in the moment, but it can leave you feeling crummy shortly after — and sweet stuff doesn't tend to fill us up. Having a lot of sugar in one sitting can throw off our blood sugar, and set us up for a rapid crash, complete with mood swings and serious hanger management issues.
Smart sips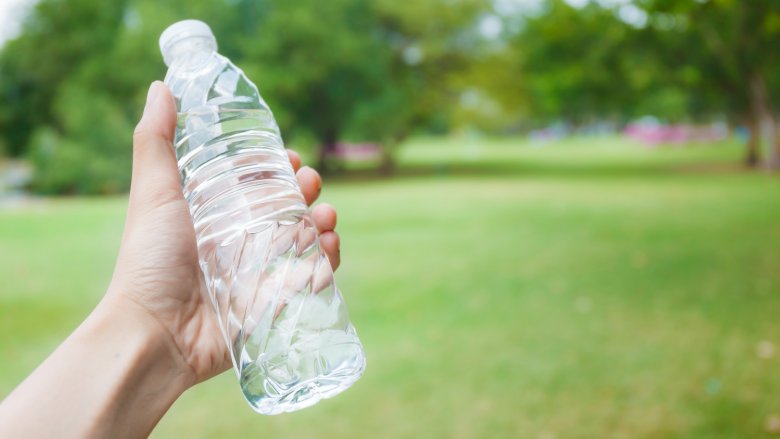 Shutterstock
Make water your main beverage. Staying hydrated can help prevent and even improve sodium-related bloating. Seltzer is another decent choice. Skip soda and other sweetened drinks. That includes juice. Even though it's naturally occurring sugar, it's still a big load for your body to process in one shot, as it's essentially the sugar from that fruit without any fiber to buffer the breakdown.
When it comes to coffee drinks, skip the sweet, frothy, fancy stuff and stick with regular coffee or iced coffee. If you're worried about having to pee every ten seconds (not convenient if you're traveling), be aware that caffeine has a diuretic effect. Enjoy a cup, but know that having a lot will make you feel like you need to stop more often.
Go slow with diet beverages, too. Yes, they have less calories, but their super-sweetness trains the tastebuds to expect that, making it hard to be satisfied with naturally sweet food. That's not even taking into account all the "how do I even pronounce that" on the ingredients lists. To put it simply: while diet sodas may not have been proven to be "bad," they haven't been proven to be actively good for us either.
But what if you *really* want that milkshake?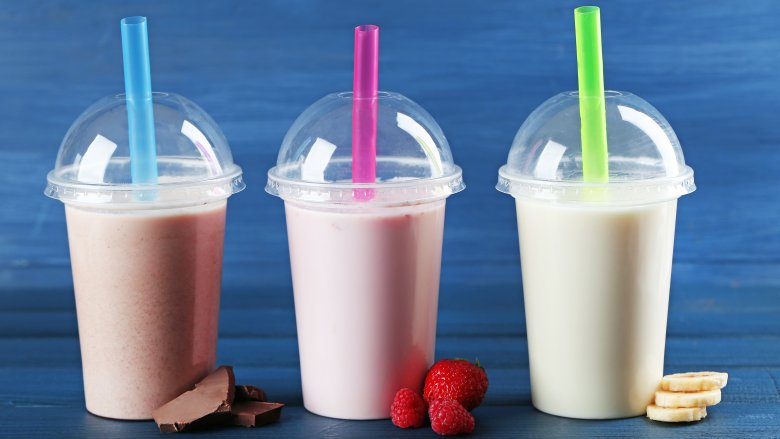 Shutterstock
If you just read this and are thinking, "Gee, that's a lot of grilled chicken and lettuce," know that you're not alone. It's totally okay to enjoy a treat once in a while. An overall healthy diet definitely has room for an occasional indulgence. In fact, it could help you stay on track for the long haul by preventing you from feeling deprived. The key is to be selective about what you indulge in and when. For example, you can make room for an order of fries by cutting back a serving of carbs somewhere else in your day or if you know you can't have a burger without a shake, make it a once-every-few-months thing you can savor. Enjoy and then move on with your usual healthy habits starting with the next meal.