Is This How January 6 Protest Organizers Really Feel About Donald Trump Today?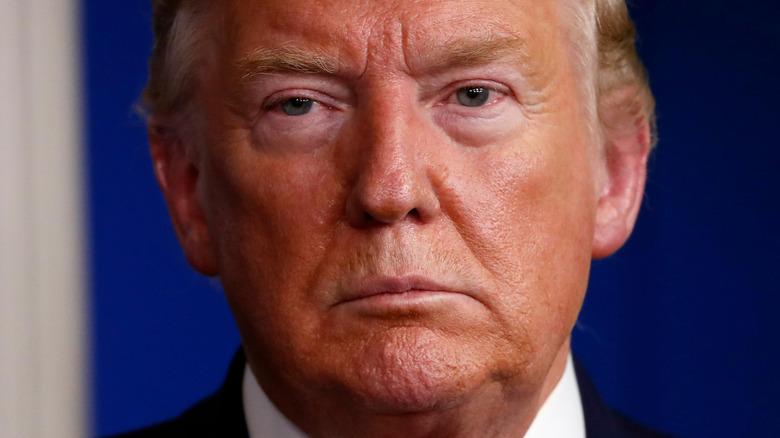 Naresh777/Shutterstock
Months after rioters broke into and overran the U.S. Capitol on January 6, 2021, details surrounding the insurrection have started to emerge. Thanks to the efforts of the House's bipartisan committee, witnesses who say they were involved in election-related protests across different states have come forward, linking both members of the House and senior members of the Trump Administration to demonstrations which began not long after November 3, 2020, and which happened all the way up to the insurrection on January 6.
In an account published in Rolling Stone, two of the witnesses who say they were involved in GOP attempts to discredit Joe Biden's victory say they took part in "dozens" of meetings — including those connected with the March for Trump and Stop the Steal rallies — and that they had been talking to different members of the House, as well as with White House Chief of Staff Mark Meadows all throughout. 
They even pointed to one House member, Arizona Republican Paul Gosar, who had allegedly indicated that they would get a blanket pardon for their actions. "I was just going over the list of pardons and we just wanted to tell you guys how much we appreciate all the hard work you've been doing," Gosar reportedly told the organizer.
Protests organizers are disappointed in Trump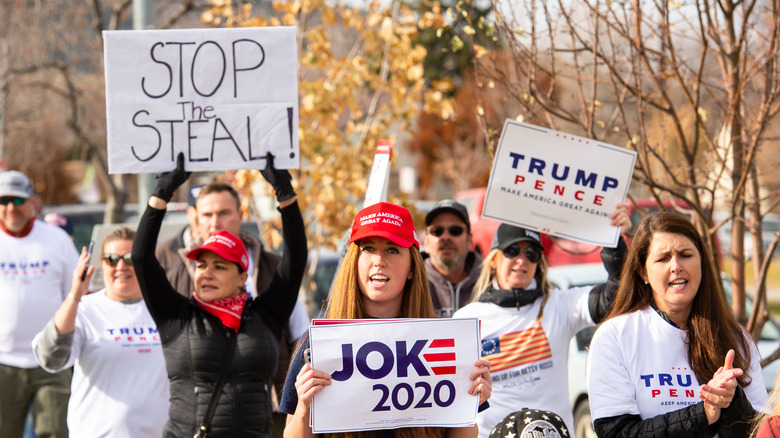 Lyonstock/Shutterstock
The two anonymous witnesses say they were most disappointed with former President Donald Trump, who they called one of the "bad actors set out to cause chaos." One said: "The reason I'm talking to the committee and the reason it's so important is that — despite Republicans refusing to participate ... this commission's all we got as far as being able to uncover the truth about what happened at the Capitol that day." The same witness pinpointed Trump's call to march on the Capitol as his "breaking point," while the other said, "I do kind of feel abandoned by Trump ... I'm actually pretty pi**ed about it and I'm pi**ed at him" (via Rolling Stone).  
The two aren't the only ones who have turned on the former president. Couy Griffin, who founded a group called Cowboys for Trump, also accused the former president of abandoning his supporters. Griffin was one of those who breached the U.S. Capitol and now faces charges in connection with his involvement in the January 6 insurrection. He said: "Mr. President, you've been in charge of the law for four years. At the end of your four year time, the only ones locked up were men like me, and others like me, that have stood by the president the strongest" (via Newsweek).
Contradictions have emerged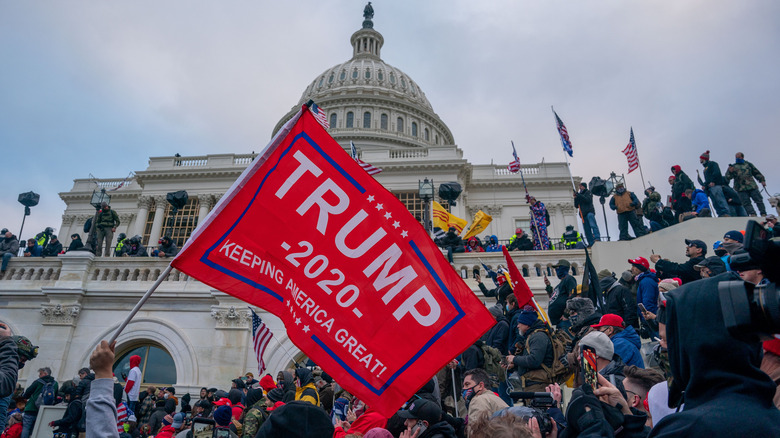 Thomas Hengge/Shutterstock
Recent reports coming out of the January 6 commission investigations thus far contradict comments made by FBI officials in August 2021. At that time, they told Reuters that there was "scant evidence" that the attacks were planned and coordinated either by far-right groups or those affiliated with Donald Trump. One FBI official who had ties to the investigations said that of the hundreds who had been arrested, "Ninety to ninety-five percent of these are one-off cases. Then you have five percent, maybe, of these militia groups that were more closely organized. But there was no grand scheme with Roger Stone and Alex Jones and all of these people to storm the Capitol and take hostages."
It also contradicts sentiments made last week by Wyoming Rep. and Vice Chair of the January 6 committee, Liz Cheney, who said, "Based on the committee's investigation, it appears that Mr. [Steve] Bannon had substantial advance knowledge of the plans for January 6 and likely had an important role in formulating those plans ... Mr. Bannon's and Mr. Trump's privilege arguments do however appear to reveal one thing: They suggest that President Trump was personally involved in the planning and execution of January 6. And this committee will get to the bottom of that" (via CNN). Trump has since claimed that the "real insurrection happened on November 3, the presidential election" and that January 6 was a "day of protesting the fake election results" (via Newsweek).