The Truth About Freddie Freeman's Wife, Chelsea Freeman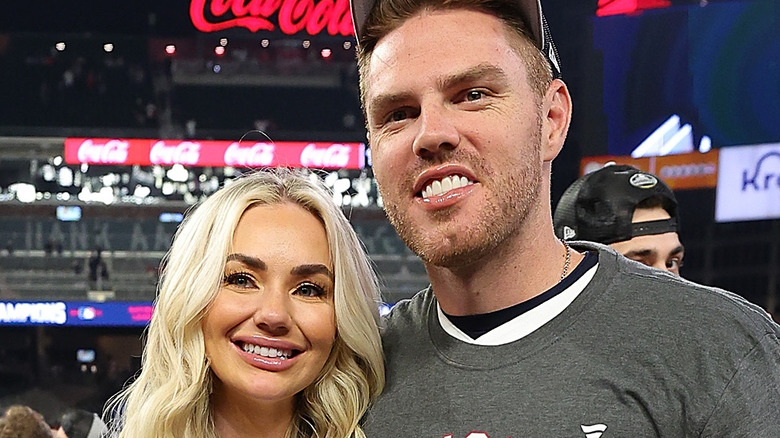 Kevin C. Cox/Getty Images
Freddie Freeman has played an important role on the Atlanta Braves roster. He has spent his entire career with the team and was named the MVP during the 2020 season. Now, the Braves are going to the World Series.
Freeman is proud of his team's accomplishment. He said, "Going from 97 losses six years ago to doing this, it's special, and to lose, in my opinion, the best player in the National League and we're up here going to the World Series without Ronald Acuña Jr. It's amazing what this team did" (via Talking Chop).
No one is more proud of Freeman than his wife, Chelsea. She told WSB-TV that she cannot put into words how proud she is of her husband. "It's been eleven years that I've been with him." She shared, "Been through the good and bad, and I just can't believe it. Honestly, I feel like I am dreaming."
Chelsea Freeman is often overshadowed by her successful husband, but she had a solid career of her own.
Chelsea Freeman used to model
According to Heavy, Chelsea Freeman used to be a successful model. While she was attending college at the University of Central Florida in 2010, she worked as a model to put herself through school. A glance at her Model Mayhem account shows that she worked for brands like Harley Davidson, Ferrari, and Black Roberts Rum. She also placed third in a Spring Break Nationals bikini competition. It seemed that her parents were not too supportive of her modeling career, so she eventually gave it up (via Players Bio).
Now, however, it seems her modeling career is a thing of the past. She is currently working as a realtor for Keller Williams Real Estate in the Atlanta area (via FanBuzz). When she's not cheering on her husband at Truist Park, she's selling homes in the surrounding area.
She's not selling little fixer-uppers. According to her real estate website, some of the homes listed are for over $5 million and are beautiful, lavish homes on large pieces of land.
The Freemans struggled to have children
The couple is loving parents to three children (via ESPN). However, their road to having them wasn't easy. After they had their first child, a son named after his father who goes by Charlie, they struggled to get pregnant again for years. After exhausting all options, they decided to try IVF treatments.
According to EIVF, the couple struggled to find answers at first. "It was a lot of doctors' appointments, a lot of procedures, a lot of tests," Chelsea said. "A lot of them by myself, because it was during the baseball season. It's all worth it in the end, but going through that ... definitely one of the hardest things mentally that you could go through."
Since things weren't working out, the couple decided to do an embryo transfer via a surrogate. However, the shock came when Chelsea got pregnant naturally. "It just wasn't happening," Freddie said. "We chose the surrogate route and nine days before the embryo transfer, I come home from a workout and Chelsea tells me she's pregnant. I was just shocked. Not something we were expecting at all."
Chelsea gave birth to a son named Brandon and their surrogate gave birth to their son Maximus. Now, they have two babies who are not technically twins, but might as well be.
"Every pregnancy and fertility journey is a little bit different for everyone, and we wanted to respect our surrogate's privacy, as well," Freddie said. "I think it's an inspirational story that we have.