Brooke And Brice Gilliam Reveal What It's Like Working With Chip And Joanna Gaines - Exclusive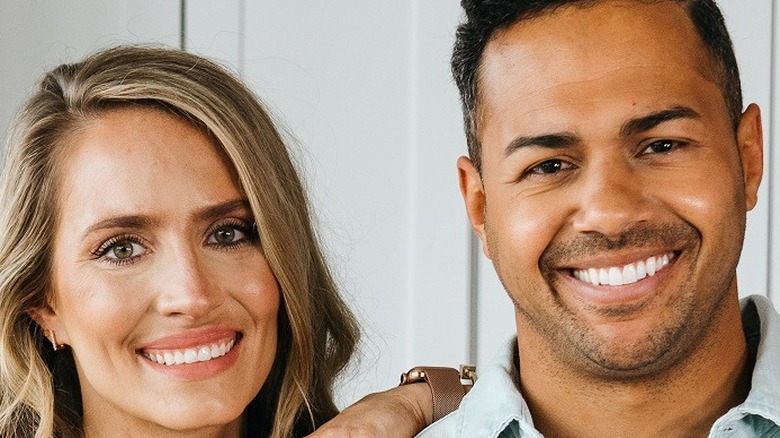 Courtesy of Magnolia Network
When Brooke and Brice Gilliam decided to build a new home, they had no idea they'd end up doing most of the work themselves. Nor did they have any idea their unplanned DIY project would eventually land them their own TV series on the Magnolia Network, "Making Modern." At first glance, the Gilliams seem to be unlikely candidates for a home-improvement show: Both already have successful careers (he's an orthodontist; she's a pharmaceutical sales rep), and before working on their house, neither of them had any professional experience in building or design, nor any particular interest in breaking into the field.
But the universe has a way of offering up surprising opportunities. And when necessity forced the Gilliams to learn the construction and design trades on the fly so they could complete their home, they discovered they were not only really good at it, but loved it. Friends and neighbors — and soon, a local TV producer — began to notice their stylish, creative work, and it wasn't long before they found themselves in new and unexpected roles as TV personalities. In this exclusive interview, they share the details of their journey — and their experience working with Chip and Joanna Gaines.
They had no idea what went into making a TV show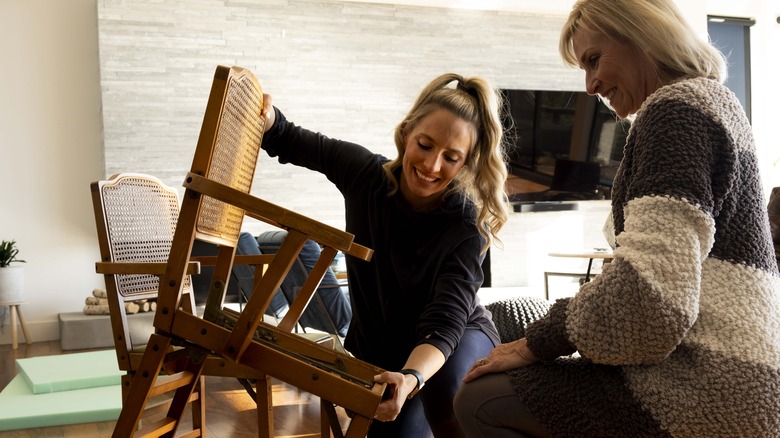 Courtesy of Magnolia Network
Being invited to join the Magnolia Network with Chip and Joanna Gaines was an exciting honor for the Gilliams. "The fact that we get to be on their network and a part of their story that they're telling, it's an amazing feeling and we're so, so grateful and thankful for the opportunity," Brooke said. 
But the experience was also a crash course in not just construction and design, but also in television production — a completely new and unfamiliar area for the Gilliams. "It's really two different businesses running at the same time. The production part has to run, but then construction also has to run simultaneously, but not together, which is really crazy," Brice said. "To be honest, we had no clue about any of the entertainment business or any of the production stuff."
But seeing the final product of the taping gave them a new understanding and appreciation for their production crew and the work they do. "It really makes you respect the people behind the scenes that don't always get a lot of credit," Brooke told us. "But they are so amazing and talented to be able to take these novices that have never been on camera and form such a beautiful show."
The Gaineses were wonderful mentors for the Gilliams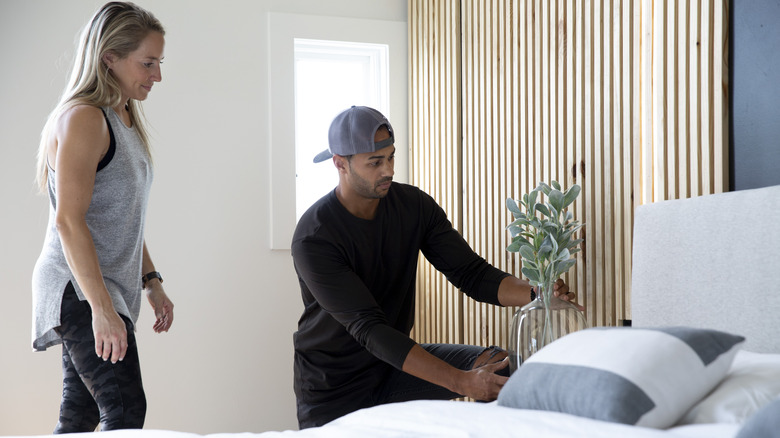 Courtesy of Magnolia Network
It can be intimidating — or worse, disappointing — for a novice in any area to meet the top players in their field: What if the people you've long admired from a distance don't like what you do? Or turn out to be terrible people themselves? While the Gilliams were thrilled by the opportunity to work with Chip and Joanna, they were even more delighted once they actually got to meet them. "They are the most humble, helpful human beings I feel like I've ever met," Brooke said. "Everyone always told me you shouldn't meet your idols, but they absolutely exceeded my expectations whenever I met them. So they are very eager to help and help us learn from the mistakes and the path that they took."
Brooke and Brice deeply appreciated the support and advice they got from the Gaineses, who seemed genuinely interested in helping them understand the ins and outs of making a TV show and ensuring their success. "They've been like mentors to us and have been really helpful," Brooke said.
Watch the full first season of Magnolia Network's "Making Modern" with Brooke and Brice exclusively streaming on discovery+ and the Magnolia app.