The Truth About Japan's Princess Mako And Her College Sweetheart Husband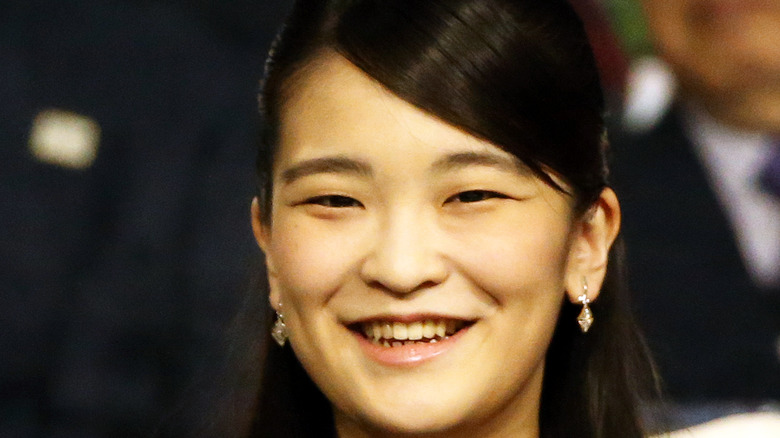 Koji Watanabe/Getty Images
We're used to seeing royal weddings as big, splashy affairs, involving live television coverage, visiting dignitaries, and endless commentary about the way the bride and groom met, fell in love, and then married.
But the wedding between Japan's Princess Mako and her college sweetheart, Kei Komuro, was about as different as that between two other college sweethearts which took place ten years ago, and on the other side of the world. There was pomp, circumstance, and ceremony that marked Prince William's wedding to Catherine Middleton on April 29, 2011 — and it was recognized as one of the most iconic moments of the 2010s. By contrast, Princess Mako's wedding took place in a registry office in Japan's capital, Tokyo. There were no TV cameras to capture, the moment she went from Princess Mako to Mako Komuro. Instead, there was a press conference at a hotel, where both the former princess and her husband apologized for the grief that their courtship and marriage caused the people (via The New York Times). 
Dogged by controversy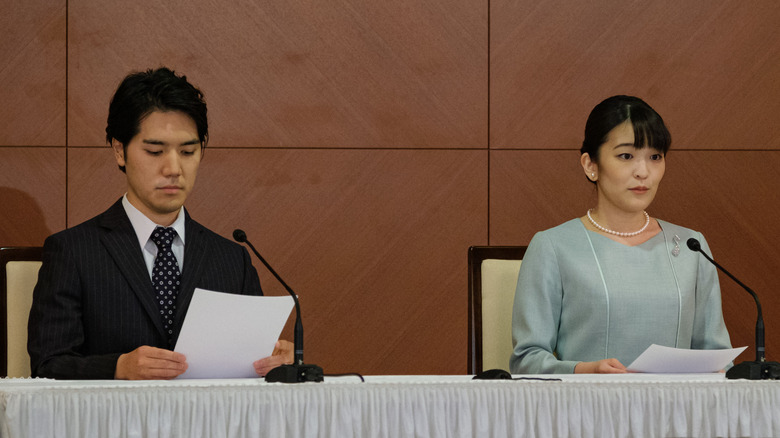 Pool/Getty Images
Per AP News, Princess Mako and Kei Komuro met at International Christian University, where they were classmates. They had originally announced their engagement in September of 2017, but not long after, Japanese tabloids discovered that Komuro's mother who is a widow, had received a loan of about $36,000 from a former fiancé; it was then suggested that the money had not been repaid, giving critics the chance to attack Komuro as someone who was trying to become a member of the Japanese imperial family to gain wealth or become famous. 
The couple didn't get a break, even after Komuro had left Japan to pursue his law degree at Fordham Law School; at the time it was even suggested by social media netizens that Komuro was admitted to Fordham because of his ties to Princess Mako (via The New York Times). The attacks were so distressing to the princess that she was left with post-traumatic stress disorder. Shortly before the wedding, Mako's psychiatrist said in a news conference that "she [the princess] felt like her dignity as a human being had been trampled on. She thinks of herself as somebody without value" (via The New York Times).
Family of rebels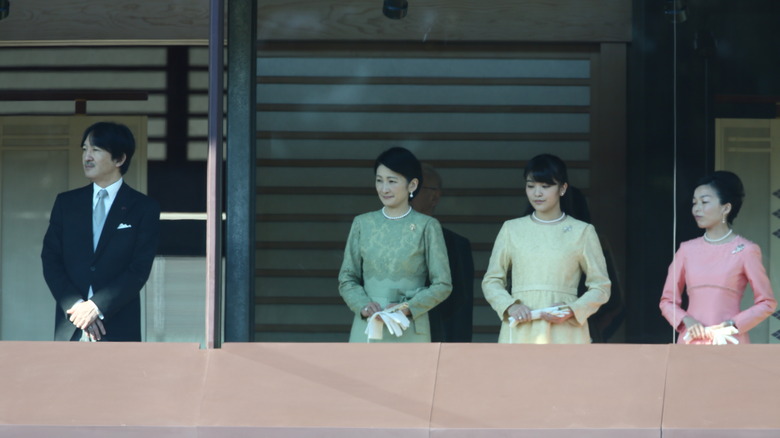 Ken Ishii/Getty Images
The story of Princess Mako's parents, Prince Akishino and Princess Kiko, began in a similar way. The couple also met when they were in college at Tokyo's Gakushuin University. Akishino, who was then known as Aya, proposed to the former Kiko Kawashima was a commoner, when they were both undergraduates, and their engagement was announced by Japan's Imperial Household Agency three years later  (via the Chicago Tribune). 
Mako's parents' engagement was rocky too; other than the fact that Kiko was a commoner, the Imperial Household Agency was against the marriage because it would mean that Aya would settle down before his older brother, Crown Prince Naruhito would. Aya was reportedly so angry he was willing to renounce his royal status, but it didn't get to that, thanks to the intervention of his mother, the Empress.
While Mako's mother Kiko had become a princess upon her wedding, the opposite happened to Mako when she got married; Mako became a commoner because Japan's Imperial House Law does not allow for women to ascend the throne. Because public opinion was so deeply against the couple, Mako opted out of a $1.23 million dowry that she should have been entitled to (via the Los Angeles Times). 
The couple will be living in New York, where Komuro has a job with a law firm. It might sound daunting, but for the former princess, giving up the trappings of her royal life for love appears to be worth it. "For me, Kei-san is a priceless person. For us, our marriage was a necessary choice to live while cherishing our hearts," she said.