Donald Trump Jr.'s Comments About His Childhood Have Twitter In A Tizzy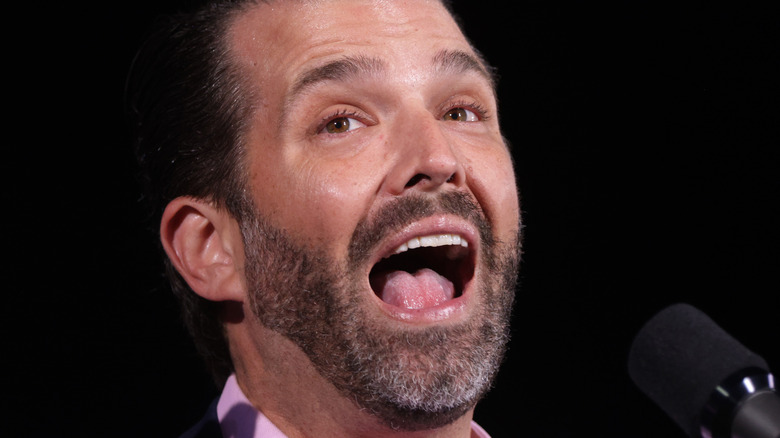 Alex Wong/Getty Images
Donald Trump Jr. is frequently saying outrageous things that drive social media mavens mad, often using hyperbole or false historical analogies, just like his father. In fact, in 2019 when then-President Donald Trump griped to ABC's George Stephanopoulos that no president has ever been treated worse than him, Don Jr. chimed in, retweeting his father's quote and stating, "He's right," apparently forgetting presidents like Abraham Lincoln and John F. Kennedy, who had been assassinated.
During a recent interview with "Newsmax" in which Don Jr. spoke with former Trump aide and current "Newsmax" host Sebastian Gorka, he made another historical analogy that just didn't sit right with people. Don Jr. is the oldest child born on Trump's first marriage to Ivana Trump, a Czechoslovakian immigrant whose parents would bring the Trump children there when they were young. Don Jr. used those trips to make a comparison between Democratic leadership in the United States today with what he witnessed, but perhaps did not understand, during his time in Czechoslovakia as a child (via HuffPost).
Don Jr. compares the United States to a communist country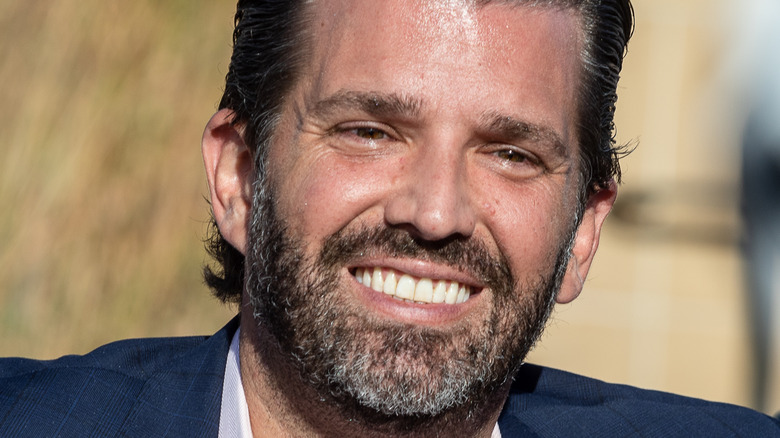 Chris Manning/Shutterstock
When Sebastian Gorka began calling Democratic policies socialist, Donald Trump Jr. chimed right in and made a false comparison between communism, socialism, and the capitalistic society we find in the United States.
"So I traveled with them there every summer, you know, six, eight weeks. I've waited in those bread lines," Don Jr. said of the time he spent with his grandparents in the 1980s (via HuffPost). "We're starting to see the empty shelves that I experienced then in communist Czechoslovakia in the '80s in America right now," Don Jr. said in response to Gorka calling the Democrats both radical and socialist.
What Don Jr. was specifically referring to were supply chain issues that are leading some stores across the country to have a shortage of items due to an overabundance of products still sitting on ships in U.S. harbors waiting to be unloaded, his remarks sent Twitter into a tizzy.
Don Jr.'s bread line and empty shelves remark leave Twitter bewildered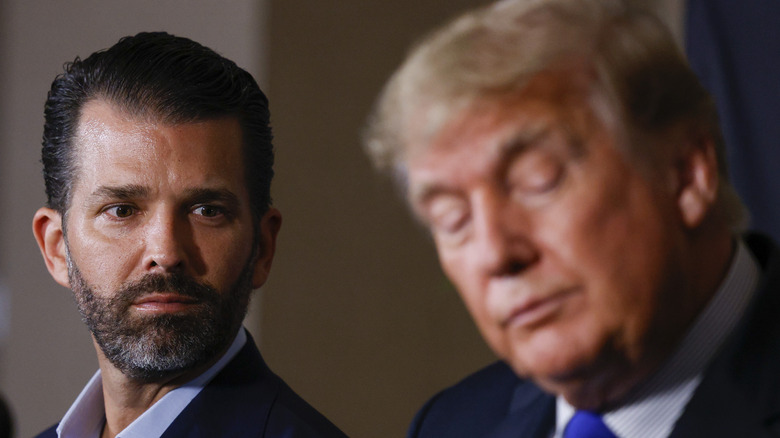 Douglas P. Defelice/Getty Images
When a video of Donald Trump Jr.'s "Newsmax" appearance went viral on Twitter, detractors of the former president and his family had a field day, wondering when a man who never wanted for anything materially ever had to wait on a bread line. One tweeter even harkened back to the food lines and paper goods shortage in the United States not even two years ago at the start of the coronavirus pandemic when his father was president.
"Oh Lordy, I can't take Jr.," they wrote. "We were fighting for toilet paper when his dad was President! Pasta completely gone off of shelves. Peanut butter gone. And food pantries were busier than ever. And talk about breadlines – remember the horrific images in Texas?!"
Another person tweeted, "The kids born with a silver spoon in their mouth, who never had a real job in their entire life, spent summers in breadlines in Eastern Europe. Pretty soon he's going to claim that he had to cut the neighbors' grass, and worked a paper route, to simply afford soda pop."
Yet another critic wrote on Twitter, "Poor Junior. European vacations every year growing up so he could see people suffer."