What We Know About Joe Biden's Meeting With Pope Francis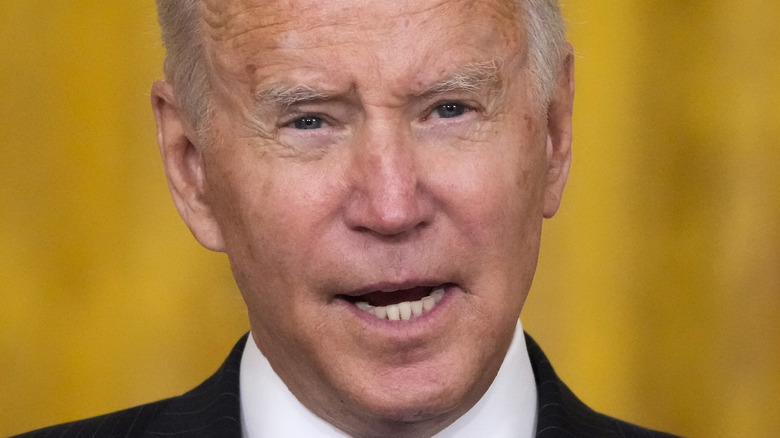 Drew Angerer/Getty Images
What happens when the head of the Roman Catholic Church meets the Catholic leader of the free world? A lot, it seems, because according to The Hill, Pope Francis' meeting with President Joe Biden included jokes, laughs, and a gift exchange. It could have been a meeting between friends, since Biden first met the pope in 2015, months after the then-vice president lost his son Beau to brain cancer. Biden says he has also exchanged correspondence with the pope since that time. 
Beau was a symbolic presence in the gift Biden would give the pope — a challenge coin which showed the insignia of Beau Biden's Delaware Army National Guard Unit. "With your permission I'd like to be able to give you a coin. It has a U.S. seal on the front, but what's different with this coin, usually — I know my son would want me to give this to you because on the back of it I have the state of Delaware and the 261st unit my son served on," the president said. Aside from that, Biden also gave the pope a vestment from his Washington DC parish, which was hand-woven in the 1930s (via CNN). In return, Biden received a painting executed on a ceramic tile, as well as copies of the pope's writings.
A warm engagement between the president and the pope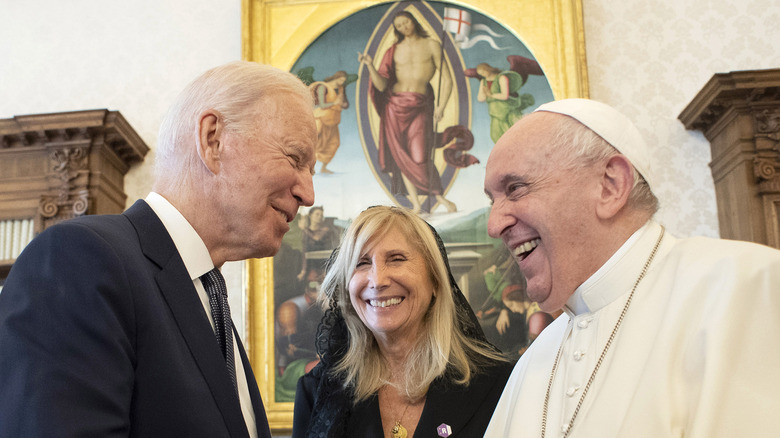 Vatican Pool/Getty Images
The White House said that President Joe Biden expressed his gratitude to the pontiff for "his advocacy for the world's poor and those suffering from hunger, conflict, and persecution" as well as "his advocacy to ensure the pandemic ends for everyone through vaccine sharing and an equitable global economic recovery." In reporting on the visit, The Washington Post noted that Biden and Pope Francis had met for private talks for 75 minutes, and then joined a larger group for the gift exchange for another 15 minutes. 
While one White House official described the encounter as a warm engagement between the president and the pope, Biden would offer no comment on any discussion he might have had with Pope Francis regarding U.S. Catholic bishops who want to deny the president communion because of his pro-choice stance on abortion. Biden called the exchange "wonderful" and added, "We just talked about the fact that he was happy I was a good Catholic" (via The Hill).
This is the most amount of time a sitting U.S. president has spent with Pope Francis — former President Barack Obama met with him for 50 minutes, while the head of the Catholic Church met with Biden's predecessor, Donald Trump, for half an hour.