Twitter Is In Stitches Over This Company's Halloween Costume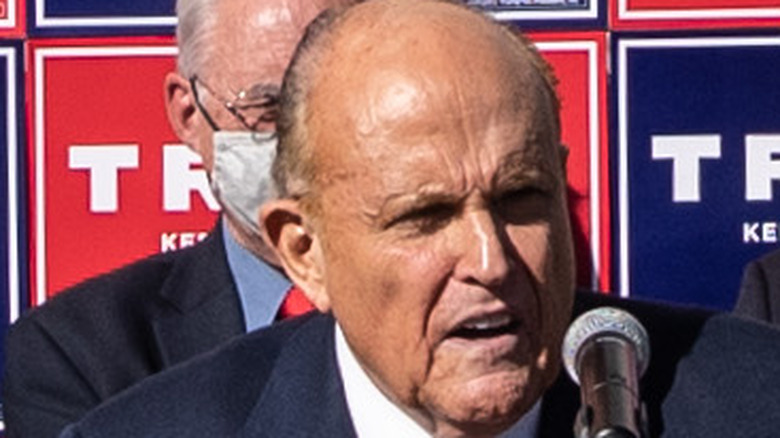 Chris Mcgrath/Getty Images
It's not every day that claims of fraud involving a U.S. presidential election are made in a dreary carpark located next to the Fantasy Island adult bookstore and across the street from the Delaware Valley Cremation Center (via Twitter). But there we were, on November 7, watching Trump attorney Rudy Giuliani, former Florida Attorney General Pam Bondi, and the campaign's senior advisor Corey Lewandowski (via Twitter) cry fraud over the Pennsylvania elections in front of the now-famous Four Seasons Total Landscaping garden center in front of a live — albeit incredulous — audience. 
The original press invite had been sent, via Twitter, by former President Donald Trump himself, back when he had social media, and it generated a slew of jokes and memes that not only gave us badly-needed laughs, but also generated free publicity for the garden center itself. So it was only fitting that Four Seasons Total Landscaping would mark Halloween this year by dressing up as "the other Four Seasons" — by putting up a Four Seasons Hotel banner on its now-famous white gates and tweeting the caption: "This year our costume was an obvious one. #halloween2021."
A shoutout to the other Four Seasons
Four Seasons Total Landscaping's social media shoutout won it even more love from fans on Twitter, all of whom were happy to give the garden center their due. "Valley Forge, Bunker Hill, and Four Season's Total Landscaping. Least we never forget," tweeted one fan. Another said: "Buildings dressing up as other buildings for Halloween is next level. Well done to the geniuses at Four Seasons Total Landscape (sic)!" 
A few commended the firm on the marketing savvy that kept them on top of mind of many social media users. "As a fellow small biz owner, I applaud you leveraging your opportunities with guerrilla marketing tactics! Bravo!!!" raved a third Tweeter, while a fourth tweeted, "LMAO! Good on you Four Seaons Landscaping. You were handed a weird situation, accommodated and dealt, and then made it yours. Kudos!" 
But it took this Twitter user to put the incident into perspective, saying "Sometimes, when I'm sad, I just think about it and burst out laughing. It will never be topped."
If Four Seasons Total Landscaping hadn't already secured its place in social media history as the G.O.A.T of garden centers, it's safe to say that year's Halloween tweet nailed it for them.