Why Candace Cameron Bure's Latest Post Has The Internet Seeing Red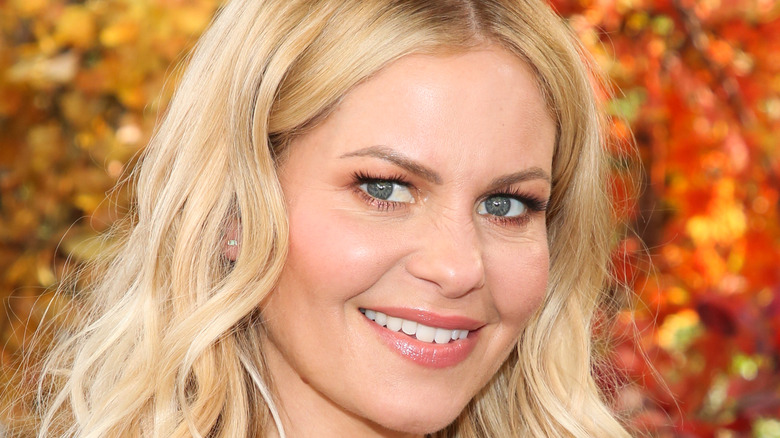 Paul Archuleta/Getty Images
This weekend, Candace Cameron Bure shared a photo of her family all dressed up for a wedding.
The actress was twinning with her daughter, Natasha, as her husband, hockey player Valeri Bure, was with one of their sons, Lev. The couple, who have been married since 1996, share three children (via Parade). As noted in Bure's Instagram caption, their other son, Maksim, missed out on the family picture as he was off at college.
While this seemed like a normal post, showing off a close-knit and famous family off to enjoy a celebration, many people on the internet seemed to have some issues with the wholesome pic. The issues were shared through comments on the photo, and they even caused Bure to write out her own comment: "Don't poke mama bear. Some of you still need to learn manners. Don't like? Scroll through. Some of you ruin the fun of sharing on social media for everyone."
Some people were not okay with the clothing items worn (or not worn) by Candace Cameron Bure and her family
So why were some not fans of this image of Candace Cameron Bure and her family?
First up, as reported by Cosmopolitan, some commenters did not like that Bure and her daughter were wearing red, stating that this could take the spotlight off of the bride. The "Fuller House" star replied by sharing that "anything goes in L.A." and that "there were four women wearing red dresses to the wedding."
Others had problems with Valeri and Lev Bure's looks. "Love y'all so much but men really should wear socks with dress shoes," said one social media user. Another wrote, "Beautiful, but what's with the guys not wearing socks?" The actress' rebuttal was that "this is how most stylish men in Europe wear their suit in warm weather" (via Instagram).
Cosmopolitan even shared a poll asking if someone should wear red to a wedding or not. While 20% of respondents said they would not, an 80% majority supported the Bures, answering to "do whatever TF you want!"