Donald Trump Spent Halloween With This Celebrity Couple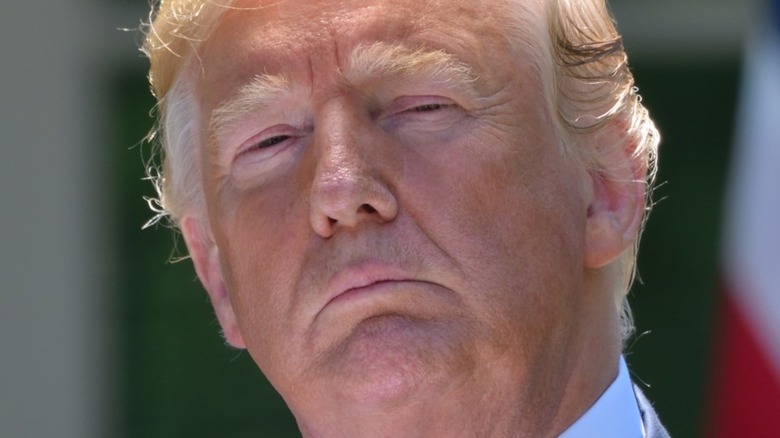 Evan El-Amin/Shutterstock
Halloween 2020 was a busy time for then-president Donald Trump. While he and Melania hosted a socially-distanced trick-or-treating event at the White House a week before the big day (via USA Today), he was undoubtedly distracted by thoughts of the upcoming election. This year, however, he was able to relax and party it up at Mar-a-Lago, formerly known as the "Winter White House" (via Town and Country).
First things first: what did our once and would-be future POTUS dress as? It seems he went garbed as a elder statesman of sorts, or perhaps even as a sitting president since he wore the same navy blue suit and red tie ensemble familiar from numerous White House press conference appearances. Melania, however, either chose not to attend or dressed as the Invisible Woman since she managed not to appear in any photos taken at the event. Very much in evidence, however, were the "beautiful people" of Palm Beach, at least those with right-of-center political leanings. The most prominent among his celebrity guests, according to the Daily Mail, were a pro golfer and a model who bears the name of a legend.
Johnson and Gretzky were all smiles partying with the former POTUS
Dustin Johnson, a golfer who has 24 PGA Tour wins under his belt (two of them being majors, according to Golf Monthly), is a sometime golfing buddy of Trump's, hence his invite. For the past eight years, he has been engaged to model and occasional actress Paulina Gretzky. If you don't recognize her from her not-so-starring roles in Fame (2009), Guns, Girls and Gambling (2012,) and Grown Ups 2 (2013), chances are the last name still rings a bell because yes, she is the daughter of Wayne "The Great One" Gretzky, who is pretty much the NHL's answer to Babe Ruth.
While Gretzky never publicly endorsed Trump (he is Canadian, after all), he has himself golfed at Trump Palm Beach (via Twitter), and daughter Paulina appears to be quite the Trump fan. A shot posted to her Instagram shows her (channeling Baywatch-era Pamela Anderson in a red one-piece) and Johnson (in tennis whites) posing with Trump in a shot she captioned "Mr. President us." Not all of her followers seemed to agree, however. As one person quipped, commenting on the former president's familiar attire, "Cool that Trump Dressed up as president." Another called it the "Best Donald Trump costume I've seen so far," while a third opined "Kinda validates that it was a costume the whole time."