How Alexandria Ocasio-Cortez Made Twitter History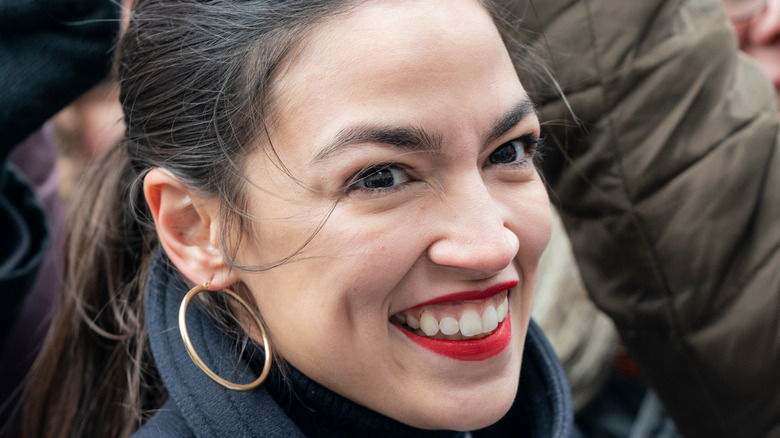 lev radin/Shutterstock
Representative Alexandria Ocasio-Cortez has made history in various ways since she burst onto the political scene in 2018 to win a primary against a 10-term Democratic incumbent. Just her win was historic enough as Ocasio-Cortez became the youngest woman ever elected to Congress at just 29 years old, according to CNBC. When she was sworn in by Speaker Nancy Pelosi on January 3, 2019, Ocasio-Cortez was a member of the freshman congressional class that saw 117 women elected to the House of Representatives, more than at any other time in American history (via Vox).
When Ocasio-Cortez won her New York seat on that historic blue wave night that seemed to be a referendum on Donald Trump taking the presidency in 2016, she seemed amazed that this was happening to her, but also exuded confidence in her victory speech. "This is what is possible when every day people come together in the collective realization that all our actions — no matter how small or how large — are powerful, worthwhile and capable of lasting change," she said. "Words cannot express my gratitude," (via CNBC). 
Another speech just a few short months later when she was officially a United States representative helped Ocasio-Cortez make history in another way — on Twitter.
All eyes and ears were on Alexandria Ocasio-Cortez's first congressional speech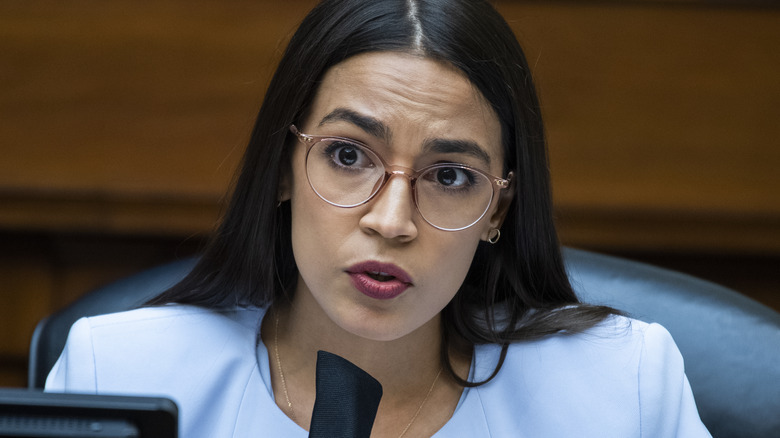 Bloomberg/Getty Images
When Alexandria Ocasio-Cortez took to the floor of the House of Representatives to deliver her first speech in her new elected capacity in January 2019, she addressed the ongoing government shutdown at that time. The shutdown, which ended up being the longest in U.S. history, was a result of Donald Trump not wanting to sign a bill to fund the government unless it included money for his border wall, something neither American political party wanted to give him (via The New York Times).
In her speech, Ocasio-Cortez told Americans that the shutdown went deeper than just a dispute over a wall, saying, "The truth of this shutdown is that it's not actually about a wall ... The truth is, this shutdown is about the erosion of American democracy and the subversion of our most basic governmental norms."
When a video clip of that speech made it to social media, it made Ocasio-Cortez a history-maker once again.
Alexandria Ocasio-Cortez broke the Internet with her first floor speech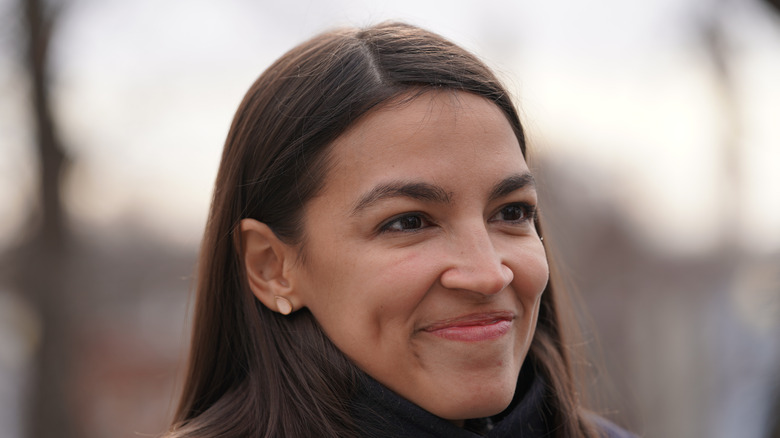 Phil Pasquini/Shutterstock
When C-Span tweeted a clip of Alexandria Ocasio-Cortez's speech that day, it didn't expect it to break any records for the cable station that had been airing congressional speeches for decades, but that's just what it did.
According to Time, C-Span's inaugural AOC floor speech video clip earned 1.6 million views in its first 12 hours, setting a new record for the most-watched House member video the news outlet had ever tweeted. By the next morning, the video had 2.3 million views, had been liked 46,000 times, and retweeted 13,000 times.
Ocasio-Cortez herself has an incredible Twitter following, with 12.4 million people following her as of publication. She is one of the most well-known members of Congress and the House Progressive Caucus, and in her second term is working hard with her colleagues to pass a bill that will broaden the American social safety net, which Democrats campaigned on in 2020.