The Meaning Behind Let's Go Brandon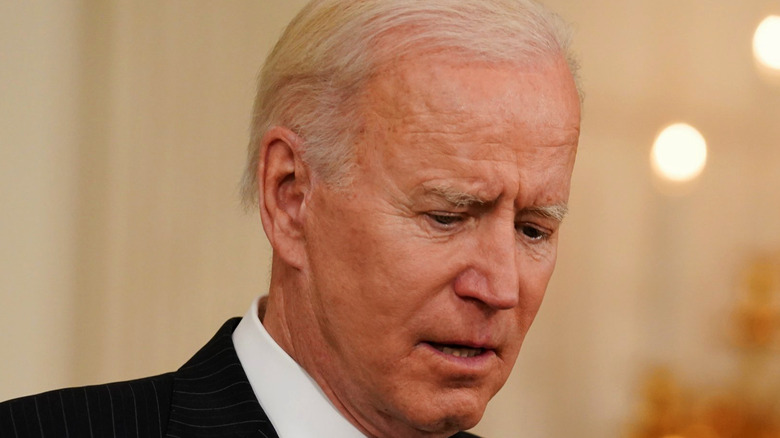 Nick_ Raille_07/Shutterstock
When NASCAR driver Brandon Brown topped his first Xfinity Series at the Talladega Superspeedway in Alabama, few thought his interview, which aired on NBC, would give rise to what has become a rallying cry among right-wing politicians and their supporters (via WDSU). While he was speaking to NBC reporter Kelli Stavast, crowds in the back were heard cheering "F*** Joe Biden," which Stavast had tried to cover up by saying, "You can hear the chants from the crowd, 'Let's go, Brandon!'" (via Twitter).
While both NBC and NASCAR have since said they would try to control the amount of what they are calling "ambient crowd noise," a catchphrase was born and it's now being heard in many places at sporting events from college football to the NFL (via The Hill).
But the phrase didn't really make headlines until a Southwest Airlines pilot was thought to have said "Let's go Brandon" as he was speaking to passengers. The airline is said to have conducted "an internal investigation into the recently reported event and will address the situation directly with any Employee involved while continuing to remind all Employees that public expression of personal opinions while on duty is unacceptable."  
"Let's go Brandon" has spread across the right-wing ecosystem, and the phrase now appears on everything from t-shirts and caps to protest flags. It was not only chanted in Virginia, it was even part of a speech delivered on the House floor by GOP Rep. Bill Posey of Florida.
Ridiculing the president is a thing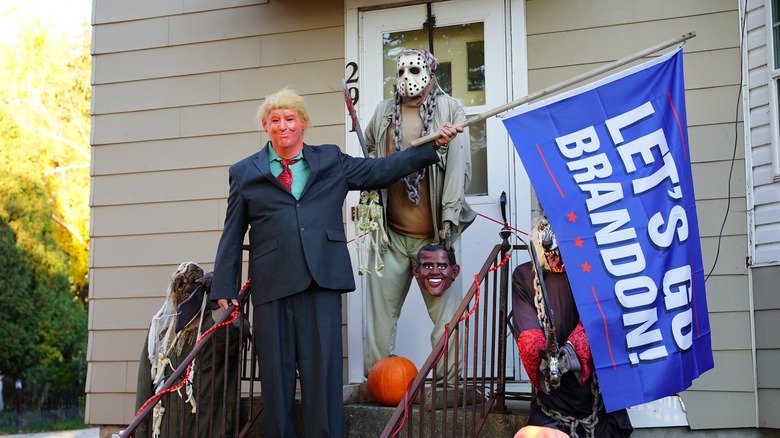 Aaron of L.A. Photography/Shutterstock
Researcher and conflict anthropologist Hampton Stall, who looks into group cultures, may know the reason why "Let's go Brandon" became so big, and so quickly; Stall told NPR that the phrase is both "sharable and adaptable" and is acceptable in a way that using the f-bomb to talk about the president isn't. 
And if Biden supporters are shocked by the vulgar sentiment behind what looks like an innocent statement, the Associated Press reminds us that ridiculing the commander-in-chief is not a brand new exercise. As an example, it mentions Thomas Jefferson and Andrew Jackson as having poems written about them that smacked of racism, and with a tinge of bigamy. Barack Obama endured the spread of racist images online, while opponents took aim at Donald Trump with the succinct and simple "F*** Trump." As Southern Methodist University Political science professor Cal Jillson put it: "We have a sense of the dignity of the office of president that has consistently been violated to our horror over the course of American history. We never fail to be horrified by some new outrage." 
Only time will tell whether "Let's go, Brandon" will have any legs, but Stall thinks it will. "I think it's sort of past the point where enough people in the mainstream political audience in the United States have heard it that it will be remembered in the future. It just maybe won't have the same level of staying power [as the Trump tweet 'covfefe']," he said.