Simone Biles Is A Fan Of This Reality Show
Salty View/Shutterstock
Although only 24 years old, gymnast Simone Biles has taken the sports world by storm. As a member of 2016's "Final Five" Olympic team, per Insider, as well as the 2021 Olympic team, Biles has earned an incredible 36 medals throughout the course of her career — 27 of which are gold (via Sporting News). Biles is such an elite athlete she even has a number of gymnastics moves named after her, that thus far only she has been able to accomplish.
At the 2021 Olympics, Biles made headlines not only for her athleticism but also for her decision to prioritize her mental health (via NBC News). Although Biles was expected to perform well in all of her competitions and only add to her singular Olympic record, she decided to withdraw from the final competition. "We also have to focus on ourselves, because at the end of the day, we're human, too," Biles said of her decision at the time. "We have to protect our mind and our body, rather than just go out there and do what the world wants us to do."
Although Biles had told Hoda Kotb on "Today" that physically she felt ok, emotionally it was another story. And that emotional strife manifested itself as "the twisties," which made her feel disoriented while in the air and could have resulted in serious injury.
Simone Biles watches reality TV, just like you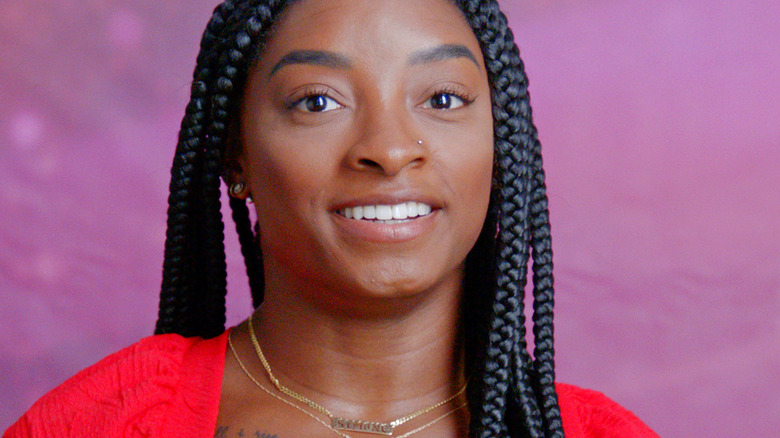 Alliance For Women In Media Foundation/Getty Images
Although Biles is a once-in-a-generation athlete, the gymnast still needs time to unwind — perhaps even more so. One way Biles appears to enjoy taking it easy is by watching reality TV — the TLC show "Welcome to Plathville" to be specific.
Biles recently posted a Q&A to her Instagram stories, asking fans "something weird y'all gotta get off your chest," adding, "the mom from plathville IRRITATES me" (via ScreenRant). For those unfamiliar, "Welcome to Plathville" follows the Plath clan: Kim and Barry Plath, plus their nine children, who live off-the-grid in the backwoods of Georgia.
Biles's fans were quick to relish in the fact that Biles revealed this side of herself. "Simone Biles having this particular complaint makes total sense, but was NOT on my bingo card," one Reddit user shared.
As for other self-care methods, Biles is a big proponent of massages. "I love doing massages because it's also relaxing and usually I fall asleep," Biles told Well+Good. She also recommends the Theragun, a percussion massager. "There are different heads so it depends on what spot or how I'm feeling or how sore I am, but I love that thing! .. It's a life-changer."
Watching reality TV while using The Theragun on your sore muscles? Sounds like a pretty good combo.