The Unexpected Way Emily Blunt Got John Krasinski To Propose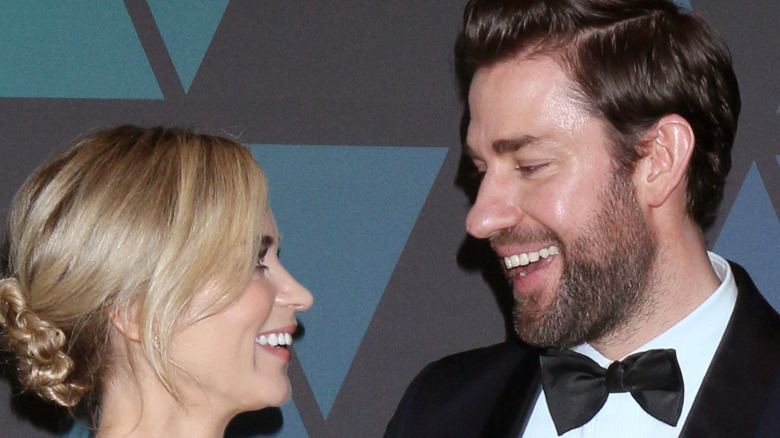 Kathy Hutchins/Shutterstock
For 10 seasons, audiences were glued to their screens, wondering what was going to happen on "The Office" between its two most adorable characters, Jim Halpert (John Krasinski) and Pam Beasly (Jenna Fischer). While there was no romance offscreen between Krasinski and Fischer, in real life, Krasinski has a love story every bit as adorable as Jim and Pam's.
The actor first met his now-wife Emily Blunt back in 2008, at a restaurant with mutual friends (via Parade). "I was in a restaurant. He was in the restaurant. I was sitting with a mutual friend ... [He] was actually sitting with our friend Justin Theroux, and then he abandoned Justin and came over to come and talk to us. He did not eat. He just stood there and made me laugh," Blunt revealed.
While this was their first official meeting, Krasinski was well aware of Blunt prior to that, having seen "The Devil Wears Prada" about "72 times" (via Harper's Bazaar). "When we first met, I was like, 'I just want to get it out of the way—I'm a huge fan of yours,'" Krasinski admitted. "I was full stalker-status. I was like, 'Hey, you want to go out on a date with me?'"
Clearly Blunt is glad that he did. "Meeting John really changed my life," she said. "When I feel the support that I have from him, I feel invincible. There's someone behind you on your good days, and someone in front of you on your bad days."
The "Engagement Chicken"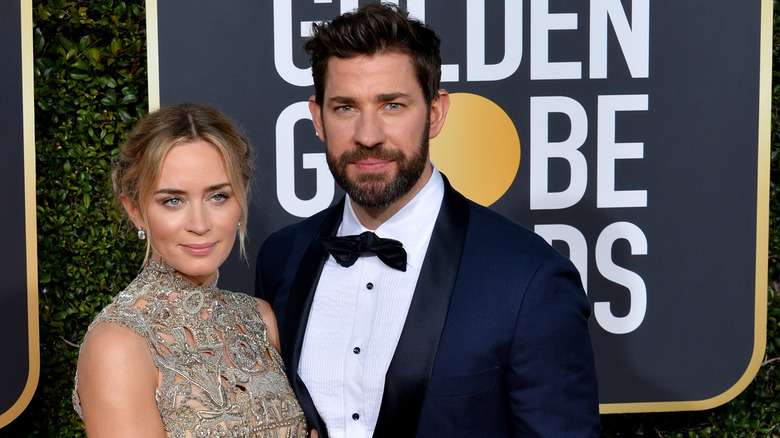 Featureflash Photo Agency/Shutterstock
When it came time for Emily Blunt to think more seriously about settling down with John Krasinski, she knew exactly how to get him to propose: By cooking him chef Ina Garten's famous "Engagement Chicken" recipe (via ET Online).
"I guess I just made something that I knew he would love," Blunt revealed on the "River Cafe Table 4" podcast. "A roast chicken, who doesn't love roast chicken? The roast chicken I love is Ina Garten's roast chicken. It's called her 'Engagement Chicken' because I think when people make it for people they get engaged or something."
Blunt further explained exactly what's so appealing about the dish. "Lemon, garlic, onions up the chicken, thyme, salt and pepper, all that. You scatter onions around the chicken, but you pack them in really tight into the tray. And then you roast them really high [for] about an hour and 20 minutes and they're done and they're perfect ... When you take the chickens out you then kind of sauté in some wine and some butter into that oniony, garlicky mixture. Oh my God, it's divine. It's really sticky and yummy."
Blunt's instincts were correct. Not long after, Blunt and Krasinski were engaged. The pair wed in July 2010 at George Clooney's estate on Lake Como in Italy (via Brides). It was an ending befitting their adorable beginnings.