Joe Amabile Talks Bachelor In Paradise, Serena Pitt, And A New Project - Exclusive Interview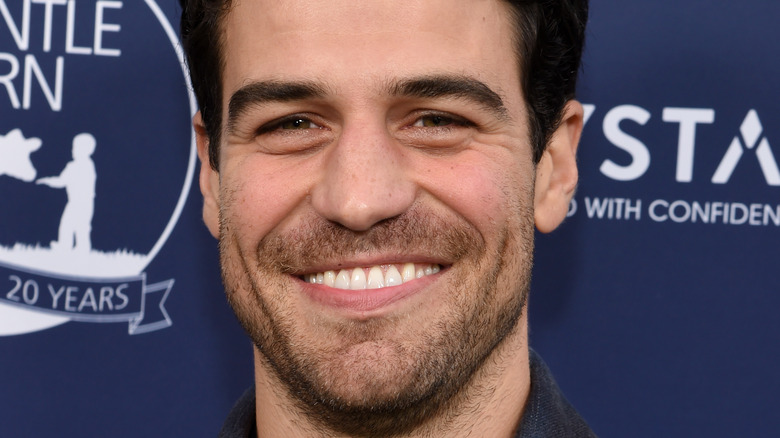 Michael Kovac/Getty Images
They say good things come to those who wait, and for Bachelor Nation's Joe Amabile, that couldn't be closer to the truth. Although his debut on "The Bachelorette" in 2018 was brief — he was eliminated by Becca Kufrin on Night 1 — in that short time, the Chicago native managed to capture viewers' hearts with his down-to-earth demeanor and endearing signature grin. 
Quickly becoming a fan favorite, the-then grocery store owner decided to take a second chance at love on "Bachelor in Paradise" the following summer. There, he fell for Kendall Long, but by 2020, the couple had called it quits. With Amabile, ever the hopeless romantic, back on the market, he was single and ready to mingle in the sands of "Paradise" in 2021, searching for lasting love. The third time was definitely a charm for the restaurant critic, food vlogger, and host of the "Click Bait" podcast because he left the beach betrothed to "Bachelor" alum Serena Pitt.
In an exclusive interview, The List sat down with the newly-engaged franchise veteran to celebrate his partnership with Hotwire for the dating challenge Love at Last Minute, where he will select participating couples "he thinks have what it takes to go the distance" and send them on a trip to one of his favorite cities. We also discussed everything about his relationship with Pitt, his nickname "Grocery Store Joe," and his time on the "Bachelor" franchise.
According to the reality star, this is why travel is important in a relationship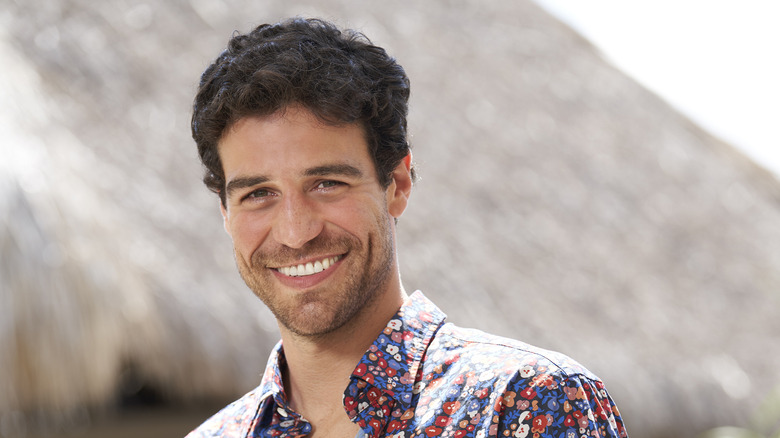 ABC/Craig Sjodin
How will you use your dating experience to select the Love at the Last Minute winners?
So yeah, why I love this campaign is we are choosing couples that got together during quarantine and haven't had a chance to travel yet. For me, and I think for a lot of people, traveling is a good tell to see if your relationship can go the distance. What I'm looking for is couples that I think are genuine couples that seem very happy together. And couples that I think could actually go the distance. And what we're also doing is we're going to choose three couples to win a Quickie trip. And the couples that we think will actually make it out of that will win a $10,000 fancy vacation.
Are you curating the Quickie trips?
I am curating the Quickie trips. Yeah, so I chose the cities. I chose Chicago because that's my hometown, Charleston, and Atlanta.
You did say that you think traveling is an important part of a relationship. Why?
Why? Because I think for me, traveling is just a way to experience the world, and it's supposed to be fun, and you want to be able to do that and be able to have fun with the person that you love. And when you go on a trip and you're finally away from your hometown and you realize like, "Oh wait, I'm not enjoying myself with this person," that's kind of an issue. So I think it's a good test.
So let's go to Bachelor Nation. How did you handle all the fame after your appearance on "The Bachelorette"?
I just kept living. It didn't really change me, who I am as a person. I don't really consider it fame. So I just stay myself and work and do the best I can to be a better person.
That's a good answer. What made you want to go on "Bachelor in Paradise" the first time around?
I was single, and, of course, I think everybody wants to fall in love. And going on a show like "The Bachelor" gives you that opportunity ... That's why I like this Love at Last Minute challenge with Hotwire, because it's something ... I feel like I'm giving couples a chance to see if they could make it all the way.
When did you know you wanted to pursue Serena?
I knew I wanted to pursue Serena pretty quickly on. I think as soon as I met her.
What makes your relationship with her so special?
There were sparks right away. And the more we got to each other, the more real it felt. So it's just one of those things where you fall in love and it just gets better and better every day.
Joe Amabile said this is the best part of being a member of Bachelor Nation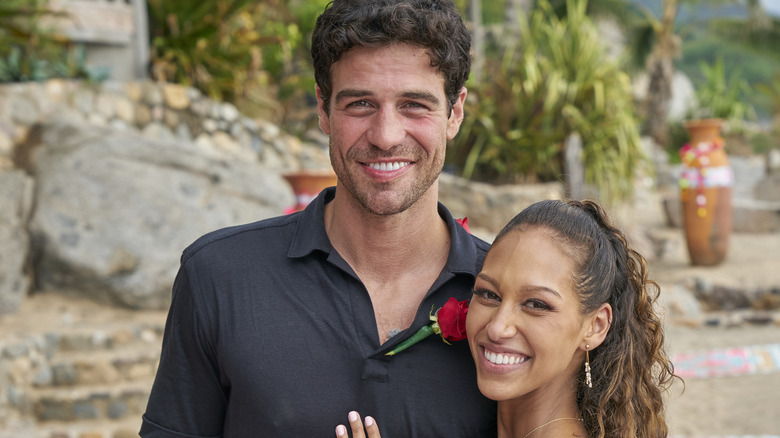 ABC/Craig Sjodin
What was it like rewatching the season with Serena? What were the hardest or the best parts to watch?
I think rewatching the season with Serena was actually very, very nice because we knew at the end of the day it was a happy ending for us. So it was very enjoyable.
Have you guys started making wedding plans?
No, not yet. Not yet. We're moving in together first.
What are the best and worst parts of being a part of Bachelor Nation?
I love being a part of Bachelor Nation. I'm very proud to be a part of the franchise. And for me, it's been a blessing. It's changed my life for the better.
Going back to "Bachelor in Paradise," was there anything that happened — it could be a funny story behind the scenes — that viewers did not see?
No, [viewers] pretty much saw how it was. Yeah.
So just one question about Kendall. What is your relationship with her like now?
I'm just really focusing on my relationship, and I wish her nothing but the best.
Are you watching this season of "Dancing With the Stars"?
No. I've seen a few episodes, but I'm not really caught up.
Okay, I was going to ask you if you gave Matt [James] any advice, but I guess not.
No, I did not.
How many times a day do you hear the name "Grocery Store Joe"?
I think it just depends on where I go. But I hear it. I hear it every so often.
Does it ever get annoying? Or is it at this point endearing?
Yeah, it's endearing. I welcome it. I enjoy it.
Is that how your appearance [on "The Bachelorette"] originally came about? Were you in a grocery store when they approached you?
Yeah, yeah.
That's so crazy.
Yeah.
When they approached you, did you think you wanted to go on it right away? Or did it take time to convince you?
I'm just a kind of go-with-the-flow type of guy, so I just went with it. Yeah.
You got nominated for a People's Choice Award as a best reality star. That's really cool. Congratulations!
Thank you.
Were you expecting this? Where were you when you found that out?
I was at home. And no, I wasn't expecting it, but it's pretty cool.
That is cool.
Yeah.
Many fans wanted to see you as the Bachelor. So did you ever come close to actually being the Bachelor?
Not to my knowledge.
These are Joe Amabile's plans for the future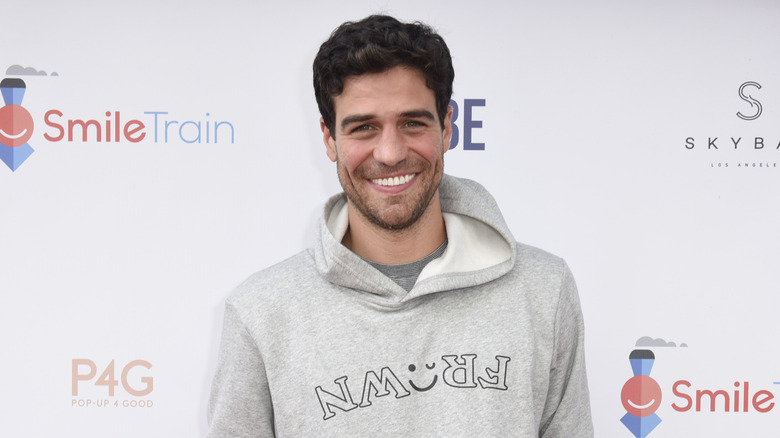 Vivien Killilea/Getty Images
My last question for you is — you could answer this any way you want — what are your future plans? It could be with the franchise, it could be with Serena — however you want to answer it!
My future plans right now is I am lucky enough to go on a Quickie trip with Hotwire, and I am going to New York. So I'm doing that. So that is what I got going on right now. I can't wait to pick the winners of this because I love seeing couples that last.
Have you watched any of the submissions yet?
Not yet. Not yet. They're still coming in. They have until November 5th to go to quickie.hotwire.com.
Are you going to watch them with Serena? Are you going to let her weigh in?
I don't know. I think I might take this one on myself. I'm too excited about it.
Before November 5, new couples who think that they have what it takes can visit quickie.hotwire.com and shoot their shot at being one of three new lovebird pairs sent on an all-expenses-paid trip to one of Hotwire's coveted top 40 cities.