These Adorable Pets Refuse To Let Their Handicaps Keep Them Down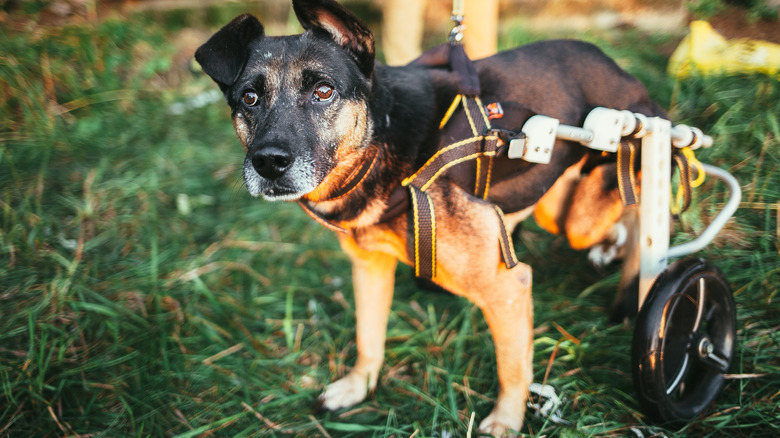 Shutterstock
These animals were all dealt crappy hands in life, but they've rolled with the punches and came out on top — with their tails wagging! Together with loving and devoted caregivers, they've been able to overcome adversity and lead happy, healthy lives. Read their stories and you'll learn thing or two about never giving up.
Duncan Lou Who
Who says dogs need four legs? Duncan Lou Who has just two, and he's doing fine. The boxer was born with four legs, but his back two were fused together and were amputated when he was just 12 weeks old. That may sound harsh, but the surgery gave him better mobility almost instantly. Though he's had several wheelchairs, Duncan's caregivers say he prefers to walk and run on just two legs.
He's a permanent resident at Panda Paws Rescue, where his happy mood and instant-notoriety after a viral video have made him the organization's mascot by default. His condition has given him a reduced life expectancy, though Panda Paws says they aren't sure how much time he has left. They're just doing all they can to make his time happy — and I'd say they're doing a pretty great job.
Quasi the Hunchback Hound
Quasi the Hunchback Hound is a full-blooded German shepherd, and he looks it — he's just a more compact version. He's been diagnosed with short spine syndrome, which basically means his spine is missing a few vertebra, so it's not as long as it should be. According to CNN, he's one of only 13 dogs in the world with this condition, and it can't be corrected by surgery.
The rescue organization Secondhand Hounds in Minnesota stepped in to care for him when he was found as a stray in Kentucky in January of 2016, and they've been giving him a great life ever since. "He's goofy, he's playful, he loves girl dogs... he thinks he's Casanova, not Quasimodo," said Rachel Mairose, founder and executive director of Secondhand Hounds.
Charles
Rabbits are known for hopping, but Charles is no less of a bunny — even without the use of her back legs. Charles was found trapped under a garden hose in 2013, and it was quickly discovered that she had suffered a spinal injury. Her rescuers took her in, ordered her a doggy wheelchair and named her Charles... shortly before realizing she was a girl. Now going by the nickname Chi Chi, she's an Instagram sensation, where you can find tons of pics of Chi Chi, along with her partially blind boyfriend, Mr. Magoo.
Vitoria
When Vitoria the goose was discovered on a beach in Brazil, she was missing most of her beak. The rescue team who cared for her assumed she was either attacked by dogs or beaten — but whatever had happened had really taken it's toll on the goose. Without a beak, she could barely eat or drink, so she was loosing weight and her health was declining quickly.
It took a few different versions and more than one surgery, but thanks to Brazilian 3D designer Cicero Moraes, she was fitted with the world's very first prosthetic beak created with 3D-printing. And as if that wasn't a happy enough ending, just a few months later it was reported that Vitoria had found a mate in a male goose named Vitorio, and they parented two goslings. Thanks to her prosthetic, she was able to care for them without any help.
Lil' Bunny Sue Roux
Her name is Lil' Bunny Sue Roux, and she's quite skilled at hopping, but make no mistake — this is a cat, not a rabbit (or a kangaroo). She was born without her two front legs, but that's never slowed her down for a second. She just hops everywhere she needs to go on her back two feet. Sue Roux has become a bit of an internet sensation, and her owners hope to inspire even more people with her unstoppable attitude. They're working on building an online store where they'll offer Roux-themed stuffed animals, books and more.
Estella
Estella the guinea pigs's story doesn't start out very happy, but don't worry, it ends well! She was found on the side of the road with her guinea pig companion, Pip. It was immediately apparent that Estella had no use of her bottom half, and vets decided she had probably been squeezed too hard by a child. While there was no way to cure her broken back, her caregivers at Harvest Home Animal Sanctuary wanted to do all they could to make sure she lived her best life, so they took up donations to get the guinea pig a wheelchair.
Now that she's mobile, her caregivers say she's a force to be reckoned with. And more good news: she still has Pip by her side. "Their companionship is a very huge part of why she's still alive and happy despite everything," Christine Morrissey, manager of Harvest Home Animal Sanctuary told ABC News. "They're together all of the time. They love sharing strawberries and grapes together."
Naki'o
Naki'o was only a pup when he was found in an abandoned and foreclosed house. It was winter in Nebraska, and the pup's four paws had frozen to a puddle — his mother was found, deceased, in an upper level of the home. Sadly, frostbite took his paws.
Soon after, he was adopted and his new caregiver raised the money for prosthetics on his back legs. After he transitioned successfully to those, the prosthetic manufacturer donated the front two legs, making him the first dog in the world to have four prosthetic limbs. "He's been through so much but he's got such a wonderful spirit and a wonderful heart that it trumps everything," said Christie Pace, founder of Naki'o's Underdog Rescue.
Stevie
Ready to feel just a little bit lazy? Stevie is a blind cat... who climbs mountains. Yep, you read that right. Together with his owner, Irish filmmaker Patrick Corr, he reaches the tops of mountains for charity, usually to benefit animals in need. Though he does show up in a carrier on Corr's back from time to time, he tackles most of the hike on a leash, and sniffs his way to the top. And the best part of all is that it's apparent when watching the videos that Stevie enjoys those treks, and he loves the scenery — even though he doesn't actually see it.
Estrella
It wasn't a horrible accident that took tiny Estrella's front legs — she was just born that way. Her first owners abandoned her, and she was quickly by adopted the couple who run the animal shelter in her small town in Peru. According to them, she learned to hop on her back legs (much like a kangaroo) in the same way that a child learns to walk... one step (or hop!) at a time.
Now that word has spread about Estrella and her unique way of getting around, she's become a local celebrity — and the shelter is often approached by people who wish to adopt her. Luckily for her, she's not up for adoption.
Mosha
When Mosha the elephant was only 7 months old, a landmine explosion took off one of her legs. While some four-legged creatures are fine to hop around on three legs, a heavy elephant doesn't fair so well minus one leg — it started to cause damage to her spine and remaining legs.
Luckily for Mosha, the Friends of the Asian Elephant foundation stepped in and gave her a home — and a new leg. She's the first elephant to have a prosthetic leg, and she's had several because they have to make new ones as she grows. Thanks to the foundation (and some very strong prosthetics) she's able to live a happy and healthy life.
Chris P. Bacon
When a tiny piglet was born with malformed rear legs, he was brought into a local vet to be euthanized. Not only did that vet, Dr. Len Lucero, not euthanize the pig, he brought him home and made him his pet. Named Chris P. Bacon (say it out loud — you'll get it!), he now has a life far better than most pigs could ever hope for. When he got bigger — and much, much heavier — he wasn't as able to drag himself around with his front legs, so he learned to use a dog wheelchair and gets around just fine.
Now, he serves as an inspiration to children with special needs. Not only does he visit hospitals, but he has a whole line of books, toys and more that show kids that handicaps don't mean you're limited at all.