Difficult Places For A Woman To Travel Alone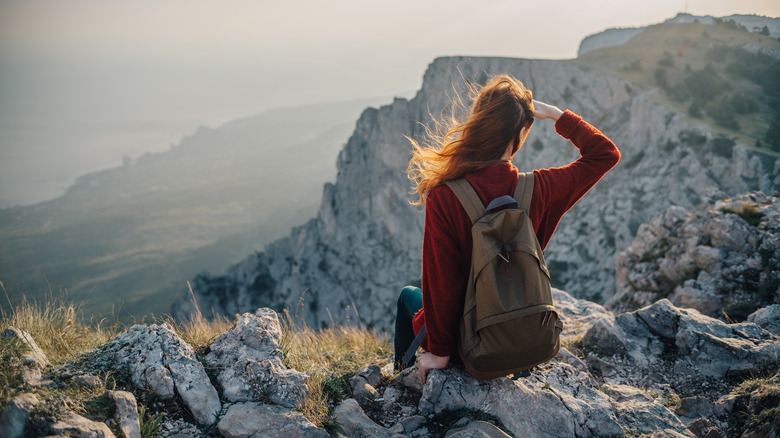 Shutterstock
I've traveled to over 30 countries. You might be surprised to learn that some of my favorite places to travel alone are also the most difficult to navigate. I've dealt with catcalls, 24 hour train rides, dog attacks, endless begging, and more. But in those same countries, I experienced breathtaking beauty and grew as a person more than I could have imagined. So if you're a woman thinking of traveling alone, even to some of the most difficult places, go for it. Just stay smart and remember to enjoy the ride.
For example, even as I struggled my way through India, I also had an incredible time there. On my first day in Varanasi, I grabbed my journal and headed out to the banks of the Ganges River to do some writing. I sat and wrote for 15 minutes, and then I noticed something a bit disturbing. Around me stood six Indian men. Suddenly, I noticed how alone and unprotected I was.
My heart raced as I went back to my journal, unable to pay attention to what I was doing. Even though I didn't feel that I was in imminent danger, I got up and gathered my things anyway. Then I made my way back to my hotel.
The next day, I went out alone, again. This time, I paid attention to what was going on around me. And, of course, I was dressed modestly, as I had been told to do. That day, I tried on silks while drinking delicious chai, watched bodies being cremated on the side of the river, and had an experience I vividly remember now, 14 years later.
While India is one of the most difficult places to travel in general, and even moreso for women alone, with the right attitude and precautions, you can have a great time traveling alone in India. The same goes for the other places on this list. While they are difficult places for a woman to travel alone, you can totally do it — as long as you're smart about it.
Egypt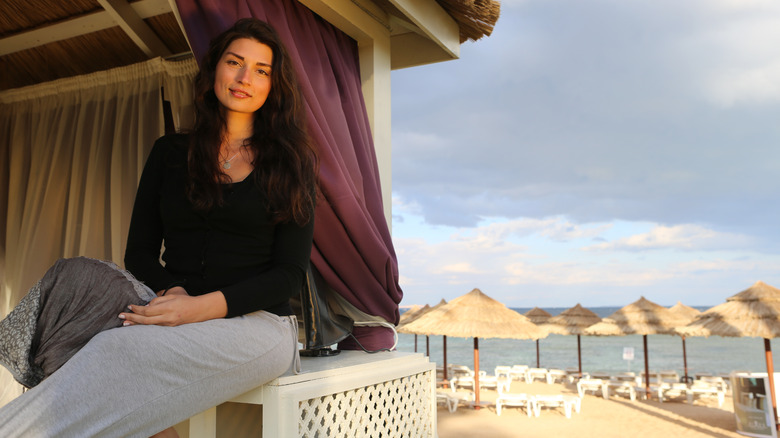 Shutterstock
Ancient wonders, like the Pyramids of Giza and the Great Sphinx, fill Egypt's landscape. But women who want to travel here should take the necessary precautions. Anthony Bianco, The Travel Tart, told me, "I've spoken to women who have travelled by themselves in Egypt and were constantly hassled by some men, for example, they asked for sexual favours for showing them around the pyramids. I've travelled with my partner there and she was sometimes hassled even though I was with her and she was stared at and ogled at a lot."
Katie Foote, a seasoned traveler and blogger at Gypsy Soul Itchy Feet, told Jessie Festa of Jessie on a Journey, "I had issues with taxi drivers trying to kiss me and constantly had to deal with catcalls on the streets. Luckily, I was able to say no to their advances and nothing terrible happened, but it could have easily been an extremely bad situation."
She recommended that women wanting to travel to Egypt alone stay in Dahab or Zamalek in Cairo. She also suggested that they bring modest clothing so as not to draw unwanted attention. Overall, Foote said, "I had a few bad experiences but the vast majority of people I met were extremely hospitable, helpful and wonderful."
Turkey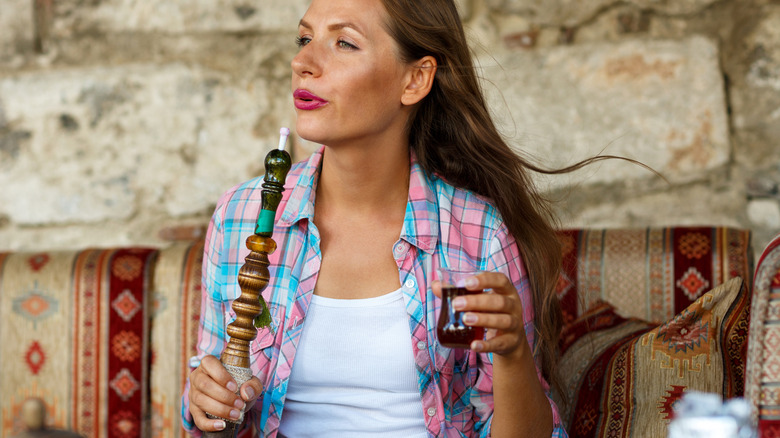 Shutterstock
I lived in Israel for a year, and one of my biggest regrets is that I didn't visit Turkey while I was there. Istanbul in particular has many beautiful historical sites, including the Hagia Sophia, an incredibly beautiful church that dates back to the sixth century.
Despite its beauty, women may have difficulty traveling alone in Turkey. In a blog post about the complexities of visiting Turkey, Becki Enright of Borders of Adventure wrote of her experience in Turkey, "Nothing extreme or life threatening actually happened, instead I was hit by a multitude of cultural setbacks that came in waves. Catching my breath momentarily, I would then be swept right back into the current that somehow keeps people in the country, before the next onslaught began."
Enright shared her difficulties with traveling in Turkey, including being caught up in riots in Istanbul, her frustrations with men following her to her guest house, and an ice cream vendor telling her he would drop the price if she gave him a kiss. But she also wrote that she enjoyed Istanbul for a time, sharing that, "Istanbul was a city of discovery and juxtapositions, of Middle Eastern exquisiteness and edgy modernity."
In the end, Enright concluded that if she were to ever return to Turkey, she would go with a man. G Adventures offers a few more suggestions for women wanting to travel to Turkey alone, including bringing your own toilet paper, dressing modestly, and paying attention to local customs.
Morocco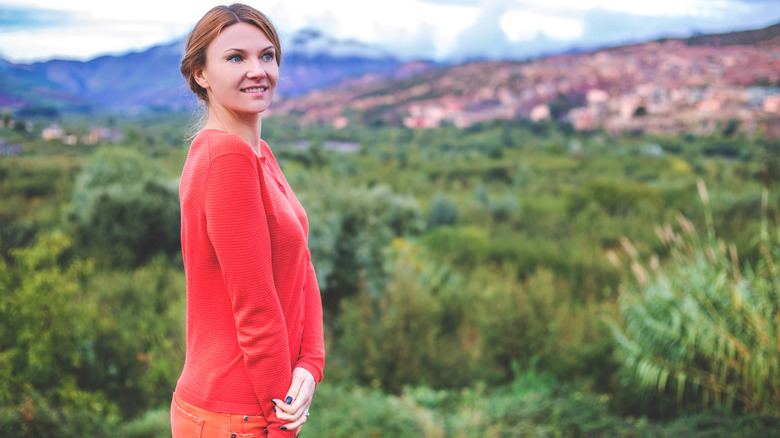 Shutterstock
My parents and sister went to Morocco and returned with beautiful ceramics, colorful photography, and tales of intense bargaining mixed with unmatched hospitality. "Morocco," my mom said, "is the most colorful place I've ever visited."
For women traveling alone, Morocco isn't without its frustrations. In an article in the Huffington Post, Rebecca Shapiro wrote, "Morocco is an incredibly patriarchal country, and for western women and feminists, this can be a shock to the system. Men's sense of entitlement, combined with the fact [that] you will stand out no matter what you do, means that unwanted attention is inevitable."
Lauren Juliff of Neverending Footsteps echoed this sentiment in her blog. "Morocco is one of my favourite countries but it was also one of the hardest to travel in." She added that in Essaouira, "I suddenly had hassle from men in the street, – grabbing me, trying to touch my breasts, telling me they liked my 'American tits', whispering in French in my ear and then calling me a slut and a whore when I walked away."
Despite the difficulty of traveling in Morocco, it's still a country worth visiting. And you can enjoy your time there, if you're smart about it. Juliff concluded her post with this advice: "My time in Morocco was challenging, but it was rewarding, too. As long as you're fully aware of what to expect, stay positive, dress respectfully and take time to rest when the hassle gets too much, there's no reason you can't have a safe and enjoyable trip."
Guatemala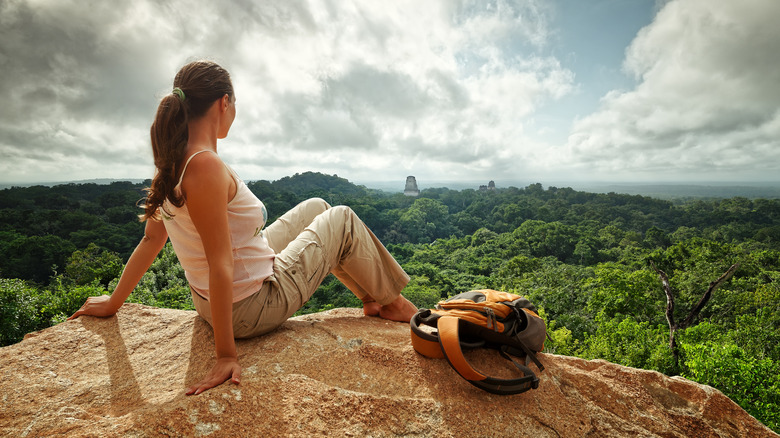 Shutterstock
I will never forget going to Guatemala when I was 20 years old. I walked the colorful, bustling streets with the wide-eyed wonder of a first time backpacker. My friends and I built homes for Habitat for Humanity, cliff dove into the clear waters of Lake Atitlan, and learned Spanish in a tiny town called Argueta near Tikal. Those were some of the best weeks of my life.
I had a great time in Guatemala because I went on a guided trip with counselors who kept me safe. But solo traveling is very different, and Guatemala has high crime rates and an unstable government. Women traveling to Guatemala should take precautions and stay in areas with other tourists.
Lauren Salisbury, blogger at Something In Her Ramblings, suggests that women traveling to Guatemala stay away from public buses (the colorful buses known as 'chicken buses'), stick to the beaten path, take guided tours, don't drink the tap water, and "don't be afraid to be rude if you feel you are being harassed."
She suggested that women handle harassment in this way: "There is no rule that says you have to be kind to people who are bothering you. If you find yourself approached by someone who makes you uncomfortable, give them a firm indication you don't want to talk, ignore them, and walk away."
Colombia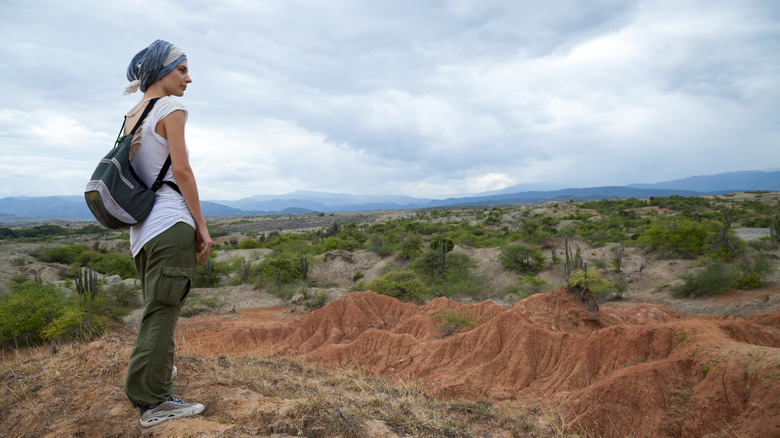 Shutterstock
Colombia was long thought of as a country too dangerous for any Westerners to visit, let alone solo women travelers. The drug cartels and crime stopped many Americans from going there. But things have changed. At least for some travelers. Lonely Planet writer Kevin Raub wrote, "Today, the security situation has improved dramatically, helping Colombia to become South America's phoenix from the flames."
On Her Packing List, Ali Garland interviewed two women travelers, Ginger Kern and Gigi Griffis, who recounted vastly different experiences traveling in Colombia. While Kern felt safe in Colombia and didn't experience much harassment, Griffis was harassed on a constant basis. For example, when it came to walking alone at night, Kern said, "I felt safer walking alone at night in districts like Poblado, Laureles, and the municipality Envigado than I do in many U.S. cities."
In contrast, Griffis told Garland, "In Colombia, I witnessed domestic violence (and stepped in to stop it, which is doubly terrifying), was harassed on the streets daily, was followed home by men on motorcycles, had men block my way into my apartment, had other men attempt to grab me while I stood in line at the ATM."
When asked what they recommended for women wanting to travel alone in Colombia, Kern suggested getting to know people in the country before you go. "Put yourself out there and make the connections, as they'll make all the difference once you're in the country and ready for great people and even better adventures!"
Griffis stressed that if you want to go to Colombia, you should know about the potential for harassment there. "If you are going to go, I think it's really important that you know what you're getting into."
Brazil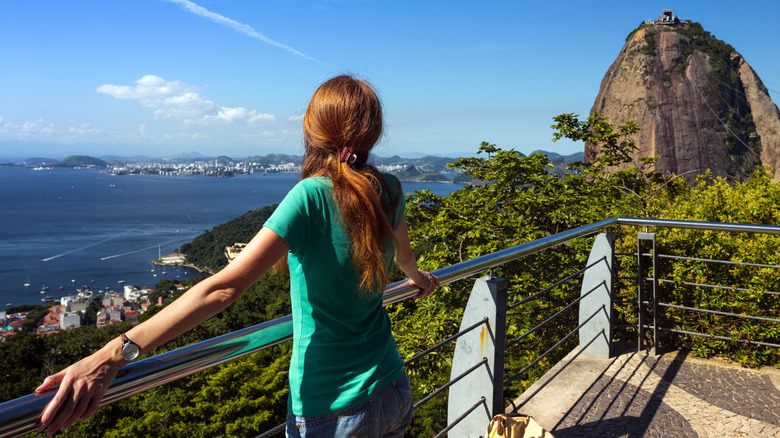 Shutterstock
Brazil, the largest country in South America, is home to the majestic Iguazu Falls, the parties of Carnival, and incredibly gorgeous beaches. But don't get too swept up in the excitement of Brazil. It's not completely safe for travelers.
Caleb McElveen, the SEO Director for Reservations.com, told me, "Brazil's economy isn't the best, so tourists might have to deal with some nasty stuff. This includes robberies, sexual assault, kidnapping and just overall crime. Driving in Brazil is also not recommended. Roads aren't maintained, people drive fast and some places don't have street lights. Yikes! That's just an accident waiting to happen."
If you want to enjoy the natural beauty and culture of Brazil while staying safe, Leyla Alyanak of Women on the Road provided many thoughtful suggestions, including keeping your wits about you, staying away from touristy areas, and leaving your valuables at home. If you do get attacked, she wrote, "Forget the fancy self-defense moves. Give them what they want. You won't win."
India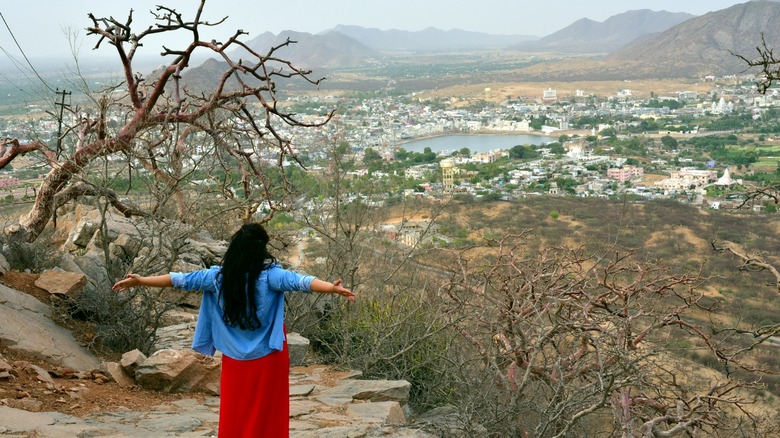 Shutterstock
I've traveled to over 30 countries, and India was by far the most difficult. Not just for a woman traveling alone, but in general. My friends and I couldn't get off of a bus without being harassed by men wanting to carry our luggage — for a fee, of course. The trains were packed with people. And beggars surrounded us wherever we went. One time I made the mistake of giving a little boy a piece of the orange I was eating — only to be surrounded by 20 children a minute later.
While traveling there proved challenging, India also taught me more than any other country I've visited. And the possibilities for exploration are endless — from doing yoga at an ashram to visiting the magnificent Taj Mahal.
If you're determined to go to India, be prepared. My top tips are to keep a toilet roll with you at all times and ignore all beggars, no matter how downtrodden they look. Anna Phipps of Global Gallivanting suggests that even if you want to travel alone, "It's a good idea to join a group tour for the first week or so as you'll be able to enjoy it more without any stress or hassle and then, once you are more acclimatized with India and feeling more confident, you could travel onwards independently, hopefully with some new friends that you made on the tour."
She also advised solo female travelers to follow the local customs, trust your gut, dress conservatively, and be confident and assertive. "Forget about being polite, it may be taken as a sign of weakness, be prepared to stand up for yourself and don't be afraid to speak out."
China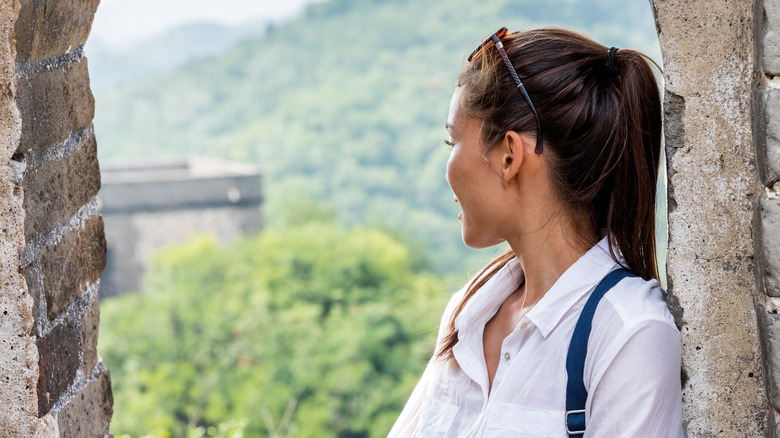 Shutterstock
If you visit China, myriad experiences await. You can walk on the top of the Great Wall of China, ogle the giant pandas, and enjoy the vast and beautiful landscape. Just make sure you bring a Chinese speaker with you or figure out your travel plans ahead of time.
On Something In Her Ramblings, Anita Sāne shared the challenges of traveling in China and not knowing the language. She said that navigating the country could be difficult, especially in places where no one spoke English. "China is not an easy destination for solo travel because of the language barrier."
She got around this by preparing the names of places she wanted to go beforehand, getting help from the English speaking staff at hotels, and using cheap local tours to see the sights. And, he offered a surprising tip: "[If] no English tours are available, join the Chinese speaking tour group instead. In most cases a few people in the group will speak some English, if not just stay with the group and you will still see everything. "
Iran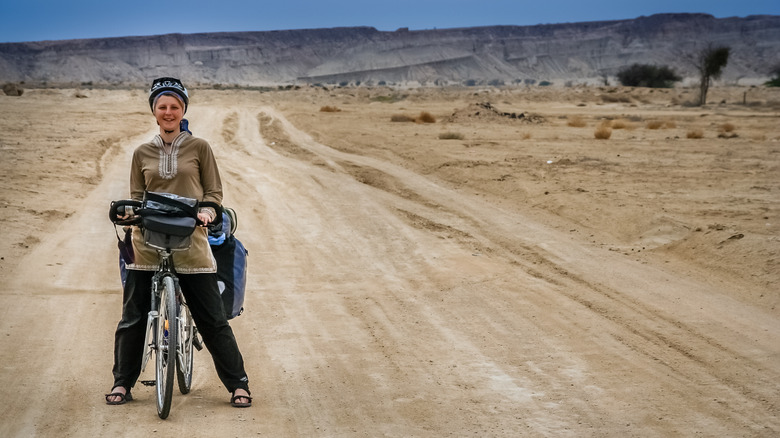 Shutterstock
When it comes to visiting Iran, the U.S. Department of State tells a very different story than the female solo travelers. The U.S. government warns, "Iranian authorities continue to unjustly detain and imprison U.S. citizens, particularly Iranian-Americans, including students, journalists, business travelers, and academics, on charges including espionage and posing a threat to national security."
However, most of the accounts of female travelers to Iran speak of warm hospitality from the Iranian people. Ethel Karskens wrote on Her Packing List, "When I was in Isfahan, I was walking on a mountain when a woman with poor English invited me to have lunch at her place. In other places in the world I would be suspicious, but that's how it is in Iran: they see foreigners as an opportunity to show the Iranian hospitality, to know more about other countries and to share their stories."
In Heart My Backpack, Silvia Lawrence shared a similar story. She described her Couchsurfing hosts, who "were incredibly warm and welcoming hosts, cooking delicious Persian food and asking me countless questions about Norway and the U.S. and foreigners' impressions of Iran."
If you do go to Iran, make sure to pack a headscarf and adhere to the expected modesty of women in Iran — wear long sleeves and a long skirt.
Jamaica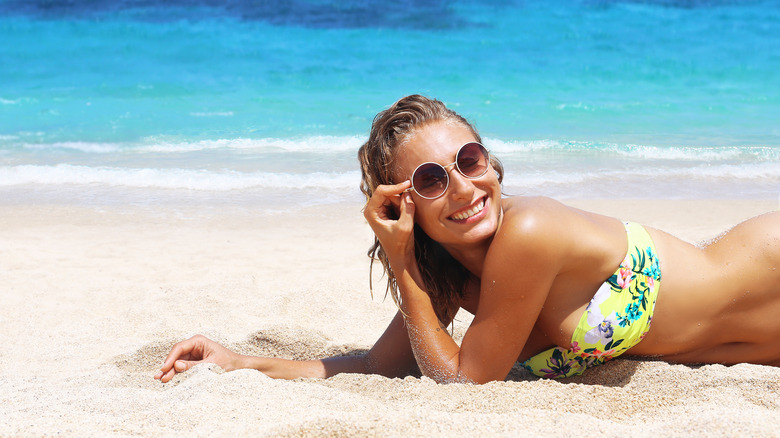 Shutterstock
My husband and I had barely stepped off the plane when a Jamaican man approached him, offering to sell him marijuana. That was just the beginning. I hated walking along the beach in Negril because every few steps, someone stopped my husband and tried to sell us something. One time, a man followed us and then tried to get us to pay him for "showing us where to go."
Luckily, we became friends with a woman named Trisha who cooked jerk chicken for us every night. She introduced us to her friends, and we loved the time we spent with her, hanging out with our feet in the sand, eating delicious food. I never felt unsafe — just frustrated that we were hassled so much. And women traveling alone are hassled even more than we were.
If you're thinking of traveling to Jamaica, make sure you come prepared to deal with local men who may bother you. Dian Emery on Girls Getaway suggested that you chat, but don't give them too much information. "If anyone does seem particularly persistent in drawing out a greeting into a long conversation and you really don't want to chat, then we recommend just putting the same questions back that you have been asked."
She added that you may not want to admit you're traveling alone. "Your biggest hassle will be from the Jamaican men wanting to 'romance' you. It will be pretty persistent, but in a non-threatening way. Just tell them you have a husband or boyfriend, and they should respect that."
Traveling alone is about a state of mind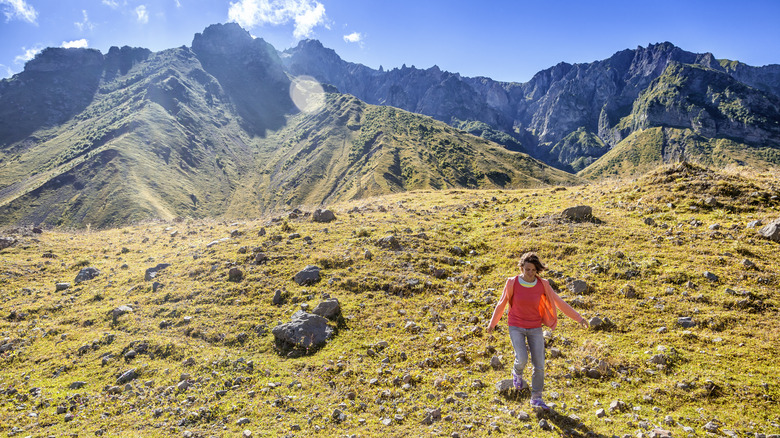 Shutterstock
No matter where you're traveling, whether it's Egypt, India, or Jamaica, if you have the right approach and take the right precautions, you can have a fun trip.
Tessa Juliette from Travel Where to Next told me, "Traveling alone is all about a state of mind. You can't let your excitement for traveling cloud your judgment. It mainly comes down to approaching situations the same way you would back home."
Use your best judgement, pay attention, take care of yourself, and enjoy exploring!