Astringent Vs. Toner: Which Is Better For Oily Skin?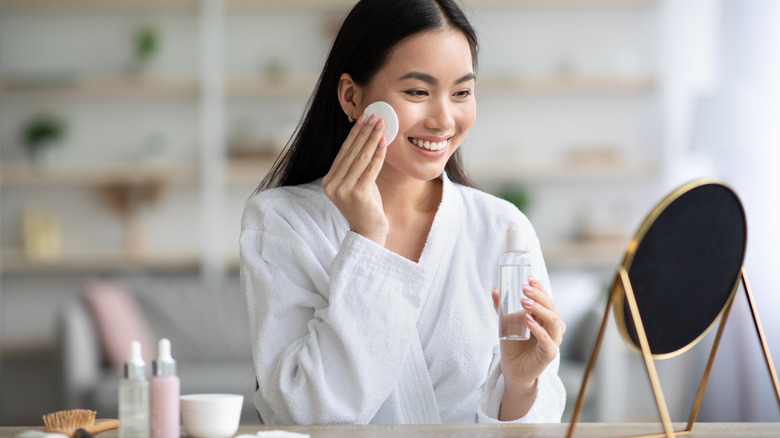 Prostock-studio/Shutterstock
Making sure to cleanse and moisturize your face is the foundation to any decent skincare routine. However, things can quickly get confusing when you hear about toners and don't know what to do with them. Toner is an optional second step in a skincare routine that occurs after cleansing and before the application of other products, per Sydney Morning Herald and Byrdie. A toner is a water-based liquid formula that is typically applied to dry skin with a cotton pad. It can help to remove any trace amounts of makeup or residue left behind after cleansing the face and prepare your skin for soaking in any serums you have next in your routine (via Very Well Health).
They are called toners because cleansers used to be highly alkaline and toners would help to neutralize your skin's pH levels. However, cleansers tend to be more gentle these days and scientists have come to learn that our skin tends to keep a stable pH level, so while you don't need a toner, it can help soothe, clarify, and brighten your skin.
You may have also heard about astringents and wondered what they are, as well as whether you should use one. Astringents are also liquid formulas that are applied right after cleansing in the same way a toner is applied. However, this is where the similarities end between the two. Astringents are designed to clean the surface of the skin deeper than toners and can tighten the appearance of pores better than toners (via L'Oréal Paris).
Oily skin may benefit from an astringent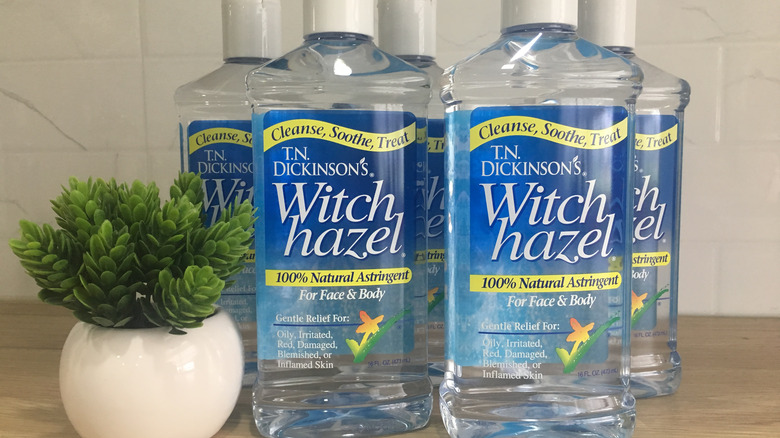 Jaiz Anuar/Shutterstock
If you have oily skin, you may benefit from using an astringent, as it will remove any excess oil (via Very Well Health). However, many astringents contain alcohol which may be damaging to the skin barrier. Alcohol can dry out the skin which can result in your skin becoming irritated and over-producing oil to compensate, so look for alcohol-free astringents. Try to go for astringents that rely on exfoliating acids like salicylic acid or glycolic acid. If you're suffering from acne, acids like that will help reduce and prevent breakouts as well.
Keep in mind that a little goes a long way, and that is especially the case with astringents, per Byrdie. Using too much can dry your skin out, even if it's an alcohol-free product. Dermatologist Ava Shamban tells Byrdie,"You can overdo astringents, because they can reduce the acid mangle and disrupt the pH balance, as well as induce more oil production due to over-drying, so monitoring usage and resulting skin effects is important."
If you're just starting out, it's recommended to introduce astringent every other day until your skin gets used to it. If you are using an astringent or toner with alpha hydroxy acid, then it's important to use it only at night, as it can make your skin sensitive to sunlight.
Astringents and toners that work for oily skin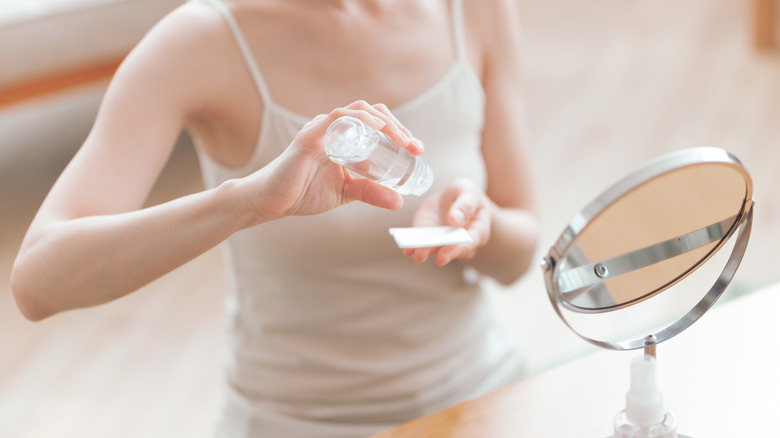 milatas/Shutterstock
Trying to find astringents without alcohol can be difficult, but luckily, there are plenty of natural astringent products. Witch hazel is one of the most common natural astringents and is fairly gentle on the skin, per Byrdie. Other examples include apple cider vinegar, green tea, and any ingredients that consist of tannin. According to Well + Good, Thayers Witch Hazel is a great astringent option that is alcohol-free.
A popular toner-astringent combination for oily skin is Pixi Beauty's Glow Tonic, per Chicago Tribune. This exfoliating toner contains 5% glycolic acid, and can help control oil production while brightening the skin. According to Lab Muffin Beauty Science, this product also contains witch hazel extract, as well as antioxidants, hydrating aloe vera, and humectants that attract moisture to the skin.
If your main concern is acne and your skin is not extremely oily, you may not need an astringent and be able to opt for a toner instead (via Very Well Health). As acne can be caused by inflammation, it may even benefit you to go for a less irritating toner like Farmacy Deep Sweep 2% BHA Pore Cleaning Toner, per Beaumont Health. The alcohol-free formula doesn't dry your skin out, and the BHA in the product helps control excess oil while clearing the pores. So, now you don't have to sweat about your oily skin. Just add an astringent or exfoliating toner to your routine, and you're good to go!