The Real Reason Roger Stone Just Issued A Threat To Ron DeSantis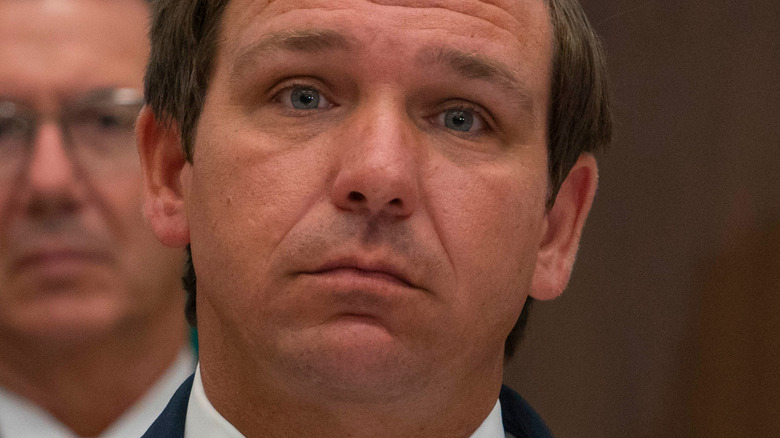 Hunter Crenian/Shutterstock
If there is one quality former President Donald Trump demands of his friends, followers, and staff, it's loyalty — not to the Constitution, nor to the country, but to himself. Trump has even declared (via Politico) that he values loyalty "above everything else — more than brains, more than drive, and more than energy." 
There are few who understand this better than conservative political consultant and longtime Trump supporter Roger Stone, who in 2018 defined what that meant to Politico writer Michael Kruse. To Stone, loyalty meant "support[ing] Donald Trump in anything he says and does, no matter what."
Stone went to bat for Donald Trump again this past weekend by sending a warning to Florida Governor Ron DeSantis, asking for a promise that DeSantis would serve out his four-year term if he is re-elected as governor in 2022. Stone delivered his message to DeSantis through an interview with CBS Miami, saying, "I just don't think Florida should be a stepping stone to the presidency for any person," Stone said. 
Roger Stone's reason for a potential gubernatorial run against Ron DeSantis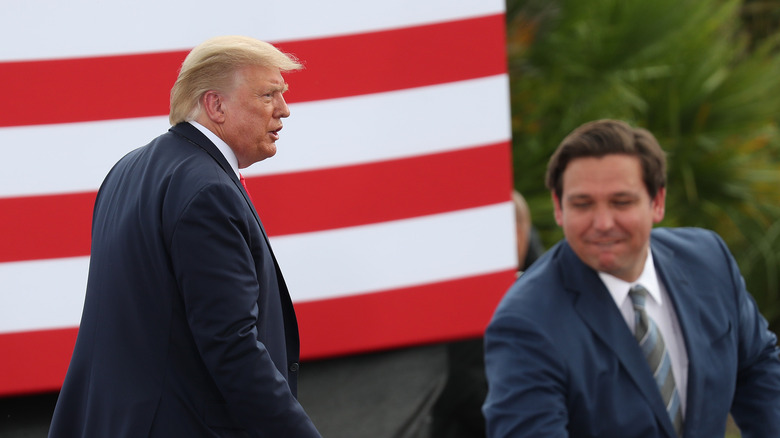 Joe Raedle/Getty Images
There has been speculation that Ron DeSantis, who is seen as a rising star within the GOP, might launch a campaign for the party's presidential nomination in 2024. Even though we're years away from the 2024 polls, DeSantis has become a symbol of the GOP's resistance to vaccine mandates and voting rights. A poll conducted some months back even had DeSantis doing better than Trump among GOP voters. DeSantis, meanwhile, has since said that any talk of him running was simply "speculation" (via Insider).
And Roger Stone is under no illusion that he could become governor of Florida. Rather, he feels a run could siphon off votes that could rob DeSantis of victory. "The people who love Ron DeSantis the most are, of course, the people who have never met him," he said to CBS Miami. "I don't think that I would have to get many votes to change the results of this race," he said. What Stone said he didn't want to see, was "for him [DeSantis] to be reelected and then immediately abandon Florida to run off and run for president, particularly if he's running against Donald Trump."
Stone has already said that DeSantis isn't doing enough for Trump, saying to The South Florida Sun-Sentinel on November 1, "I cannot speculate as to why the governor has not urged the former president to run but I feel strongly that President Trump would be the strongest candidate."
Donald Trump's cryptic comments about 2024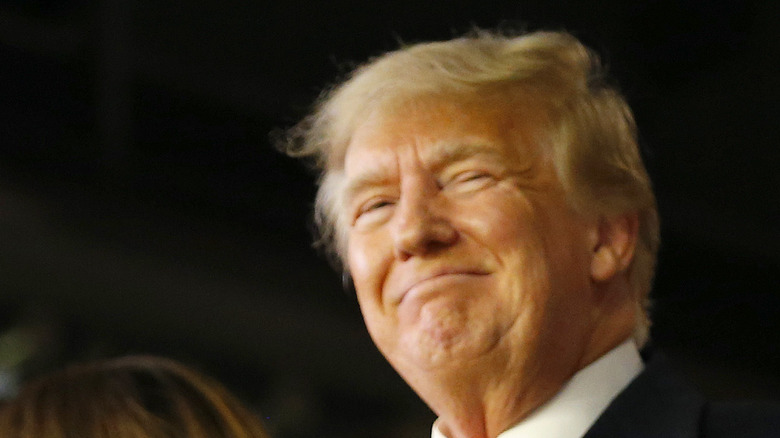 Michael Zarrilli/Getty Images
While Trump himself has not specifically said he'd run for president again, he has been dropping hints about potentially making a political comeback. During a chat with police officials at New York's 17th Precinct in September, Trump hinted he might run again when asked about the 2024 election. 
"Actually, it's an easy question. I know what I'm going to do, but we're not supposed to be talking about it yet ... But I think you're going to be very happy," he said (via HuffPost), adding that there was only one reason why he wasn't announcing his plans just yet, and that was because of "campaign finance laws, which, frankly are ridiculous." Delaying an announcement means he can raise more money without having to comply with campaign contribution laws, HuffPost noted. While Trump and DeSantis appeared to be close at one point, that relationship appears to have become contentious as of late. 
As of October, The Washington Post estimated that Trump's PAC was raking in more than $1 million a week, thanks to an aggressive digital outreach. The fundraising also means that other GOP candidates would have gotten either little or no money for their own campaigns or their causes. Speaking to the Post, one unnamed Republican official likened Trump's fundraising exercise to "raising money to have a big slush fund."