The Best CBD Gummies To Help You Fall Asleep Fast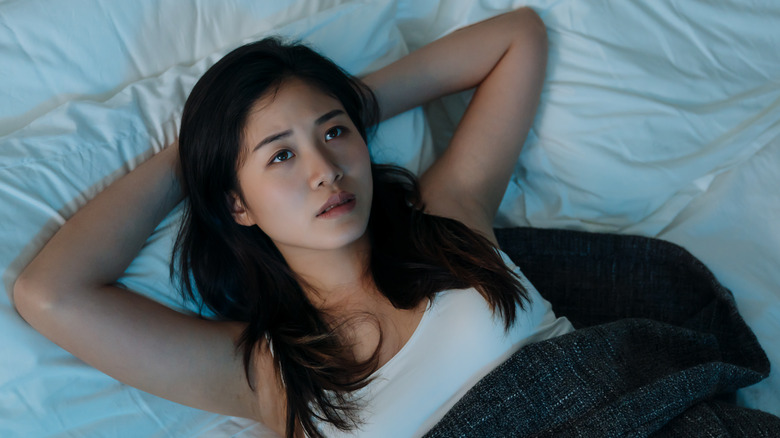 PR Image Factory/Shutterstock
Nothing is worse than the feeling of not being able to sleep. Whether you struggle from anxiety and chronic stress, or are simply watching a nerve-wracking TV show at the moment, a lot can contribute to keeping you up at night. Rest assured, if you are an unlucky member of the no-sleep club, you aren't alone. According to a survey conducted by Consumer Reports, approximately 27% of adults have issues falling or staying asleep, and 68%,or around 164 million Americans, have trouble with sleeping at least once every week. That being said, while it's completely normal to have insufficient nights of shut eye, getting enough sleep is critical for your general health and well-being. Sleep is essential for proper brain and body functioning, and can help improve your learning, memory, decision-making, and creativity, as noted by Healthline.
If you identify as a an insomniac, then you've probably tried every over-the-counter sleep aid and supplement under the sun. While there may be no magical cure to solve your problems, there is a more natural solution to help with your sleeping woes: CBD gummies. According to Medical News Today, Cannabidiol (CBD) gummies help decrease levels of anxiety and pain, and thus help improve an individual's overall sleep quality. However, with the abundance of CBD gummies on the market, how do you choose which is the right one for you? Keep reading to find the perfect gummy that will have you drifting off to dreamland in no time.
CBD fans are loving these new gummies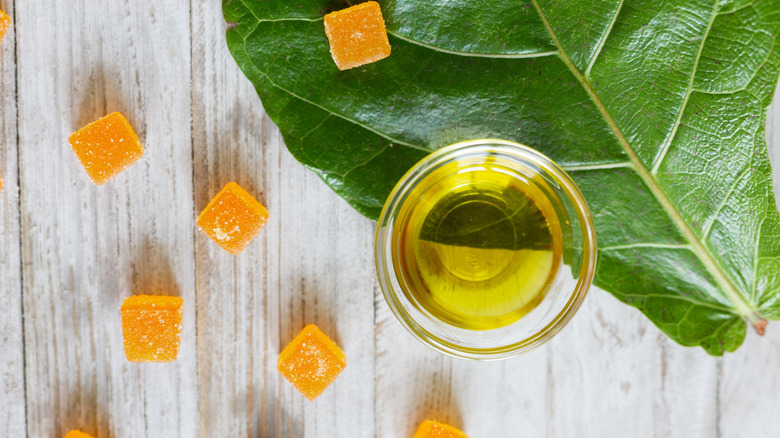 Karen Culp/Shutterstock
According to the Orlando Magazine, and numerous other publications, the best overall CBD gummy out there is produced by Budpop. Although Budpop is relatively new to the CBD game, only recently debuting its brand, this company has fast become a user favorite and is currently ranked as the number one Delta-8 brand in the world (via Budpop). Budpop's vegan gummies are bursting with a powerful combination of CBD and CBN, which has calming and relaxing effect on both your body and mind, making these products perfect for those who are suffering from insomnia or simply searching for more restful sleep (via Observer). Not only will these delta 8-infused gummies help improve your nightly zzz's, but they also increase feelings of euphoria and happiness.
Both lab-tested and manufactured in the United States, Budpop's gummies come in two different flavors: Strawberry and Blueberry. These fruity and flavorful products are equally as tasty as they are effective, and are able to mask the earthy and somewhat unpleasant taste that hemp-based gummies commonly possess. Each gummy has a dosage of 25 mg, which makes these products a great option for both CBD aficionados and inexperienced newbies. The best part? The company also offers a 30-day money back guarantee. While there's no magical cure out there that can solve all your sleep problems, Budpop's CBD gummies sound pretty close.