The Best Eyeliners You Can Buy At The Drugstore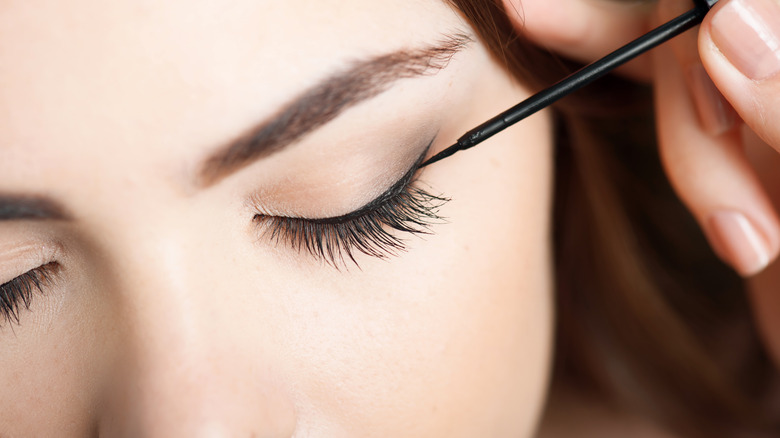 Shutterstock
Like most beauty lovers, I love me some new makeup. From silky foundation, to bold lip color, unwrapping a new goodie feels like Christmas morning every time. The unfortunate reality, however, is that I spend much more time browsing high-end beauty counters than I do making purchases. Because — much like many of my fellow beauty aficionados — this girl's paycheck wouldn't be able to support a Sephora addiction for very long.
Fortunately, you don't always have to splurge to get quality makeup. In fact, the makeup aisle at your neighborhood CVS is full of totally worthy, budget-friendly products, especially when it comes to eyeliner. But with so many options, how do you know how to separate the treasures from the, well, not so good stuff? I tapped three makeup gurus to get their take on what drugstore eyeliners we all need in our makeup bags right now.
Wet 'n Wild H20 Proof Liquid Eyeliner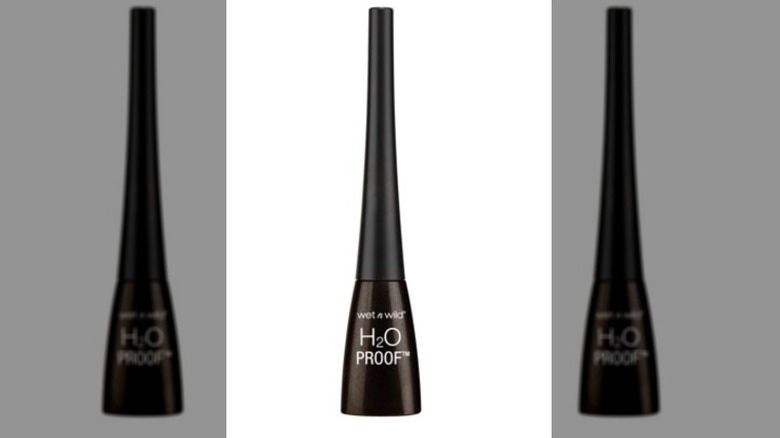 Instagram
When it comes to waterproof liner, celebrity makeup artist Monica Cook, who's worked with beauties like country star Jennifer Nettles and Aja Naomi King of ABC's How to Get Away with Murder, says this one is her go-to. "Wet 'n Wild H20 Proof Liquid Eyeliner is DA BOMB," Cook told me in an interview. "This eyeliner comes in several colors but I tend to purchase the black. It doesn't skip when applied. The color is extremely dark and shiny. It is long lasting and waterproof."
Cook also says she loves that this eyeliner is easy-to-use because unlike a traditional liner brush, it has a precision tip applicator. A major plus for eyeliner novices like myself. "The applicator is shaped like a triangle and is bendable," she told me. "I generally start with the pointed tip closer to the inner corner of a client's' eye and gradually lay it sideways so the liner becomes fuller towards the edge."
If you want a bold eyeliner that's going to last you through your entire night out, Cook definitely says to go with this one. "The black color never fades so they have an intense liner until [the client] takes it off," she said. "We have to use a cleanser to remove it since the formula seriously does not budge!
L'Oréal Infallible Lacquer Liner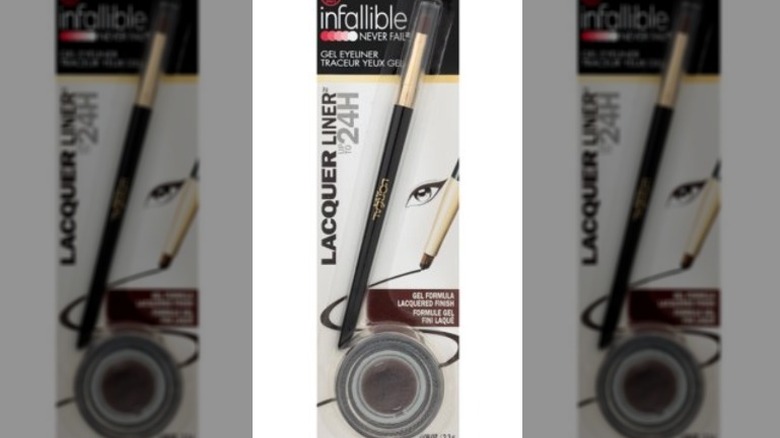 While she certainly has love for other brands, all drugstore eyeliner isn't created equal for Cook. In fact, she calls L'Oréal Infallible Lacquer Liner the "Holy Grail" of cream liners — and, trust her, she's tried all the other high-end brands, including MAC, Bobbi Brown, and others. "You name it, I've purchased or used it," she says.
So how did she fall in love with this $10 drugstore eyeliner? "During theatre season we are given a fairly limited budget for makeup updates so I must shop accordingly," she explained. "I came across this at a CVS and figured I'd give it a shot. WHOA!"
Cook loved that this liner is so dark, creamy, and shiny. "Now, I purchase this over the high end brands every time. The formula never dries out in the jar, whereas some of the higher-end brands dry out only after a few applications," she said. "This eyeliner does the trick every time."
Rimmel Scandal Eyes Waterproof Eyeliner
This inexpensive waterproof liner is also on Cook's must-have list. A big pro: the pencil has a gel core that is waterproof once applied. The color goes on very smooth, according to Cook, and there's a smudger on the brush that allows for great depth and smokiness. "I've used this several times as a base to powder eye shadows because it blends so softly," she told me. "I love to use this in my or my clients' waterline as well. It simply glides on the skin without pulling or tugging."
And Cook says that once this stuff dries, it's locked into place. "I consistently use this on both upscale clients and bridal clients because I know that both studio lights and wedding dresses send women into overheat."
But how does this under-$5 eyeliner stack up against high-end brands? "It is a fabulous alternative to more expensive gel pencils," said Cook. "I couldn't tell a difference in the performance of the Rimmel Scandal Eyes liner and the alternative brands. It's a total winner."
L'Oréal infallible Silkissime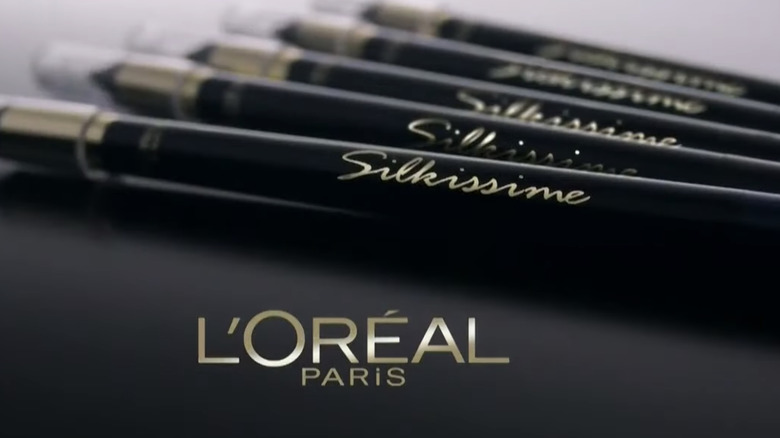 YouTube
When she wants to add some fun color to her look, makeup artist Mindy Green of MG Beauty also looks to L'Oréal Infallible. "I am a huge fan of a few drugstore brands," she told me in an interview. "I really like the L'Oréal infallible Silkissime in True Teal. It's a pop of color for the eyes, and glides on smooth. It also comes in a few different shades." Green also likes the fact that this liner is easy to smudge if you want to create a softer effect.
Lasting Drama Waterproof Gel Pencil
When she needs a long-lasting eyeliner, Green told me she's a fan of Maybelline."I like the Lasting Drama Waterproof Pencil in black and lustrous sapphire," she told me. "It's a gel-based formula that applies easily and the sleek onyx gives blacker-than-black color. The sapphire is a bright royal blue. It's great for people who feel like their liner doesn't stay in place." 
For those who like the pop of color, Green says this pencil also comes in a few more shades like teal and purple. Yes, please!
Black Opal Color Splurge Precision Eyeliner
If you're looking for a liner that's easy to apply, Green says, "I like Black Opal Color Splurge Precision Eyeliner. They only have a few shades, but the pencil is soft enough to go on without tugging, but stiff enough to stay in place." Her favorite color: "I like the Black Jade."
And for about $6 per pencil, this is an easy addition to your makeup arsenal.
NYX Professional Makeup Matte Liquid Liner
When makeup artist and beauty blogger Hillary Kline is perusing the drug store aisles for makeup, she told me that NYX Professional Makeup Matte Liquid Liner is often one of her go-tos. "What I love most about this one, is that it is perfect for creating a seamless cat eye," she said. "I am always inspired by Adele so this one is straight up my alley."
And at just $7, the price is definitely up my alley, too.
Rimmel Exaggerate Eye Definer
For everything from smokey eyes, to quick touch ups, Kline is also a fan of Rimmel Exaggerate Eye Definer. Its retractable tip with built-in smudger makes it easy to add a little drama, while the convenient built-in sharpener helps you get smooth, clean lines every time. 
"I love this waterproof eyeliner and [it] comes in handy when I am in a pinch," said Kline. "I have used the liner to line my lower lash line and also use it to line the top of my lashes."
A playground for beauty lovers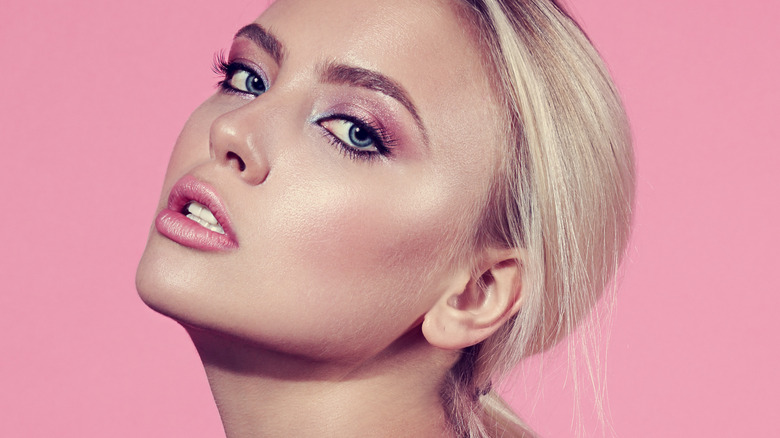 Whether you want to create a colorful retro look or a classic cat eye, there is certainly no shortage of amazing eyeliners that won't break the bank. In fact, your neighborhood drugstore also stocks amazing products to remove your liner, too. "I could not live without eye makeup remover pads from Almay," said Kline. "I have been using these pads since I was in middle school and they are my Holy Grail. They are great when I travel, in my gym bag, and for daily use."
For Green, it's Maybelline's Expert Eyes Oil-Free Eye Makeup Remover. "I have been using it for years. It's gentle and doesn't irritate sensitive eyes or interfere with contact lenses."
Now it's time to add a few more items to my CVS shopping list.