Did Donald Trump Want To Create His Own Political Party?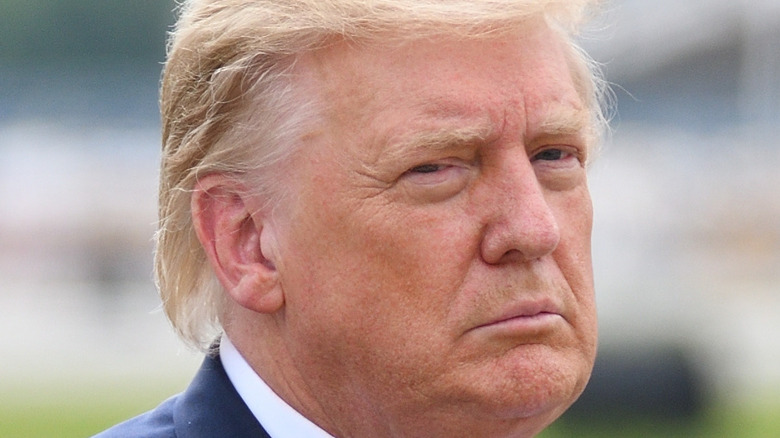 Evan El-Amin/Shutterstock
When Donald Trump boarded Air Force One for his one-way trip to Florida the morning of Jan. 20, 2021, he maintained that he had won the presidential election — and still claims that as of this writing. He also drops hints every once in a while that he's going to run again in 2024 but hasn't announced his official candidacy. On Sept. 11, 2021, when Trump visited a Manhattan police precinct and was asked about a potential run, all he said was (via Fox 6), "I think you're going to be happy." 
However, on Jan. 20, Trump was not happy at all. In fact, he was so put off by the fact that he was being forced to leave the White House that he didn't even stick around for the inauguration of current President Joe Biden — despite the fact that it's tradition for the outgoing president to be there when a new president is sworn in. 
Instead, according to the new book "Betrayal: The Final Act of the Trump Show" by Jonathan Karl, Trump spent his final flight on the presidential plane railing against the Republican party for not sticking by him and complaining about election fraud, which he could never seem to prove in court, according to People. He was so upset with the GOP that he even threatened to leave the party.
Donald Trump floated the idea of leaving all Republicans behind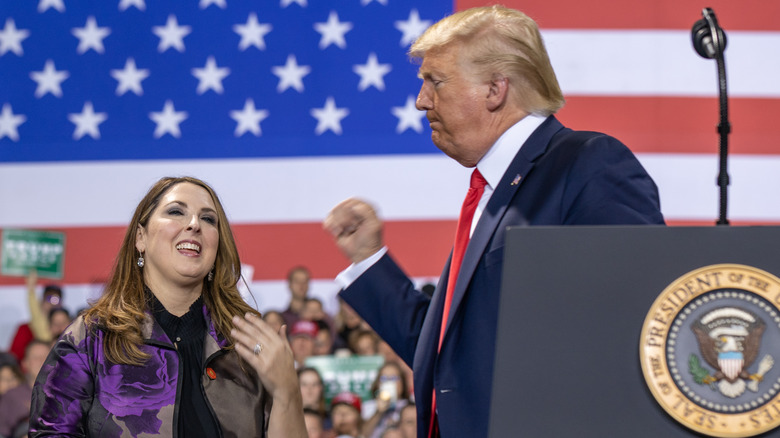 Max Elram/Shutterstock
It wasn't long after Donald Trump settled onto the presidential plane taking him to Mar-a-Lago in Palm Beach that he got on the phone with Republican National Committee Chairwoman Ronna McDaniel and gave her an earful about how angry he was with the party that he co-opted when he chose to run for president.
"Donald Trump was in no mood for small talk or nostalgic goodbyes. He got right to the point," Jonathan Karl wrote in his new book, "Betrayal: The Final Act of the Trump Show," due out on Nov. 16 (via People). "He told her he was leaving the Republican Party and would be creating his own political party."
McDaniel was apparently rather alarmed by Trump's declaration, knowing how much Republican voters adored the former president, with many of them willing to start a deadly riot at the Capitol to ensure that Joe Biden wasn't certified as the election winner.
"You cannot do that," McDaniel said, according to Karl's book (via People). "If you do, we will lose forever." Trump didn't seem to care. "Exactly," he said. "You lose forever without me. I don't care."
Donald Trump's argument with the RNC chair ended over financial concerns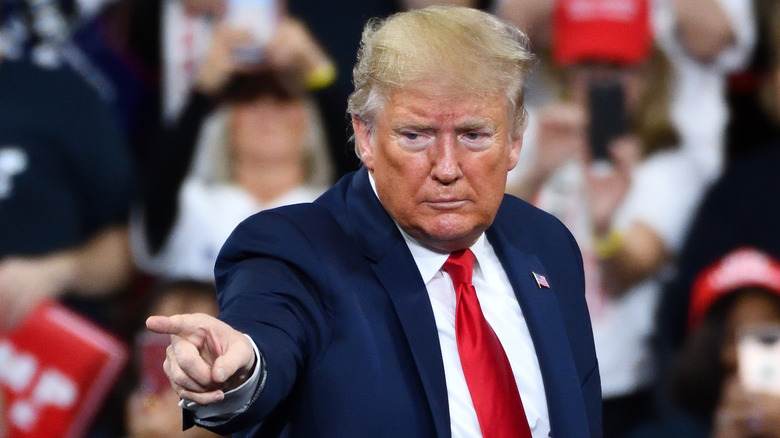 Evan El-Amin/Shutterstock
Donald Trump told RNC chair Ronna McDaniel that he didn't care what happened to the Republican party now that he was no longer president. After all, he felt that the party betrayed him by allowing Joe Biden, the winner of the election, to prepare to move into the White House. "This is what Republicans deserve for not sticking up for me," Trump told McDaniel, according to Jonathan Karl's book (via People).
However, Trump learned what the consequences would be if he abandoned the Republican party. He was informed that the RNC would stop paying his legal bills for his election challenges and would see to it that he no longer had access to an email list of 40 million Trump supporters, something the RNC co-owned with the official Trump campaign, per Karl's book.
The emails were worth $100 million, as both the RNC and Trump campaign could lease the list to other candidates. McDaniel reportedly told Trump that the RNC would hand out the emails for free if he left, causing Trump to relent and remain a Republican.