Are Kayleigh McEnany's Past Statements About Election Fraud Coming Back To Haunt Her?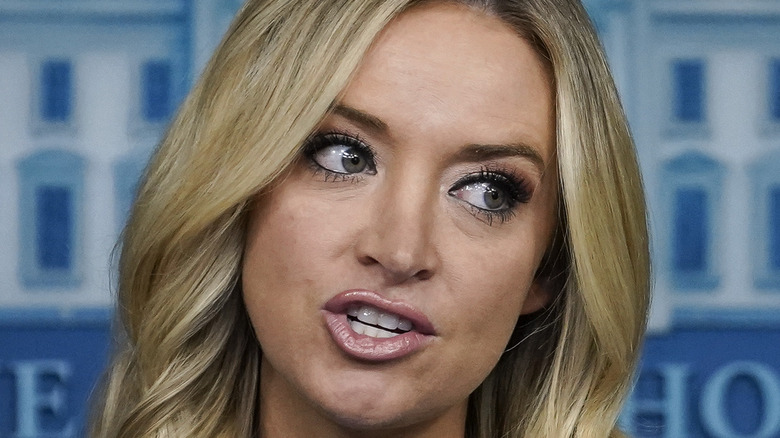 Drew Angerer/Getty Images
While serving as White House press secretary, Kayleigh McEnany delivered some of former president Donald Trump's most startling claims to the masses. Once it became clear he'd lost the 2020 election to Joe Biden, McEnany spread baseless claims about voter fraud at every available opportunity. She was even cut off by Fox News mid-rant, during a press briefing at the Republican National Committee headquarters, while railing that the party wants "every legal vote to be counted, and every illegal vote to be discarded," per The Guardian. Host Neil Cavuto explained simply, "Unless she has more details to back that up, I can't in good countenance continue to show you this." 
McEnany subsequently appeared on Fox News brandishing what she claimed were hundreds of pages definitively proving widespread election fraud. As The Sun reported at the time, Trump's press secretary claimed to have compiled witness statements detailing thousands of incidents of voter fraud. Naturally, there was ultimately no evidence found, but Trump and his team continued to push these claims regardless (via Forbes). However, although McEnany might have doubled down on her words at the time, she could soon have reason to wish she'd never said anything.
Kayleigh McEnany has been subpoenaed by the January 6 committee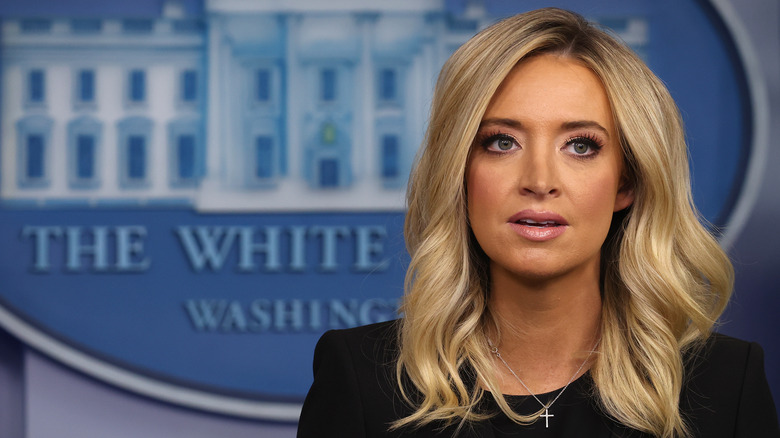 Chip Somodevilla/Getty Images
Former president Donald Trump's White House press secretary is being subpoenaed, alongside several of his other affiliates, for her part in inciting the January 6, 2021 Capitol riot, according to CNN. In particular, the committee is interested in Kayleigh McEnany's demonstrably false statements about election fraud, which were spread extensively through the White House and elsewhere. They believe her statements contributed to the widely-believed idea something untoward occurred to tip the election in Joe Biden's favor. 
"For example, in the first White House press conference after the election, Ms. McEnany claimed that there were 'very real claims' of fraud that the former president's re-election campaign was pursuing and said that mail-in voting was something that 'we have identified as being particularly prone to fraud'," the panel noted in a statement. At another press conference, McEnany called out Democrats, in particular, for allegedly "welcoming fraud" and "welcoming illegal voting." She was also reportedly with Trump at various moments while he watched the Capitol riot take place. 
Panel chairman, Representative Bennie Thompson, explained, "The Select Committee wants to learn every detail of what went on in the White House on January 6th and in the days beforehand," CNBC confirmed. The committee is intent on figuring out how the former president, and his team, impacted vote counting and how they attempted to overturn the election's eventual outcome. McEnany and several others, including former national security adviser Michael Flynn, are believed to have pertinent information relating to the Capitol attack.