Meghan Markle's Latest Outfit Proves She Still Has A Soft Spot For The UK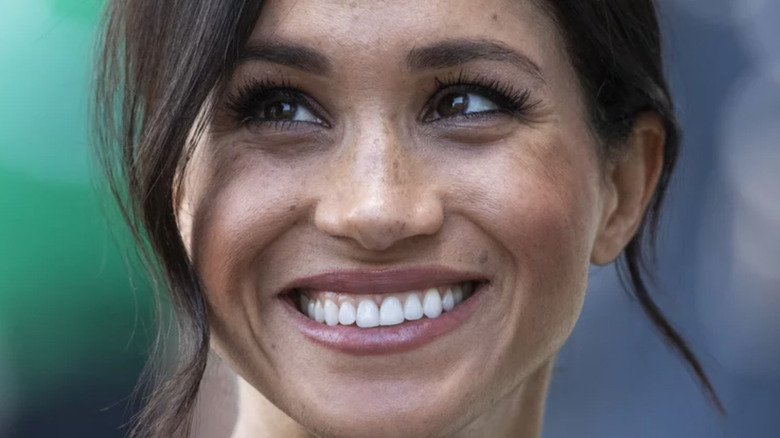 Dan Kitwood/Getty Images
Despite leaving the United Kingdom along with her husband Prince Harry last year, one of Meghan Markle's recent outfits seems to suggest that she might still have a soft spot for the country she left behind.
As the BBC reported, the Duke and Duchess of Sussex announced that they were stepping back as "senior" members of the British royal family in January 2020, revealing that they planned to move to North America and become financially independent.
"After many months of reflection and internal discussions, we have chosen to make a transition this year in starting to carve out a progressive new role within this institution," the couple revealed in a statement on Instagram at the time. "We now plan to balance our time between the United Kingdom and North America, continuing to honour our duty to The Queen, the Commonwealth, and our patronages. This geographic balance will enable us to raise our son with an appreciation for the royal tradition into which he was born," they added.
Markle and Harry subsequently moved to live in California, and, in February 2021, Buckingham Palace confirmed that Markle and Prince Harry would not "continue with the responsibilities and duties that come with a life of public service," suggesting the couple had very much left their life in the UK behind (via the BBC).
However, during an appearance at The New York Times DealBook Online Summit on Tuesday, Nov. 9, Markle's outfit featured a subtle and poignant tribute to the United Kingdom (via People).
Meghan Markle's outfit included a tribute to the UK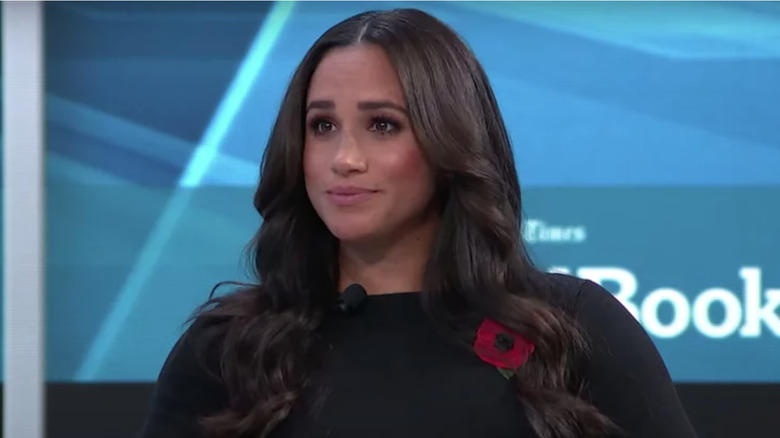 Youtube
At the summit, Markle took part in a conversation called "Minding the Gap" alongside the Co-C.E.O. and President of Ariel Investments, Mellody Hobson, during which they discussed how women can "reach economic and professional parity." Per People, Markle was also asked by the conversation host, Andrew Ross Sorkin, about her campaign for paid family leave, to which she responded that, although royals generally stay out of politics, she views this issue as a "humanitarian" one.
"I think this is one of those issues that is not red or blue. We can all agree that people need support certainly when they've just had a child," Markle explained, adding, "Paid leave, from my standpoint, is just a humanitarian issue ... To come back and now be a mother of two and to see that the U.S. is one of only six countries in the entire world that doesn't offer any form of national paid leave just didn't make sense."
During the sit-down, the Duchess went on to say that even before she had "any sort of privilege" in her life, she always "stood up for what was right."
As The Express reported, Markle opted for an all-black look while attending the DealBook Summit, which consisted of a black short-sleeve cashmere sweater, black trousers, black stilettos, and a gold buckle belt by designer Ferragamo. However, it was the Duchess' Remembrance Day red poppy pinned onto her outfit that captured the attention of some viewers.
Meghan Markle's moving UK tribute didn't go unnoticed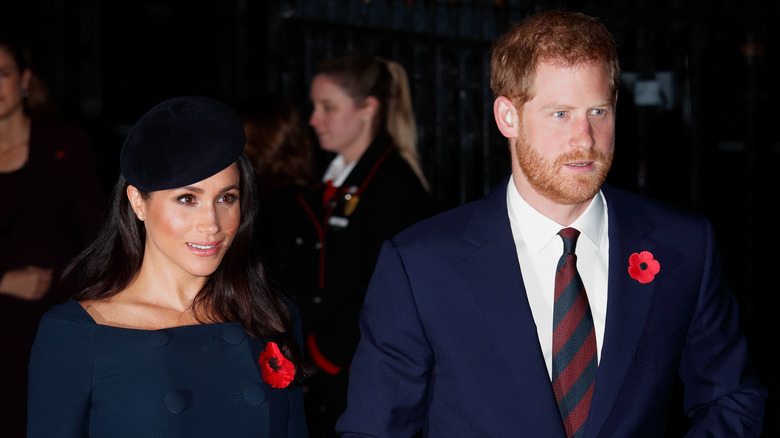 Max Mumby/indigo/Getty Images
In the UK, these red poppies are worn every November in support of the British Armed Forces, per the Royal British Legion. The poppy is well known in the UK as a symbol of remembrance and hope for a peaceful future, and each poppy is sold in aid of the UK's largest Armed Forces charity.
Following her appearance at the DealBook Summit, it wasn't long before some eagle-eyed fans noticed Markle's tribute to the British Armed Forces and Remembrance Week 2021. 
"Her Royal Highness The Duchess of Sussex looks stunning. Being respectful wearing a Poppy for Remembrance Week. The RF really messed this up. The impact the Sussexes could have had," one fan wrote on Twitter, while another user commented, "She even wore the British poppy for their upcoming #RemembranceDay2021 — that's class."
However, others were also quick to criticize Markle's decision to wear a poppy after leaving the UK behind. "Oh dear. the poppy! Looks like they are going, yet again, to try to muscle in on Sunday's events. They really are beyond despicable. Trying to link themselves to a country they both hate," one disgruntled Twitter user wrote. "Just another insult against the UK and monarchy. [Markle] doesn't give a flying fig on the UK or USA military," another person commented. 
Per Radio Times, Remembrance Week 2021 began on Monday, Nov. 8 in the UK and will conclude on Sunday, Nov. 14 with the Ceremony of Remembrance in London.