Here's What Diana's Bodyguard Really Thought Of Kristen Stewart's Portrayal Of The Princess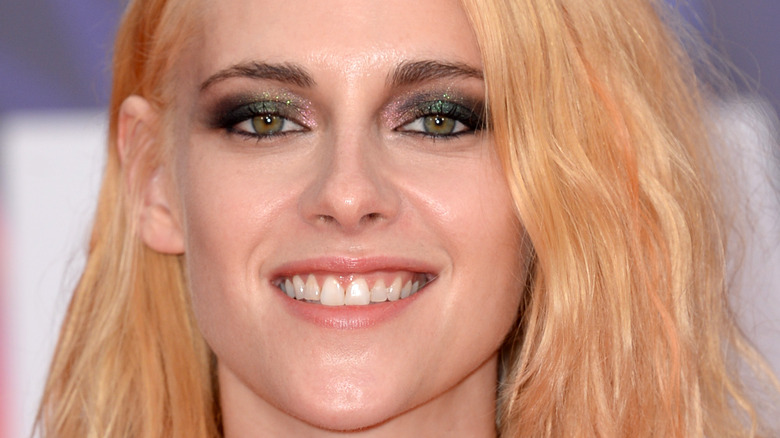 Eamonn M. Mccormack/Getty Images
The latest Princess Diana biopic has been released to the world, and Pablo Larraín's "Spencer" has been hailed by critics for its unique portrayal of the People's Princess. In the film, actress Kristen Stewart portrays Princess Diana during a pivotal moment in the late Royal's life — the Christmas weekend in 1991 where she realized that her marriage to Prince Charles was effectively over (via Slate).
"Spencer," like most biopics, takes creative liberties in telling the story as it unfolds on the royal family's sweeping Sandringham estate. Princess Diana, through Stewart's depiction, is seen dancing down hallways, confiding in staff members, and weeping over the dissolution of her marriage. Perhaps one of the most jarring scenes is featured prominently in the film's trailer, where Stewart tearfully looks over her shoulder and utters the line, "Will they kill me, do you think?" (via YouTube).
Though the film, and Stewart's performance, are being praised by fans and critics alike, the reactions of those who knew Princess Diana personally have ranged from acclaim to alarm. One person in particular, Diana's bodyguard Ken Wharfe, has gone on the record about what he really thought of Kristen Stewart's portrayal of the Princess.
Diana's bodyguard had this to say about Kristen Stewart's portrayal of the Princess
Ken Wharfe served as Princess Diana's bodyguard from the late 1980s into the early 1990s, and was present with Diana during the 1991 Christmas weekend in Sandringham depicted in the film "Spencer." Speaking exclusively with People, Wharfe revealed what he thought of the movie, and how he felt about Kristen Stewart's portrayal of the famous royal.
In terms of accuracy, Wharfe thinks director Pablo Larraín captured the sense of sadness and solitude that Princess Diana experienced during that period. "It was purgatory for her," Wharfe told the publication. He said that Diana "confined herself to spending time in the kitchen with the chef or with people like me, in the hope that time would while away, and she could get back to London."
This sentiment was echoed by royal correspondents at the Los Angeles Times, who stated that the film accurately depicted the sense of suffocation Princess Diana had experienced in the royal family at the time. Though the royal correspondents and Wharfe similarly felt as though there were moments in the film that weren't historically accurate, they all sang Stewart's praises for her dynamic, emotional portrayal of Diana.
As Wharfe astutely put it to People, "Out of all the people who have played Diana over the past 10 years, she's the closest to her," he said. "She managed to perfect her mannerisms."
That's high praise from someone who knew Princess Diana so well.