Beyonce's Stunning Pregnancy Style
Beyoncé knows what it's like to be pregnant. Your body is changing, you feel icky sicky, emotions are running high, and you can't fit into your normal tried and true styles — such is the life of a pregnant lady. So even when the most stylish of us decides to get knocked up, the social contract includes some allowances for the mom-to-be, including a generally lowered expectation for her fashion game. 
But did international superstar singer, songwriter, dancer, style maven, and badass feminist, Beyoncé, decide that she was going to sit back and relax when she became pregnant for the second time (this time with twins) with husband, rapper and Tidal creator, Jay Z? Considering her reputation for effortlessly owning the entire universe, what do you think?
As her pregnancy progressed, Queen Bey made some truly stunning style statements — particularly via her busy personal Instagram account — that challenge the idea that pregnant women can't or shouldn't cut a figure of elegance, sexiness, and pure panache when it comes to dressing up their bump. Combining elements from several different fashion eras, from '70s glam, to Y2K grunge, preggo Bey continues to stand out as a sophisticated leader on the world stage of art, fashion, and style. Here are a few of her absolute raddest pregnancy looks! 
The big reveal
On February first, 2017, Beyonce took to Instagram to announce her pregnancy (lucky twins!) and showcase her budding twin bump in satiny, jewel-toned lingerie, tons of volume in her loose, curly hair, and a long, vintage-looking veil. 
Set against a decidedly '80s-looking giant flower and fern arrangement, the Lemonade star's look was almost of another era. "We would like to share our love and happiness," she captioned her pic, "We have been blessed two times over. We are incredibly grateful that our family will be growing by two, and we thank you for your well wishes. — The Carters." Her words spelled joy and happiness, but her bold stance and demure expression showed the strength behind this mother-of-twins-to-be.
Fly girl
Just six weeks after her initial public pregnancy announcement, Beyonce showed off her rapidly growing twin-tummy in this striking, monochrome, '90s-esque outfit. The future mom of twins wore a shiny black, bodycon dress with a shoulder cutout on one side, accessorized with thigh-high, black suede, high-heeled boots, giant silver earrings, a black ribbon choker necklace, and a studded Gucci handbag. 
It seems like Bey is doing her best to remind people everywhere that pregnancy garb can be badass and sexy. According to Harper's Bazaar, Beyonce put this outfit together to attend her stepfather, Richard Lawson's 70th birthday. You can wear this dress to my party anytime, Queen Bey.
Early spring style
In what could arguably be called a more traditionally soft, feminine color palette, with draping lines, Beyoncé stepped out right before the first day of spring in a long, luscious cream dress with a white stripe detail, topped with a full length, popped-collar trench coat in a shade that Glamour UK referred to as a "dusty pink" tone. 
Her long, honey-gold locks looked perfectly blown out in full glamazon style, paired with a set of color-matching gold, strappy heels. I know Bey exists above such pedestrian ailments, like pain and swelling feet, but dang! To be pregnant with twins and still rock those heels, you have got to be bold.
Queen of the universe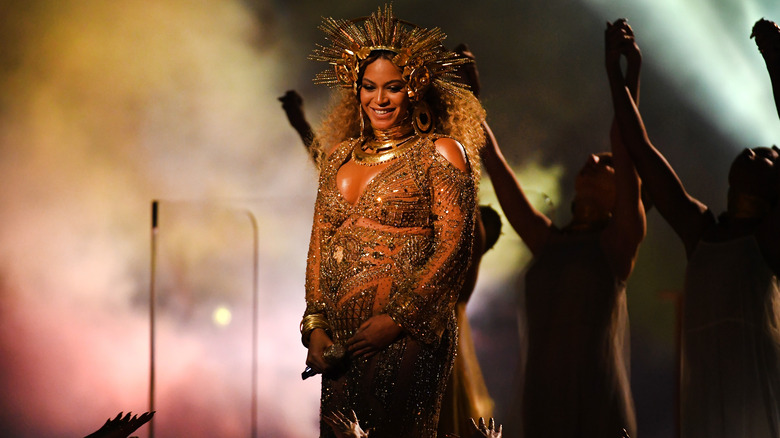 Getty Images
The 2017 Grammy Awards might as well have been called "The Beyoncé Awards," as Refinery29 noted — she performed at the event, and was nominated in nine categories. For her onstage performance of her songs, "Love Drought" and "Sandcastles," the Queen ruled her roost dressed as a shockingly beautiful golden goddess in a dress designed by Peter Dundas, former creative director of Roberto Cavalli, complete with bountiful gold jewelry, tons of skin, and a goddess-esque crown. 
But what's the best thing about this staggeringly cool outfit? If you haven't seen it yet, prepare to be amazed. There is literally a gold-sequin portrait of her own face on the bodice of the gown, symbolizing the mother's desire to watch over her future twins.
Dundas told Vogue, "The dress took...50 people working on it constantly [to embroider]. It mixed Gustav Klimt influence, Art Deco motifs inspired by Erté, and lyrics from Beyonce's song 'Love Drought.' Sun rays symbolize the African goddess Oshun...I like creating stories within a garment." 
He continued, "It was a fun way to celebrate the moment for her."
Queen of our hearts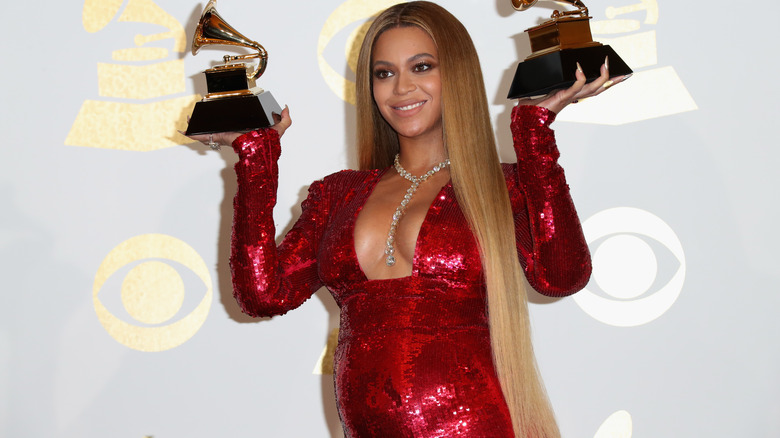 Getty Images
Although the pregnant mom elected to skip the Grammys red carpet, when you're nominated for nine categories (album of the year, song of the year, record of the year, best pop solo performance, best rap/sung collaboration, best rock performance, best music film, and then wins for best music video for "Formation," and best urban contemporary album, for Lemonade), you'd better show up with your style game on-point. 
Of course, the queen did not disappoint. After her performance, Bey changed into another Peter Dundas gown, this time, a long, red, sequined bodycon dress with a luxuriously classic "old Hollywood" feel.
A stylish family Easter
Beyoncé and her original mini-me, daughter Blue Ivy, posed together in special white Easter dresses and matching braids. Bey's crisp, white gown is cut perfectly to hug her bump, along with her famous hips, but billows out into a loose, '70s bohemian style neckline and sleeve. 
Both ladies showed the camera some sass, with one hand on a cocked hip and haughty, wouldn't-melt-butter expression. Blue Ivy's pink ballet flats paralleled her mom's white and pastel pink platform sandals that look almost straight out of a Delia's catalogue from the year 2000. The stylish singer even mirrors her daughter's bunny ears, with her peace fingers atop her head. As Romper has noted, this photo marks the last year Blue Ivy will celebrate Easter as an only child, so it looks like Beyoncé went the distance to make sure she had fun.
Scarlet queen of the red carpet
Does Beyoncé look a bit like an evil queen in her cascading, red satin gown and striking headpiece? Yes. Bey knows long red gowns work for her pregnant body, so she doesn't shy away from them. Her powerful stance and slightly mischievous smize say, "I'm carrying the future and I know it." 
A form-fitting top with long sleeves and a plunging neckline balance out the tumbling folds of loosely draped satin at the base of the gown, which InStyle reports was designed by Michael Costello. Artful ruching around the singer's midsection highlights her tummy, which viewers can see has now grown beyond the scope of the word "bump," as of April 29, when the photo was taken.
Bey shared the stunning picture on her website and Instagram with the caption, "Inaugural Wearable Art Gala in support of WACO Theater Center." InStyle reported that the event was hosted by Tina Lawson, mom to Beyoncé, and of course, her sister Solange, at the California African American Museum in Los Angeles. Jewelry by Lorraine Schwartz bedecked the singer's ears, but what really charmed fans was her towering "ornamental floral headpiece" by the Leticia M Studio, which seemed quite timely for Coachella season.
Whip it, girl
Queen Bey's signature hair whip may take center stage in her Instagram photo shoot from early May (honestly, how could "Becky" have better hair than her?), but her belly is the understated star of her edgy, nearly all-black outfit. Wearing monochrome black is usually thought of as a strategy to look trimmer and more streamlined, but her choice to wear a nearly sheer black cotton tee highlights the singer's chest and belly skin, especially in the reflection of the camera flash. One of the most refreshing things about Beyoncé's pregnancy style, after all, is her tendency to showcase and celebrate her bump, rather than minimize it.
In what Allure reports is a Gucci blazer ($5,450) paired with a matching Gucci brocade handbag ($1790) printed with the text "modern future," the "Sorry" singer celebrates the craftsmanship of what People refers to as the "intricate metallic thread embroidery and floral garland appliqués," on this piece, from the Spring/Summer 2017 menswear collection. Bey seems to be challenging traditional gender expectations in fashion, by dressing her very pregnant body in a menswear piece. People reported that the singer was seen wearing the outfit on a date with her husband, Jay Z, courtside at a Clippers game.
Low key mama
In a bit of a departure from her recent string of high-fashion maternity outfits, Beyoncé took to Instagram to share a more low-key (if blinged-out) streetwear look that seemed to be inspired by late '80s, early '90s style. 
A light, baggy, denim jacket, paired with distressed jeans, low, white converse, long braids, and Ray Ban-style sunglasses, topped off with a white tee with the slogan "preggers," emblazoned on the front. InStyle reported that this cheeky top, now sold out, was just $23 from Asos. While Blue Ivy's mom is clearly capable of serving up high fashion severity, even in the throes of a late-stage twin pregnancy, she is clearly not above a casual laugh at herself either.
What's new, pink pussycat?
Bey has definitely shown us that she can wear the hell out of a gown, even while pregnant with twins, but slays in her toned-down street fashion as well. No matter if it's high style or casual duds, Bey has certainly been all about the Gucci during her pregnancy this spring. 
In an outfit-of-the-day image she shared without comment with her Instagram followers on May 7, the award-winning performer showed her brand loyalty, decked out in three new Gucci pieces. According to Stealherstyle, Bey's sporting a Heritage Flower Bow Jacquard Jacket by Gucci, Oversized Square-Frame Sunglasses by Gucci ($348.00), and Embroidered Bird Earrings ($1,130.00) by Gucci.
She paired all that Gucci with distressed jeans from Topshop's maternity line, a gold chain Dior bag, Saint Laurent blush sandals, and a printed pink blouse with "pussy cat bow" neck detail. Gotta love that "millennial pink" color trend.
Rad on repeat
OMG, did the undisputed queen of everything actually repeat a dress in one of her maternity fashion posts on Insta? Yes she did, and it's awesome. InStyle lists the cute "cutout LBD" Bey wore in a May 9 social media post, as being for sale on Minaroe.com for $120. The cut-out, form-fitting pregnancy style seems to be the exact match of the garment from her March 14 Instagram post — only this time her tummy fills out the dress for an even more striking preggo look.
While the singer went for a '90s glam fly-girl look in March, this time she matched the LBD with black platform sandals, a full length gold coat, and a black, wide brim hat (hello, '70s glam!). To top off the look, Bey served up even more Gucci style, with a black velvet and chain handbag, featuring the word, "loved." An understatement? Definitely.
What's next for Mama Bey?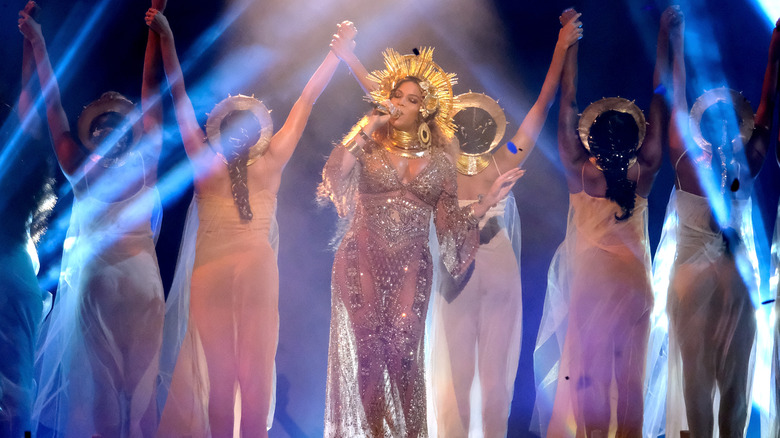 Getty Images
It's clear being preggers hasn't limited Beyoncé's style, as the singer continues to flit from high-femme gowns to grunge, and back again. Her outfits keep us guessing, as she switches up her pregnancy style what seems like every day. 
But if there's one constant to her look, it's boldness and general badassery. Clearly her pregnancy hasn't made Bey even think about toning down her high-fashion looks, and we love her for it! I don't know about you, but I'm currently glued to her Instagram account to see how she slays us next.