Meghan Markle Gushes Over Prince Harry With The Perfect Compliment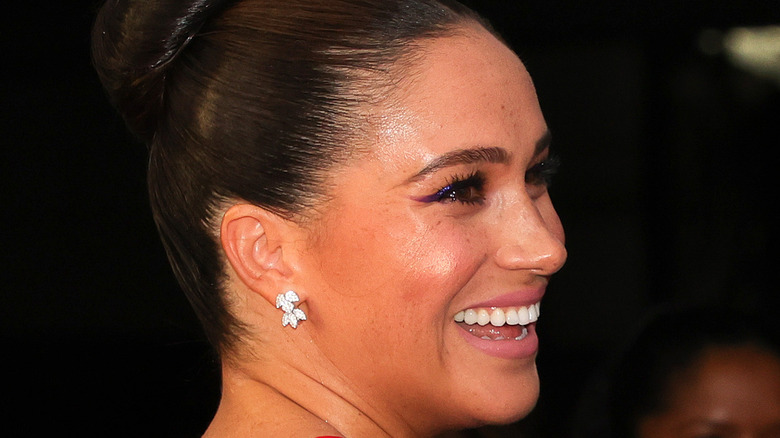 Dia Dipasupil/Getty Images
Prince Harry and Meghan Markle have faced plenty of ups and downs since they married in 2018, but they always have each other's back. So it's no surprise that Markle was at her husband's side at the Salute to Freedom Gala in New York City. Harry served in the British military for a decade, becoming a captain and serving two tours in Afghanistan (per Royal.uk).
"The happiest times in my life was the 10 years in the army. Without question," the prince said in the mental health docuseries, "The Me You Can't See," according to Parade. "Because I got to wear the same uniform as everybody else. I had to do all the same training as everybody else. I started from the bottom like everybody else."
Since he resigned from the military in 2015 (per Today), Harry has spent a great deal of time honoring fellow service men and women, and he was on hand to present the first Intrepid Valor Awards to "five service members, veterans, and military families living with the invisible wounds of war," per People. 
The Duke and Duchess of Sussex traveled from their home in California to attend the event, which was held at the Intrepid Sea, Air & Space Museum. While Markle stunned in a red V-neck gown with a poppy pin to honor veterans from the UK, her attention was focused on her husband.
Meghan Markle has nothing but admiration for her husband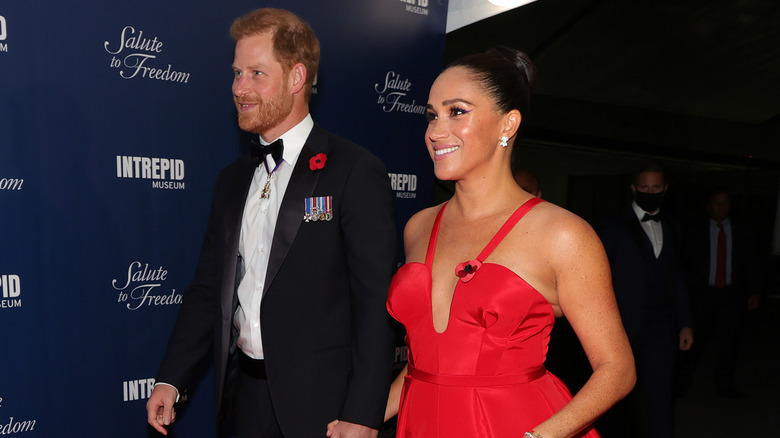 Dia Dipasupil/Getty Images
When Meghan Markle asked if she was proud of Prince Harry while walking the red carpet at the Salute to Freedom Gala in New York City, she responded in the affirmative. "I'm always proud of him," she said, according to People. 
The Duchess is no doubt also proud of her husband for sticking up for her regarding the popular media pun "Megxit," a slang term that is a play on "Brexit." "Maybe people know this and maybe they don't, but the term 'Megxit' was or is a misogynistic term, and it was created by a troll, amplified by royal correspondents, and it grew and grew and grew into mainstream media," Harry said during a panel at Wired's Re:Wired Conference (per People). "But it began with a troll."
He also compared the treatment his wife has received from the media to the harassment his late mother, Princess Diana, endured before her death. "I know the story all too well," Harry said. "I lost my mother to this self-manufactured rabidness, and obviously I'm determined not to lose the mother to my children to the same thing."