The Truth Of Colbert's Band Leader Jon Batiste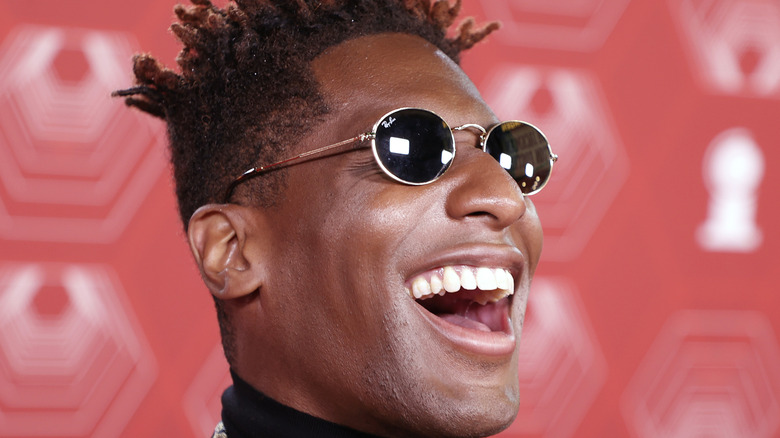 Arturo Holmes/Getty Images
Try imagining "The Late Show with Stephen Colbert" without bandleader and music director Jon Batiste. If the young, Juilliard-educated musician hadn't been a guest on Stephen Colbert's "The Colbert Report," that could've been exactly what happened. During the performance, Batiste led the entire studio audience out onto the street, singing and dancing, which you can still catch moments of on YouTube. It was this taping — where the two men hadn't even met until filming began — that ended up being what Rolling Stone called Batiste's audition for Colbert's transition from "The Colbert Report" to "The Late Show." Batiste remembers "an energy" between him and Colbert during that first meeting. "I felt an energy, and he did too. We kept speaking over time, and eventually it became a conversation about the show ... the next show," he shared.
Now a familiar face not only on late-night television and on-stage (performing with his band, Stay Human), Batiste is also heavily active in musical education and preserving musical history through his work as creative director of the National Jazz Museum in Harlem. But this musician, trained in jazz and classical music at Juilliard (as noted by the New York Daily News), doesn't just have college to thank for his musical success.
Jon Batiste almost didn't play the piano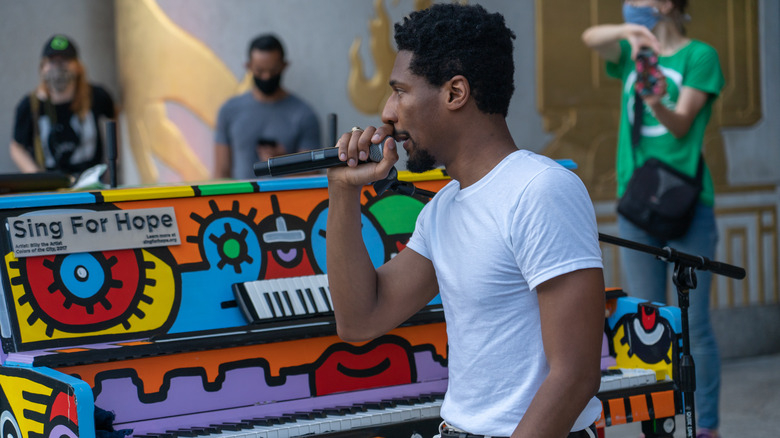 Ron Adar/Shutterstock
Jon Batiste's first instrument wasn't the piano, but percussions. Starting at the age of 8, Batiste played music in his family's band. In an interview with Forbes, Batiste said the music was "rooted in funk and soul music, and of course New Orleans music." The band included Batiste's uncle, who frequently performed with The Meters, and his cousin who played with Zigaboo. Jon's father, a bass player, is someone Batiste considers to be one of his first musical mentors. Plus, Batiste's cousin is the renowned Alvin Batiste, pillar of the New Orleans musical community for over 40 years, who has taught everyone from the Marsalis's to Harry Connick Jr. 
However, it wasn't until his mother suggested he learned to play the piano that Batiste made the switch. "Piano is the conductor and composer's instrument," Batiste explained to Forbes. "I took to the piano and it was really a great insight." Once he started playing keyboards, Batiste never looked back. He has gone on to not only serve as the band leader on "The Late Show with Stephen Colbert," but has collaborated with a number of other musical sensations throughout his career. Batiste's work has led him to the award circuit, and he is the recipient of such honors including an Academy Award, a BAFTA, and a Golden Globe Award (via IMDb).