Here's What Sean Spicer Studied At College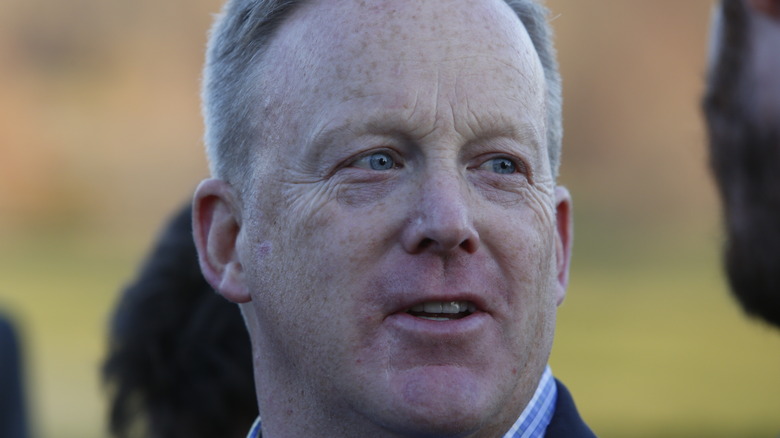 a katz/Shutterstock
Sean Spicer is a brand name in Republican politics, but how much is actually known about him? A press secretary for former president Donald Trump, on Spicer's own website, he lists only that he has a master's degree in national security and strategic studies from the U.S. Naval War College. Without a doubt, Spicer's graduate education helps to show some of who he is.
But Spicer didn't always have a strong educational career. In fact, when it comes to his time as an undergraduate student at Connecticut College, more is known about his then-nickname and his response to it than what he actually studied. In an article published in Connecticut College's newspaper, The College Voice, it was revealed that Spicer was referenced as "Sean Sphincter." In response to the circa 1993 incident, then-student Spicer wrote that, "The first Amendment does uphold the right [to] free speech and a free press, which I respect, however this situation goes beyond the bounds of free speech," according to the Hartford Courant. 
Sean Spicer wasn't always into politics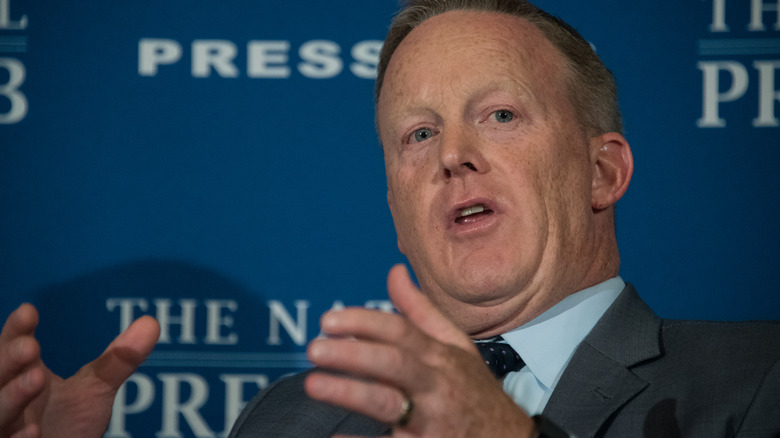 Al Teich/Shutterstock
Sean Spicer explained to The Washington Post that he never viewed himself as politically active until he got to college. Instead of attending Brown, where his mother taught in the Asian Studies department, Spicer attended first Connecticut College. There, in a sea of Democrats and liberal thinkers, Spicer began to see what set him apart. Along with sailing competitively, Spicer began to run for student government. According to the Hartford Courant, Spicer was unsuccessful in any of his attempts at running for president. In an interview by The College Voice, an old roommate of Spicer's talked about how he ran, and lost, for government every year they were in school together. 
Ultimately, Spicer did received his undergraduate degree; however, his own website does not list what the degree was in or where he received it. Other sources have him having graduated from Connecticut College despite the article by The College Voice. Others, The Washington Post specifically, have him heading to Washington, D.C. early to finish his degree in government at American University. Regardless of where he finished his degree, Spicer did study government in many forms, from textbook to practical experience, during his time in college.