All The Times Meghan Markle's Own Words Made It Into Finding Freedom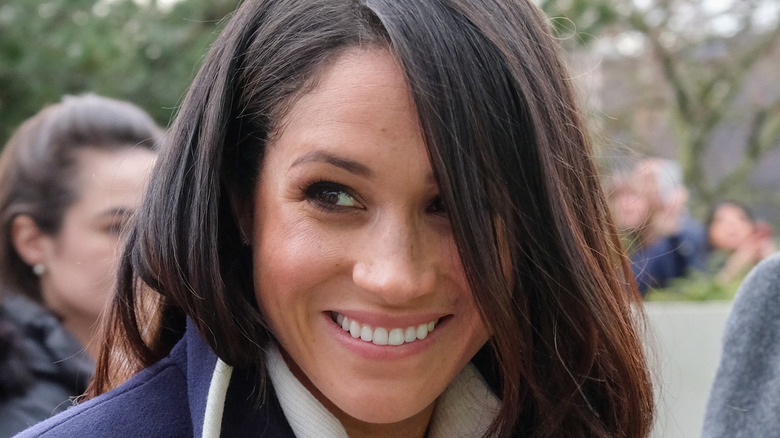 MattKeeble.com/Shutterstock
Meghan Markle is once again in the spotlight after suing a British newspaper for the partial publication of a letter she wrote to her estranged father after her 2018 marriage to Prince Harry, Duke of Sussex. The Duchess initiated a breach of privacy and copyright lawsuit against the publisher of Mail on Sunday and the MailOnline website, and a judge ruled in her favor in February, according to the Washington Post. However, the publication appealed the ruling, arguing the former actress was aware that any letter she wrote might be published and that she herself made private details of her royal life public by cooperating with Omid Scobie and Carolyn Durand, authors of the biography "Finding Freedom: Harry and Meghan and the Making of A Modern Royal Family."
The book, which was published in August 2020 by HarperCollins, included Markle's contributions delivered to the authors through Harry and Meghan's former communications director, Jason Knauf. Although her attorneys had denied that she or Harry had collaborated with the authors, the Duchess apologized to the court Wednesday, claiming she'd forgotten Knauf met with the biographers with notes she'd made across five topics. So, what were those notes about?
Her notes ranged from her family to her tiara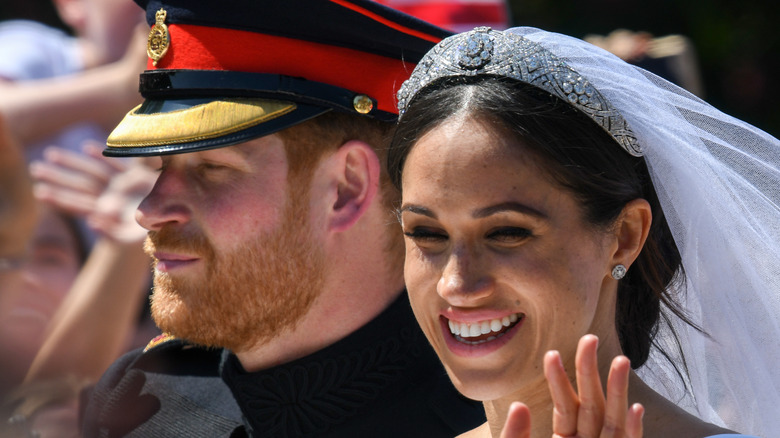 Bart Lenoir/Shutterstock
While Meghan Markle's notes were not repeated in full in the book "Finding Freedom," she admitted she'd authorized her former communications director to meet with the authors and shared her briefing notes, which included details about not having a stylist, living at Windsor, and the overwhelming attention she received when her relationship with the British prince became public knowledge, according to The Telegraph. Court documents reveal that Meghan also shared detailed information about her half-siblings, whom she claimed to barely know, thanks to almost 20-year differences in their ages. A passage from the book states: "Meghan's romance with Harry had hardly been public a full 24 hours when her half sister sensed an opportunity. Never mind that she hadn't seen her estranged half sister in more than a decade."
Another section of the book discusses how Meghan chose her wedding tiara. Her notes insist the Queen was pleased with the diamond-studded headpiece Meghan wore. The book, summarizing the Duchess's information, reads: "When more than a year later the story broke about Meghan demanding a different tiara to wear on her wedding day, she called a friend and said, 'How sad, I love my tiara.'"