The Truth About The Viral Video Of Donald Trump Talking About His COVID-19 Recovery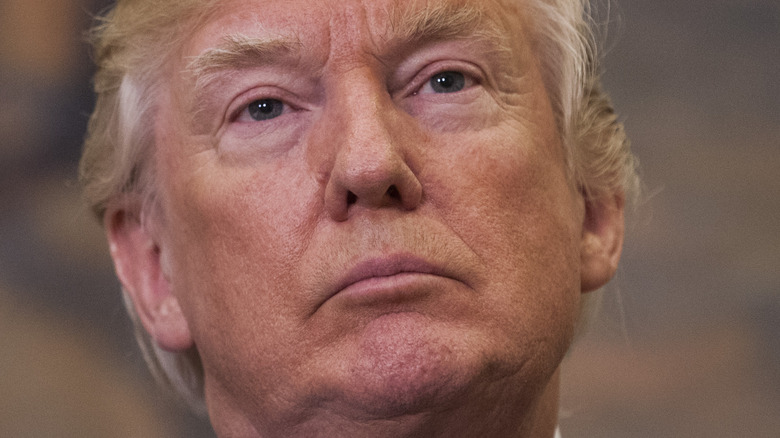 Pool/Getty Images
In October 2020, former President Donald Trump and former First Lady Melania Trump tested positive for coronavirus just weeks before the 2020 presidential election. Per BBC News, White House officials said at the time that the president had "mild symptoms" of the virus, while Trump himself tweeted, "We will get through this together."
Soon after the news broke, Trump was flown to the Walter Reed National Military Medical Center to be treated for the virus. Speaking shortly after his arrival at the hospital, Trump tweeted that his treatment was "going well, I think!" Meanwhile, the former president's physician, Sean Conley, said in a statement, "I am happy to report the president is doing very well," while the White House also revealed that Trump was taken to hospital "out of an abundance of caution" with "mild symptoms" (via BBC News).
In a Twitter video filmed at Walter Reed hospital on October 3, 2020, the former President provided his millions of followers with an update on his COVID-19 recovery. However, questions were soon raised about the legitimacy of one version of the clip when it began going viral online, per USA Today.
The viral video of Donald Trump's hospital visit isn't what it seems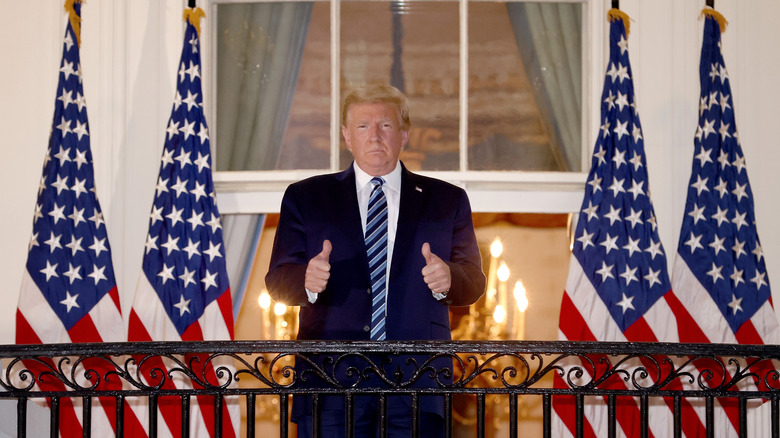 Win Mcnamee/Getty Images
Per USA Today, a still from the video of former President Donald Trump addressing his supporters from Walter Reed National Military Medical Center included a caption that read, "The doctors said they've never seen a body kill the coronavirus like my body. They tested my DNA and it wasn't DNA. It was USA."
However, after several fact checks, it later emerged that the video still and accompanying quote were false, and there is no evidence that the former president ever made this statement.
Although false, the video was shared thousands of times across social media platforms like Twitter and Facebook. In the real video clip, Trump actually said, "I came here, wasn't feeling so well. I feel much better now. We're working hard to get me all the way back. I have to be back because we still have to make America great again."
The former president also said that his wife, Melania Trump, was handling the coronavirus "very nicely" and described potential cures for COVID-19 as "miracles coming down from God."