Why Nancy Pelosi's Recent Outing Has Critics Calling Her A Hypocrite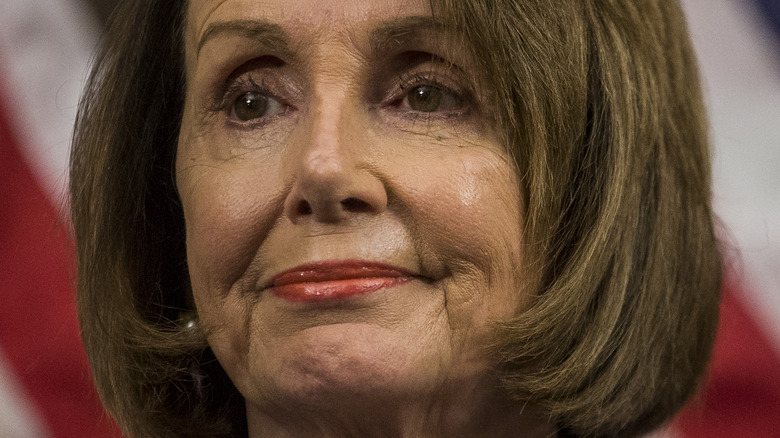 Zach Gibson/Getty Images
Although it would've been unthinkable just a couple of years ago, the idea of wearing a mask to protect yourself, and others, against the devastating effects of COVID-19 has become a bitterly divisive political issue. As the deadly virus continues to ravage the globe, mask mandates are being put in place so that people can continue working, going to school, and getting back to some semblance of normality. Back in July, House Speaker Nancy Pelosi and House Minority Leader Kevin McCarthy came to blows after the Republican criticized mandates in the Capitol building. As CNN reported at the time, Pelosi branded McCarthy "a moron" over his questioning of the decision.
The House Minority Leader railed, "The threat of bringing masks back is not a decision based on science, but a decision conjured up by liberal government officials who want to continue to live in a perpetual pandemic state." He also dismissed the idea of talking things over with Pelosi directly as such discussions, by McCarthy's estimation, are never very "productive."
There's long been a split between Democrats and Republicans over mask mandates and vaccine requirements, with almost half of House Republicans refusing to even confirm their vaccination status, according to a CNN survey. Now, though, House Speaker Pelosi is being criticized for reportedly failing to take her own advice.
Nancy Pelosi was caught with her mask down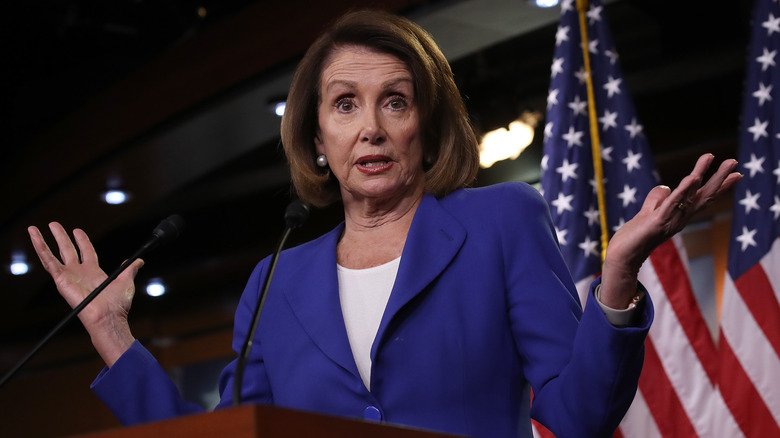 Win Mcnamee/Getty Images
Over the weekend, Ivy Love Getty, the great-granddaughter of oil tycoon J. Paul Getty, married long-time love Tobias Alexander at a star-studded event at San Francisco's City Hall. Vogue had all the juicy details, alongside stunning photos of the likes of "The Queen's Gambit" star Anya Taylor-Joy, Getty's BFF and maid of honor, enjoying themselves surrounded by opulence. However, all eyes were on House Speaker Nancy Pelosi, who officiated the glitzy event.
As the New York Post reported, the controversial politician has been branded a hypocrite after being photographed without a mask, indoors, at the event. Meanwhile, schoolchildren in California must mask up to go to school, thanks to state-sanctioned mandates. Commentators wondered why Pelosi was allowed to mingle with other maskless people while schoolchildren weren't.
As one user argued on Twitter, "Why does @SpeakerPelosi insist on children wearing masks when she's in more danger due to her age? Seems like she's not concerned, why are you?" Another wondered, "Is it only the servant class who is forced to wear masks?" Kids must wear masks throughout the school day, as well as outside at recess. Several social media users called for the mandates to be struck down based on Pelosi's show of "hypocrisy." Vaccinations were required for guests at Getty's wedding, which was also attended by California Gov. Gavin Newsom and San Francisco Mayor London Breed, per Vogue. It was Newsom's own mandate that required masks to be worn in schools.