Inside Meghan And Harry's Unexpected Veteran's Day Trip To This Military Base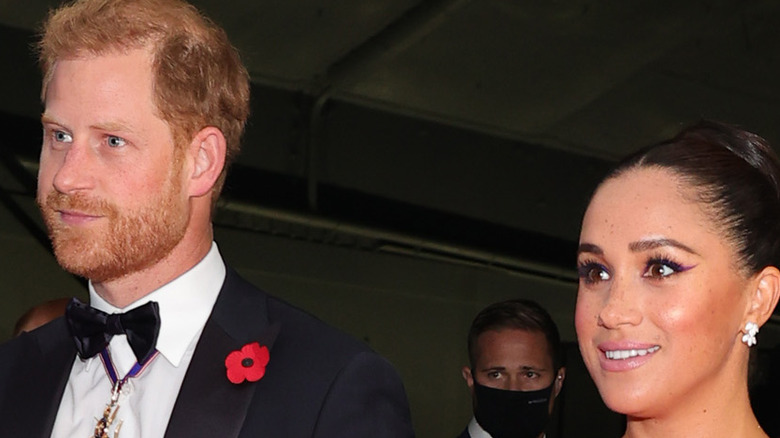 Theo Wargo/Getty Images
On November 10, 2021, Prince Harry and his wife, Meghan Markle, stepped out in their finest for a glamorous event in New York City as they attended the Intrepid Air & Space Museum Salute to Freedom Gala. Harry was dressed in a simple black tuxedo adorned with his own pins he received while serving in the British Royal Army, while Meghan was a picture of radiance in a stunning red Carolina Herrera gown. Both the Duke and Duchess of Sussex also wore red poppy pins, the symbol for remembering veterans in the United Kingdom, according to Entertainment Tonight.
The next day, on Veterans Day in the United States, Harry and Meghan traveled across the Hudson into New Jersey for a very different type of day honoring those who served in American wars through the years. They visited a New Jersey military base and spoke to those who served, and Harry shared poignant words about his own service history (via People).
Harry spoke from the heart about his military career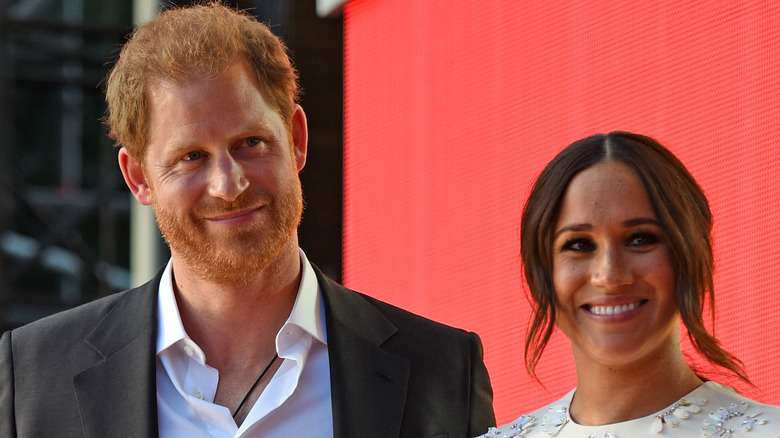 Kevin Mazur/Getty Images
At Joint Base McGuire-Dix-Lakehurst in New Jersey, Prince Harry and Meghan Markle once again honored United States veterans as they had done on the Intrepid the night before. However, they were dressed much more casually, yet both were again wearing red poppy pins, according to People.
Harry, who served two tours in Afghanistan during his time in the British military, gave a speech to the soldiers as his native country also prepared a weekend of remembrance across the pond in the United Kingdom. His grandmother, Queen Elizabeth II, who has been resting after a brief hospitalization, is set to attend Remembrance Sunday on November 14, 2021.
"My experience in the military made me who I am today, and I will always be grateful for the people I got to serve with — wherever in the world we were," Harry said (via People). "But in war, you also see and experience things you hope no one else has to. These stay with us, sometimes like a slideshow of images."