The Actual Lip Color Audrey Hepburn Wore In Funny Face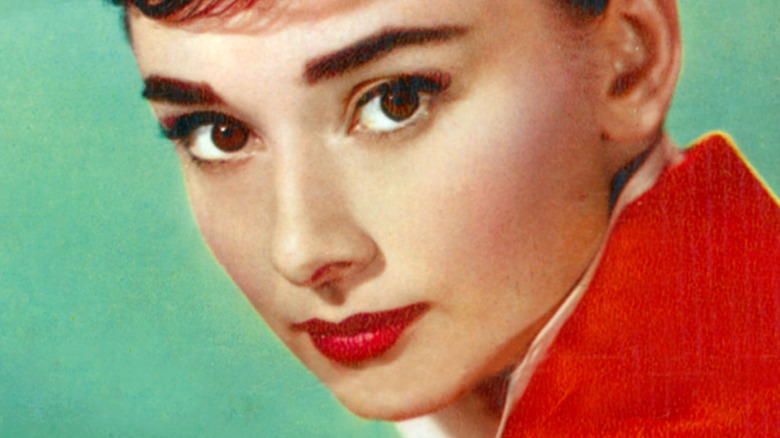 Apic/Getty Images
When thinking back to a classic movie star like Audrey Hepburn, the image of a sleek floor-length black dress topped with a tiara in "Breakfast at Tiffany's" immediately comes to mind. Despite the glitz and glamour of the infamous film, another classic Hepburn movie, "Funny Face," may also be considered equally if not more stylish. Starring opposite Fred Astaire, Hepburn lights up the screen in stunning outfits like a couture Givenchy wedding dress, per Vogue UK. 
One look at the movie, and it's clear to see why Hepburn was known as one of the biggest fashion icons to emerge from the '50s and '60s, per Grazia Daily. While the movie's fashion was absolutely breathtaking, the makeup was noteworthy, too. 
In fact, one TikTok account found the exact lip color that Hepburn wore in the film so that you can recreate your very own "Funny Face" moment. While you might think the lipstick would come from a designer label, the brand might surprise you.
The budget-friendly lipstick is still around today
Audrey Hepburn's various film characters were all about the details, and her makeup was no different. In "Funny Face," she's seen sporting a vibrant, scarlet shade of lipstick. Beauty TikTok star Brittany Cale notes that the lipstick is none other than Revlon's Super Lustrous lipstick in "Fire & Ice," which you can score at Ulta Beauty for just $9.49.
Cale also explains that "Fire & Ice" was the first lipstick shade launched by Revlon to inspire women to wear makeup for personal empowerment instead of as a way to show off for everybody else. The video also shows a powerful and chic old-school advertisement for the lipstick and its matching nail polish.
Even though the vintage beauty shade was made famous by her onscreen persona in "Funny Face," Jo Stockton, it is reported that Hepburn actually had a relatively low-key beauty routine. Ultimately, it's clear to see why even decades later, a classic style like Hepburn's remains just as timeless and coveted as ever.