The Real Reasons Bold And The Beautiful Fans Aren't Happy With Ridge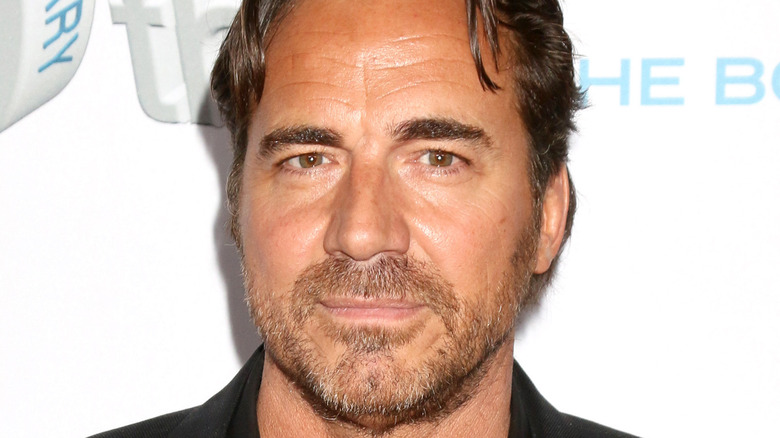 Kathy Hutchins/Shutterstock
Played by Thorsten Kaye, Ridge Forrester on "The Bold and the Beautiful" hasn't had his own front-burner storyline for fans to get excited about since summer 2020, when the character was tricked into marrying Shauna Fulton (Denise Richards) in a drunken Las Vegas ceremony. After he learned what happened, Ridge quickly reunited with Brooke, the woman he has married and divorced multiple times since the soap first started airing in 1987 (via IMDb).
Without a storyline of his own, Ridge has been relegated to sticking his nose into other characters' business, with his latest obsession being his father, Eric (John McCook), and his marriage to Quinn Fuller, who cheated on Eric earlier in 2021. When Ridge learned that Eric had taken Quinn back, he had to know why, so he hired Justin Barber (Aaron D. Spears) to follow her and found she was still sleeping with her ex Carter Walton (Lawrence Saint-Victor). 
Except it wasn't behind Eric's back. Ridge eventually learned that his father was suffering from erectile dysfunction and had persuaded his wife to have her needs met by her former lover. 
While the whole sordid tale is very melodramatic, as it should be, Ridge's meddling ways have fans of the CBS soap opera enraged.
'The Bold and the Beautiful' fans want Ridge to leave Eric and Quinn alone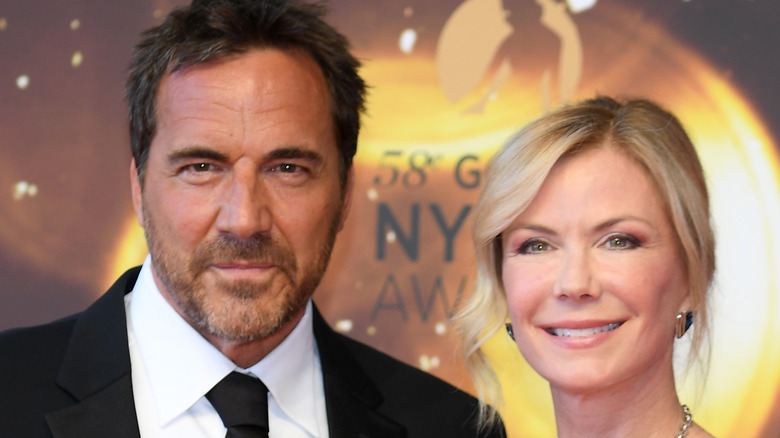 Pascal Le Segretain/Getty Images
Thorsten Kaye has been bringing Ridge Forrester to life since 2013 after portraying Patrick Thornhart on "One Life to Live" and Zach Slater on "All My Children."
The soap opera star has rarely earned the ire of fans this much, even when he himself shared passionate moments with Quinn while she was married to his father. His latest machinations, which involve having Quinn followed and then encouraging Eric to take back his former wife, Donna Logan (Jennifer Gareis), could be the final straw for Reddit users, as they point out his hypocritical ways.
"Ridge bounced between Taylor and Brooke for decades and has been involved with both of Brooke's sisters, had an affair with his brother Rick's wife, Caroline, slept with Brooke when she was married to his father, made out with QUINN when she was married to Eric and while he was engaged to Brooke, plus myriad other affairs," one user wrote. "So for the Logans, Ridge, or anyone to sanctimoniously pass judgment on Quinn or anyone is totally hypocritical, ridiculous, and irritating."
However, interfering in his father's life isn't the only thing Ridge is doing wrong, according to "The Bold and the Beautiful" viewers.
Fans think Ridge should also stay out of his stepdaughter's life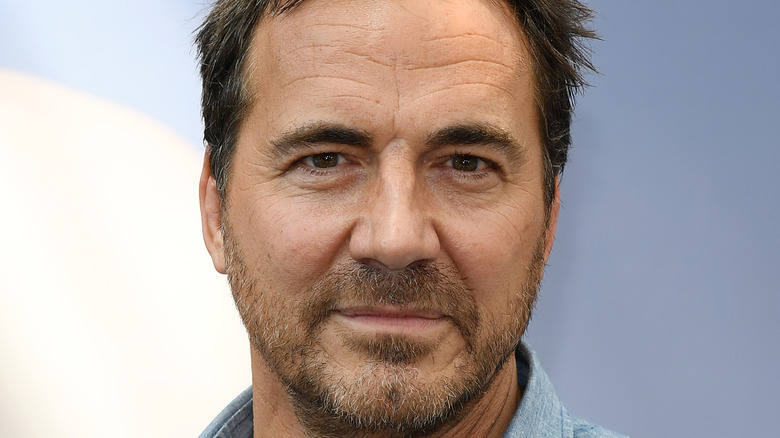 Pascal Le Segretain/Getty Images
Not only has Ridge Forrester placed himself in the middle of his father's troubled marriage, but he is also trying to tell his stepdaughter, Hope, that she should stay away from her father, Deacon Sharpe (Sean Kanan), an ex-con who wants to repair his relationship with his daughter. 
He has gone so far as to make a pact with Hope's husband, Liam (Scott Clifton), to stop her from seeing Deacon. This is just one more demerit in Ridge's column, as one Reddit user explains.
"When he guilts Hope to 'put the children first' when talking about keeping Deacon out of her life, I can't help but laugh," they said. "Did he ever think of his kids when he kept cheating on Taylor with Brooke? No. So, he really needs to let Hope make the decision for herself as far as her biological father."
It remains to be seen whether Ridge will learn to mind his business in the future or if he'll continue to stick his nose where it doesn't belong, alienating himself from other characters on the show — as well as fans.