How To Recreate Kate Middleton's Signature Manicure At Home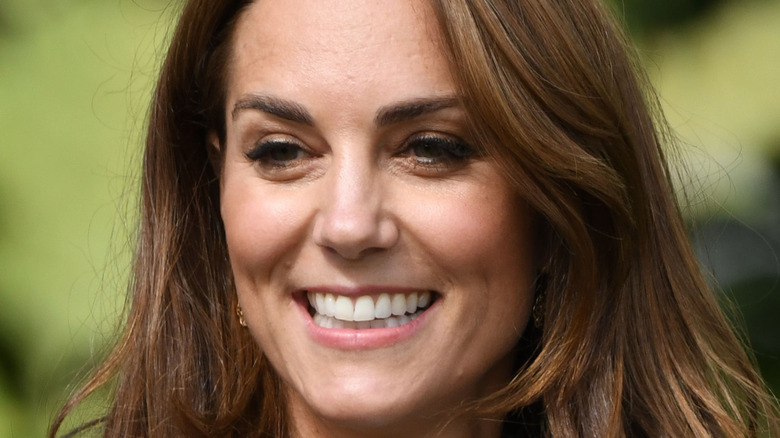 Bart Lenoir/Shutterstock
We may receive a commission on purchases made from links.
Everyone in the U.K. has come to the consensus that Kate Middleton is who they'd like to model their wardrobes after. Last year, the Duchess of Cambridge was voted as the most influential style icon in the country, per Insider, which definitively proved that she is the main character in the British royal household (Meghan Markle is unrivaled in California).
Tailored dresses, plaid blazers and monochrome ensembles take over any look book with the Duchess of Cambridge's sensibilities. She's also not one to shy away from color, a strategy Kate borrows from the queen herself. In the documentary "The Queen at 90," Queen Elizabeth's daughter-in-law, Countess Sophie of Wessex, explained (via Marie Claire), "[The queen] needs to stand out for people to be able to say 'I saw the queen.' Don't forget that when she turns up somewhere, the crowds are two, three, four, 10, 15 deep, and someone wants to be able to say they saw a bit of the queen's hat as she went past."
While that tactic has been successful — we see you, duchess! — Kate doesn't employ those colors for her nails. Read on to see how you can emulate the manicure that goes with all of her outfits.
Kate Middleton prefers nude colors on her nails — especially these specific shades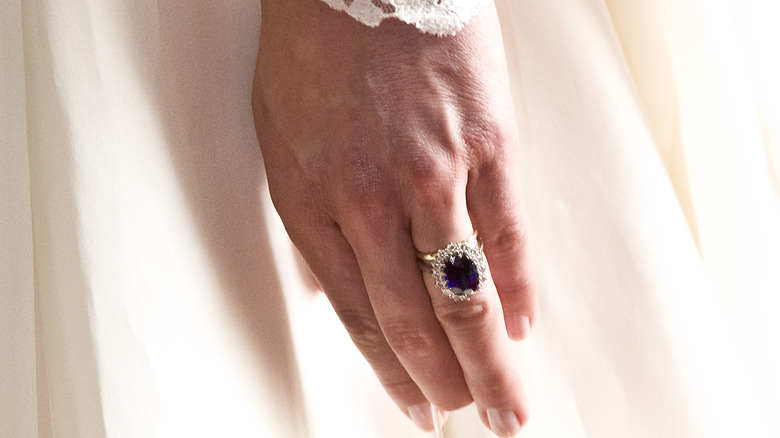 Wpa Pool/Getty Images
Bright and dark shades make rare (if any) appearances on Kate Middleton's nails. The duchess steers clear of any color that isn't a light nude shade or clear polish, much like the rest of the royal family. "There's no actual protocol about dark nail polish... It's simply about being appropriate," royal correspondent Omid Scobie told Harper's Bazaar in 2018.
The queen has famously worn Essie's Ballet Slippers on her nails, according to Insider, and Kate also opts for similar shades. Her manicurist Marina Sandoval revealed to the Daily Mail that the duchess wore a blend of Bourjois Rose Lounge and Essie's nail polish in Allure ($8) for her wedding day (as seen in the above photo). Kate seems to wear a comparable palette of nudes in her everyday looks, too. So, a blend of clear polishes, light baby pink hues and possibly a touch of mauve pink may be an ideal "Middleton look." While the Bourjois Rose Lounge isn't to be found anywhere, the similar Shade 27 from the brand is still around for $11.
Either way, the royal nails are affordable and trend resistant — perfect for classic, timeless inspiration.