The One Accessory That'll Take Your Instagram To The Next Level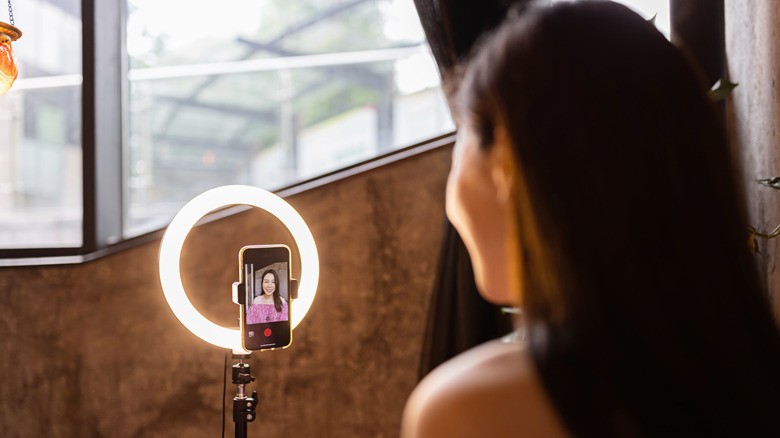 alinabuphoto/Shutterstock
We may receive a commission on purchases made from links.
Taking a good Insta-worthy photo is hard, no matter if you have the latest iPhone or not (although, let's be honest, a high-quality camera does help). Professional photographers and bloggers will tell you that it's all about getting the right light: natural sunlight, according to Allure. "Having nice, natural sunlight streaming in will make for a good selfie," Michelle Flan, a beauty blogger, told the outlet. "Another thing I do is take a piece of white paper and hold it underneath my chin, which creates a natural bounce of light, illuminates the face, and also reduces the double-chin effect."
But, what if you don't have access to natural sunlight? Is there no alternative? Enter: a ring light. As CNN reported, a ring light is exactly what it sounds like — a ring of light (usually made out of LED lights). Simply place your phone in the middle of the ring and begin taking quick cute snapshots. The ring light will replicate natural sunlight, leaving your selfies bright and beautiful as if they were taken in natural sunlight.
And, ring lights are for more than just photos — with the work-from-home model taking over the majority of workdays since the pandemic, ring lights are good tools to use during Zoom meetings, too. As for how to actually use the ring light to get the most out of it, we've got you covered.
How to take stellar selfies using a ring light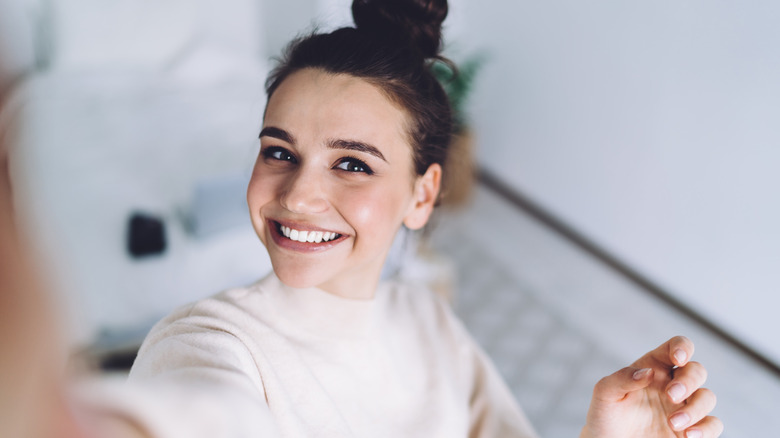 GaudiLab/Shutterstock
It's not just using a ring light that'll up your selfie game, but it's also knowing how to take a good photo in the first place. After securing the light — ring or natural — the next step is avoiding shadows, according to Allure. Yes, you're probably wondering: if I'm using a ring light, shouldn't there be shadows anyway? Not exactly.
Just the wrong turn of the camera attached to the ring light can make shadows appear, making bags appear under your eyes, photographer Candice Lake told the outlet. So, she suggested, look straight into the ring light (or sun), or away from it when taking a snapshot. That way, you'll get the perfect lighting that will erase the shadows from your face.
Furthermore, smile and embrace your natural face. This may be a controversial opinion, but the best pictures are when you're smiling. Beauty vlogger Jordan Liberty agreed, adding, "Right before you snap a selfie, say 'yes' in your head, or 'yasss' if you're feeling extra sassy. You can also inhale just as you hit the shutter for slightly parted lips and a relaxed expression. Expressions look best when they're fresh," she explained.
Honestly, it's all about confidence. If you believe you got it, then you do! Plus, you can grab a ring light for as little as less than $10 on Amazon.