Inside Amber Rose's Relationship With Kanye West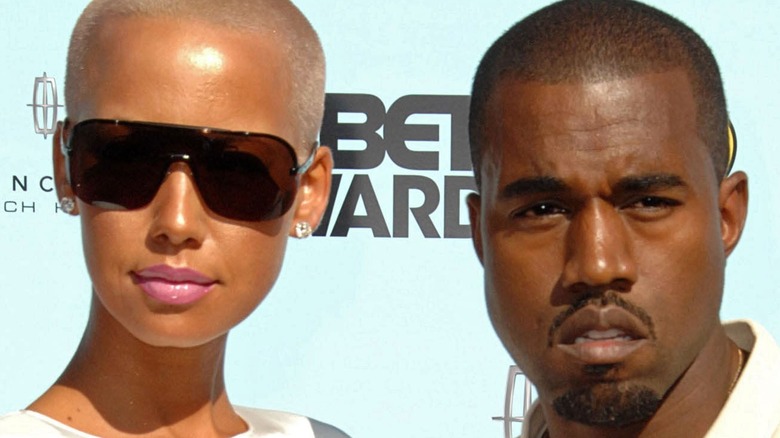 Everett Collection/Shutterstock
Kanye West's most high-profile relationship to date was undoubtedly with former wife and mother of his children Kim Kardashian. However, the outspoken rapper has actually enjoyed several major relationships with famous ladies over the years, from designer Alexis Phifer to model Irina Shayk, per Cosmopolitan. West also, somewhat surprisingly, had a relationship with high school sweetheart Sumeke Rainey, whom he was still with when his debut album "The College Dropout" broke through. The rapper referenced her on the track "Never Let Me Down," noting, "Nothing sad as that day my girl's father passed away/So I promised to Mr. Rainey I'm gonna marry your daughter." 
Clearly, he didn't manage to keep that promise, with West spending his subsequent years darting between several beautiful celebrities before landing Kardashian, whom he'd reportedly admired from afar for about a decade before they got together. Before they became the first couple of reality TV, though, West found love with Amber Rose and their relationship was tumultuous to say the least. 
Amber Rose and Kanye West got serious quickly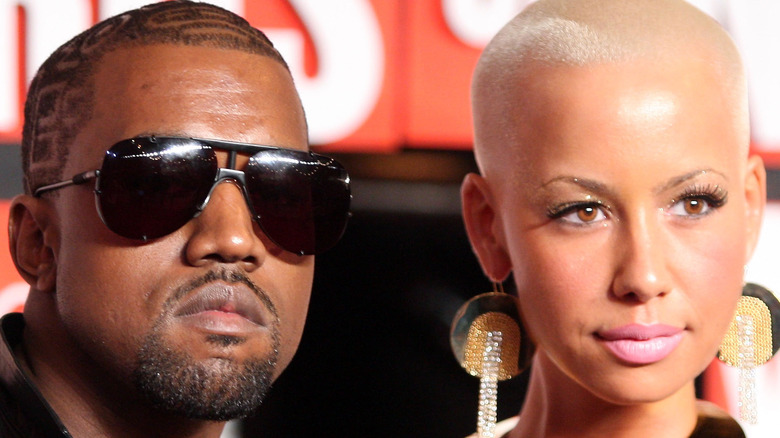 Michael Loccisano/Getty Images
According to Us Weekly, rapper Kanye West called time on his engagement to fashion star Alexis Phifer in 2008, following the devastating death of his beloved mother, Donda, the previous year. The "Jesus Walks" hit-maker started dating Amber Rose shortly after breaking things off with Phifer, and the two got serious rather quickly. However, after just two years, it was all over. The New York Post notes West first spotted Rose in Ludacris' "What Them Girls Like" music video, calling her up and eventually convincing the model to appear in his own unreleased video for "Robocop." She subsequently posed nude opposite West in a glitzy Louis Vuitton campaign (via HuffPost). 
Although the 2009 VMAs are infamous for West storming the stage during Taylor Swift's acceptance speech, it was also when he and Rose made their official red carpet debut, per Billboard. However, the following year, the couple decided to take a break while the rapper concentrated on recording his seminal record "My Beautiful Dark Twisted Fantasy" (via Digital Spy). The break ended up being permanent, with West linked to Kim Kardashian shortly thereafter. Rose described her as a "homewrecker" in an interview with Star magazine, per Radar Online. Thankfully, the two women eventually made up (via Twitter), but West isn't one to stay quiet. 
Amber Rose wants Kanye West to move on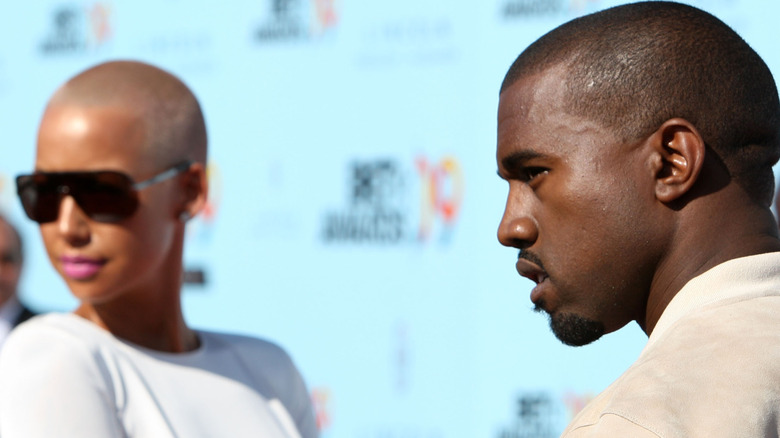 Frazer Harrison/Getty Images
As Entertainment Tonight reported, during a 2020 interview with the "No Jumper" podcast, Amber Rose called out ex-boyfriend Kanye West for treating her terribly during their relationship and in the intervening years, too. "Me and him are two very different people," Rose explained. "I'm a compassionate person, I have empathy. I'm a good person. That's why people love me. ... You can't really mention anybody who ever says anything bad about me except for him because I got away. I'm not like him at all." West infamously stated that he needed to take "30 showers" after being with Rose, to which she suggested maybe he'd said that to make then-wife Kim Kardashian more comfortable.
Rose argued, "...to slut-shame me and say you needed 30 showers, it's like, bro. Took me around the world, since when do you need 30 showers? I could see if it was a one-night thing and you want to slut-shame me, OK, but you've done a lot for me." West also compared her to a "prostitute." In response, the model reasoned West should probably get over her, since it'd already been a decade since they broke up. "...just leave me alone. I don't bother you. I don't talk about you," she added (via Entertainment Tonight). In 2021, Newsweek noted many of the rapper's fans wanted him to rekindle things with Rose, since he reportedly made his best music while they were together, but clearly that's not an option.