The Best BFF Tattoo For Friends Who Love To Be At The Pool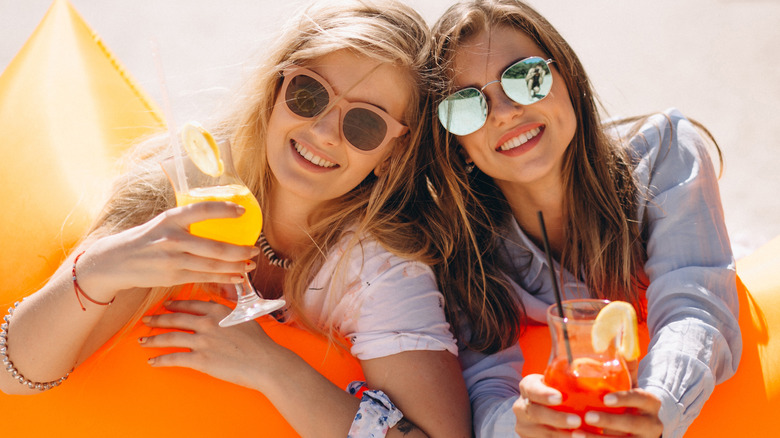 PH888/Shutterstock
There are a lot of different and amazing matching tattoos that are perfect for besties. However, after scrolling through Pinterest and Instagram for the perfect ink inspo, it's easy to get overwhelmed with all of the amazing matching tattoo ideas out there. You want something that not only encompasses you and your friend — but also what you two love. If you and your BFF love to be at the pool, of course it makes sense to get something that represents maybe the very thing that brought you together.
With so many different BFF tattoo options, even narrowing down to a love of summer and the pool can be a tall order. Sure, you can get matching sun tattoos, or flip flops, but really consider what this friendship means to you. Is this BFF your ride-or-die for life? If so, get a matching tattoo that mixes your love for the pool with how much you mean to each other.
A matching wave tattoo is the perfect option for best friends
The best and healthiest friendships are the ones that grow with us — they stand the test of time. So when you're picking your matching BFF tattoo, go for a wave tattoo. Waves don't just symbolize a love of water. According to Next Luxury, wave tattoos are "linked to the idea of motion and the inexorability of tides and time. They never cease traveling, even when seeming completely still." People change, time goes on, but you and your BFF will always have each other's backs.   
Wave tattoos can also be as simple or as ornate as you'd like them to be. But we think that when it comes to matching BFF tattoos, a minimal wave tattoo is the best choice. You can show your wave off on your wrist or ankle, or put your wave tattoo somewhere you can only show it off when you're rocking your bikini. Afraid of the pain? Place your small wave tattoo in a place that's less painful, like your bicep. Pick what feels right for you.