How To Make Gravy With What Is Already In Your Kitchen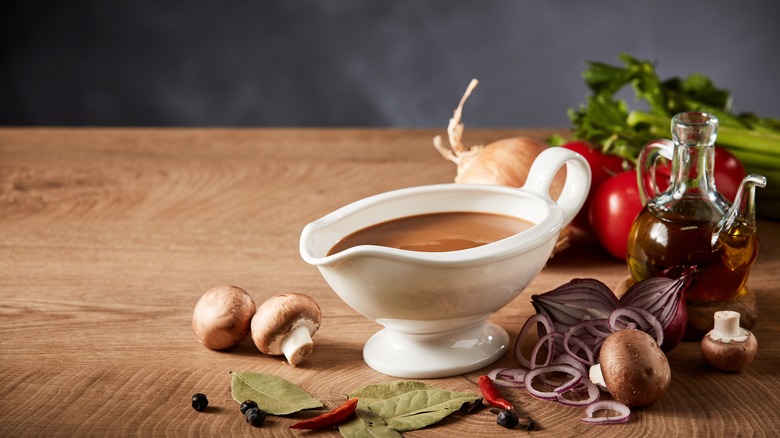 stockcreations/Shutterstock
Thanksgiving is here and you know what that means. Of course, there's turkey, ham, and mac and cheese, but gravy is the best part of the holiday. It's quite easy to make and doesn't require too many ingredients. In fact, you can easily make gravy from whatever is in your kitchen.
Per Delish, mix butter and flour together in a hot skillet until the paste is golden brown. If you've been roasting a Thanksgiving turkey, the next step is to add a cup of drippings from the bottom of the pan. If you're making your gravy ahead or opting out on a turkey, don't worry. According to The Toasty Kitchen, you can add some chicken (or vegetable) stock to thicken up your gravy and give it some flavor.
When it comes to seasonings, Delish says that good ole salt and pepper work fine. Herbs are optional, but some fresh thyme and sage never hurt anybody.
Once seasonings are added, let the mixture bubble for a couple of minutes. If your gravy is watery, go ahead and add some cornmeal to thicken that sauce up. If it's thick, seasoned, and flavorful, the sauce is ready!
How to make vegan and vegetarian gravy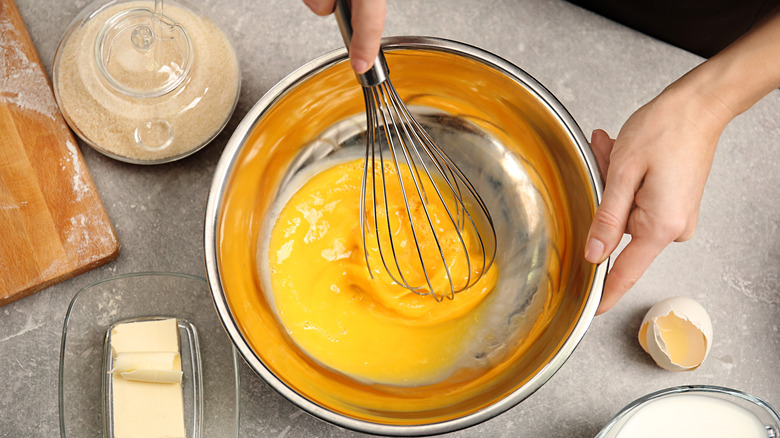 Africa Studio/Shutterstock
The core ingredients of most gravy recipes are turkey fat and butter — two animal products. So, how can you enjoy some holiday sauce when you're a vegan or vegetarian? No worries, for there are multiple alternatives available.
According to Loving it Vegan, instead of using butter and turkey fat, you're going to fry up some onions and garlic using vegan butter. Next, rather than adding animal fat, you will use a paste of mixed coconut milk and flour. Then stir in more coconut milk along with vegetable stock and seasonings of your choice.
Bring it to a boil and you get yourself some vegan gravy. Of course, there are other recipes for vegan gravy — you can use oat milk instead of coconut or use gluten-free ingredients, Loving it Vegan said.
You don't have to be a meat-eater to create and enjoy some good ole fashion gravy.