Why Steve Burton's Latest Podcast Has General Hospital Fans In A Tizzy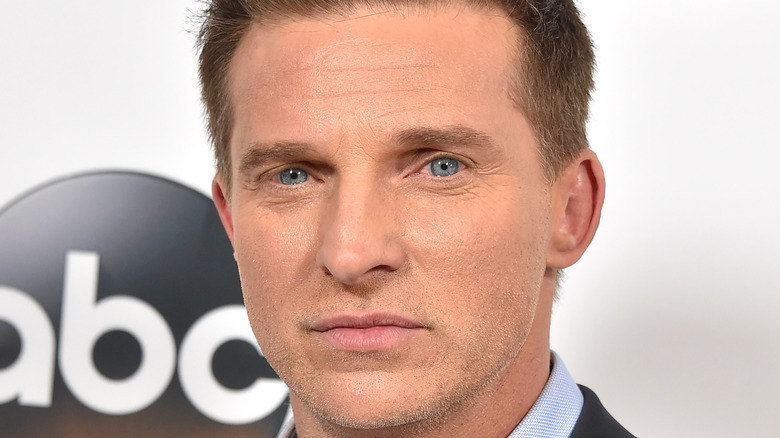 DFree/Shutterstock
While rumors have been rampant over the past several weeks that Steve Burton is leaving "General Hospital" because he refused to comply with Disney/ABC's vaccine mandate (via She Knows Soaps), neither the actor nor the show has yet to confirm this. On November 8, several outlets, including People, reported that actor Ingo Rademacher was off the show for the same reason and his last airdate would be November 22 (via People), but Burton's status remains fodder for speculation.
Burton began his "General Hospital" tenure back in 1992 when he assumed the role of preppy high school student Jason Quartermaine. A few years later, a car accident left the character brain damaged and unable to remember his past. That's when he morphed into Jason Morgan, a name he chose for himself, and who Burton has played off and on ever since, per Soaps in Depth. Jason is one of the show's most popular leads, which is why whether an exit is imminent is such social media fodder.
A comment made during a podcast has Steve Burton fans wondering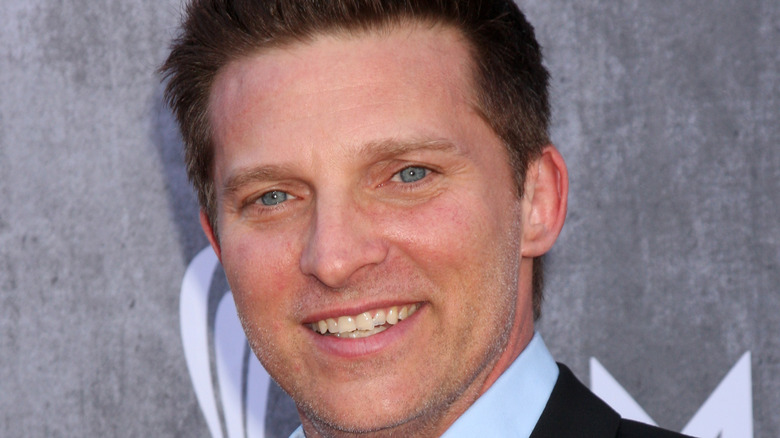 Kathy Hutchins/Shutterstock
On the November 10 episode of Steve Burton's podcast "That's Awesome," which he hosts with "General Hospital" co-star Bradford Anderson, who plays Damian Spinelli, Burton and Anderson discussed one of their live upcoming comedy shows in Sacramento, CA that took place on November 14, according to Instagram, and the fact that everything he had prepared would have to now be scrapped.
"The problem is all of the material I have is pretty much irrelevant right now so I'm either going to have to go back and dig into archives and get the best of that I can piece together but it's going to be a lot of work in the next three days," Burton said. "I was starting to go over it last night and thought, 'Well, can't to that joke, can't do that joke' and there goes half my routine. It was horrible."
Anderson chimed in that his material was still relevant and Burton wholeheartedly agreed. "My stuff is more general rather than specific storylines," Anderson said, leading Burton to once again talk about piecing together old material.
It was this exchange that got fans wondering if he was confirming his exit.
General Hospital fans try to figure out if Steve Burton is really leaving the soap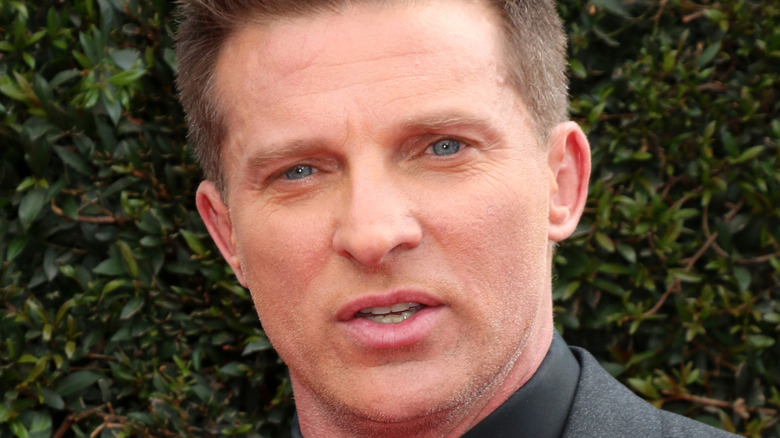 Kathy Hutchins/Shutterstock
After the latest episode of Steve Burton and Bradford Anderson's dropped on November 10, an in-the-know Twitter user who goes by the name Flutterby wrote the following: "So if you go over and listen to the very beginning of Steve's podcast, he pretty much confirms he's gone..." The tweeter then cited Burton saying all of his material was now irrelevant and Anderson confirming that at least his material wasn't about storyline as the proof needed that Burton is indeed out at General Hospital. After all, if the soap had to let Burton go if he didn't comply with the vaccine mandate, then all current storylines, including Jason's relationships with Britt Westbourne (Kelly Thiebaud) and Carly Corinthos (Laura Wright) would have to be scrapped and re-written.
Another tweeter concurred with the first tweet about the podcast. "Yep. Listened to it, it's heavily implied. They skirt away from saying it outright, but I came to the same conclusion. He's out."
The tweet even made it over to Reddit, where one user didn't buy it, saying, "This is still just a rumor. I listened to the podcast and his comments are super vague."
Whether Burton really is out or not remains to be seen, but as of this writing, Jason Morgan's life is in grave danger as Peter August remains a threat to him and his brother, Drew according to TV Shows Ace. Could this latest storyline pave the way for a Burton exit?