Inside Pete Davidson's Relationship With The Jonas Brothers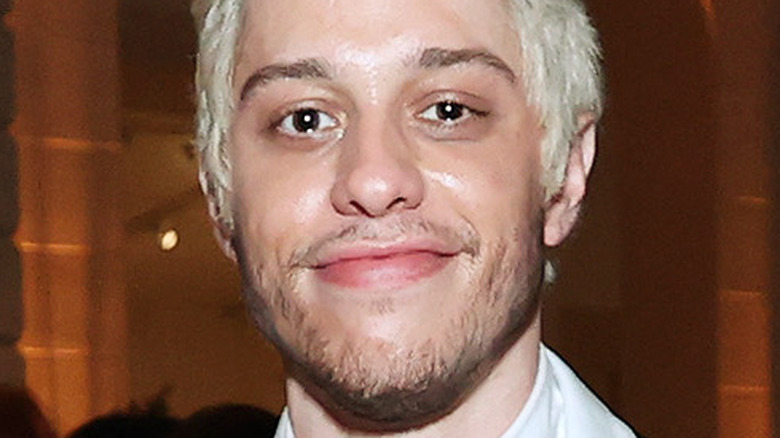 Cindy Ord/mg21/Getty Images
Pete Davidson has been in the news a lot lately. While he's a beloved member of the "Saturday Night Live" cast, he has more recently been the center of conversation for his rumored relationship with Kim Kardashian, per Hollywood Life. After Kardashian hosted "SNL" on October 9 and shared a kiss with Davidson during a sketch, the pair have been seen everywhere together, from an amusement park to dinner dates in New York City.
It seems like the only thing talk show hosts want to about is Davidson's dating life. He said during a November 16 podcast interview with iHeartRadio, "Yeah, it's also just like if you go to a great restaurant and even if I'm a s*** date, it's like, at least the food was great. So like, she could go home and be like, 'Well, ... you paid and I ate,'" via People. At least he has a sense of humor about all the speculation surrounding his personal life.
However, thanks to a new comedy special hitting Netflix on November 23, Davidson is in the spotlight for another relationship in his life: that of his camaraderie with the Jonas Brothers.
Pete Davidson is a big Jonas Brothers fan
Pete Davidson's latest relationship in question is not a romantic one, but rather, a friendship. The comedian roasts the famous singing family, The Jonas Brothers, in their November 23 Netflix special, "Jonas Brothers Family Roast," per Today. It turns out the "Saturday Night Live" star is a big fan of the band, even showing up to the roast in a shirt that read "I heart Jonas."
The Jonas Brothers were the "Saturday Night Live" musical guests on May 11, 2019, and Nick Jonas hosted the show on February 27, per Entertainment Tonight. So the A-list siblings have had plenty of time to joke with Davidson over the years.
And just because he's a fan of the brothers doesn't mean Davidson held back his comedy chops. Via Complex, Davidson said during the roast, "Oh, I'm a huge fan. I listen to the Jonas Brothers every time I'm in a supermarket. I mean, show some respect, okay? Nick's a legit actor now. He's won everything from a Kids' Choice Award to a Teen Choice Award. You know, Nick even had a hit called 'Jealous,' though it would have been way more believable if Kevin was singing it." Brutal! It was all in good fun, though, and the brothers took the comments with laughs.