The Real Reason Controversial Senator Kyrsten Sinema Is Unhappy With The Media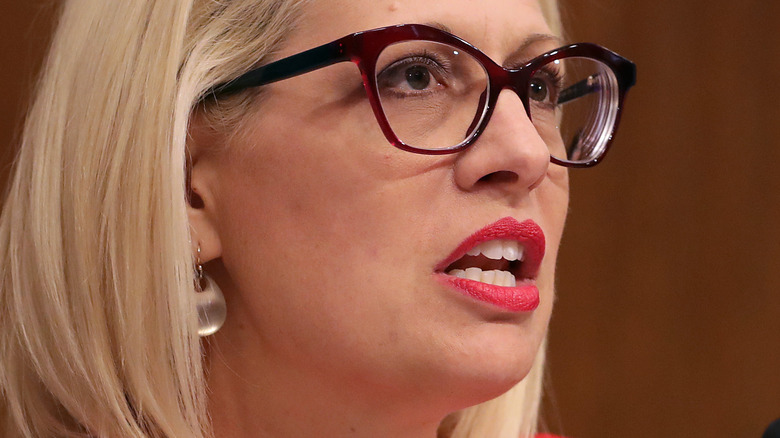 Chip Somodevilla/Getty Images
Kyrsten Sinema's approach to politics might not be to everyone's taste. But if there's one thing fans can agree on, it's that the Arizona senator has a style that's all her own. 
As The New York Times notes, the Democratic senator is known for standing in opposition to her own party, such as in October, with President Joe Biden's social spending bill. But Sinema stands out for her attention-grabbing style, too, with Tammy Haddad, former MSNBC political director and co-founder of the White House Correspondents Weekend Insider, pointing out to the Times, "If the other members of Congress had paid any attention to her clothing at all they would have known she wasn't going to just follow the party line."
Sinema has broken boundaries throughout her career. Aside from being the first openly bisexual senator, she's also the first woman to represent Arizona in the Senate and the first Arizona-elected Democrat since 1995. For the outspoken politician, clothes are a way for her to showcase her style. Sinema received the dubious honor of "America's Most Colorful Congresswoman" back in 2013. For her 2019 swearing-in ceremony, Sinema channeled screen siren Marilyn Monroe with skyscraper heels, platinum blond curls, and a sharp pencil skirt and sleeveless top combo. However, despite her love of fashion, Sinema is sick of people focusing on her clothes instead of on the issues. 
Kyrsten Sinema is tired of the sexist attitudes surrounding her clothing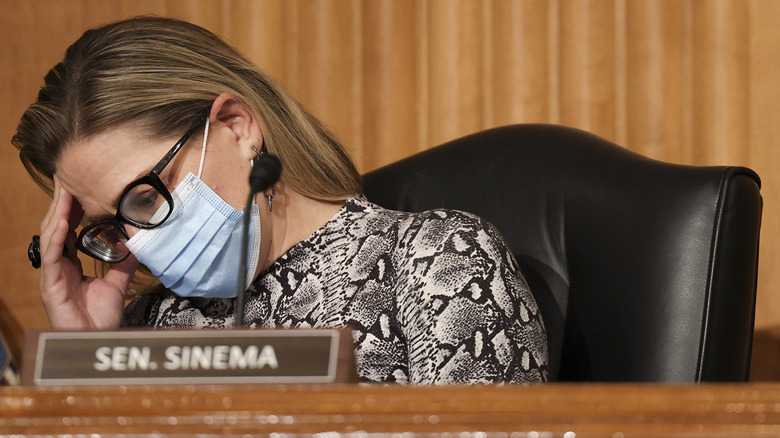 Kevin Dietsch/Getty Images
In a November interview with Politico, Democratic rabble-rouser Kyrsten Sinema railed against the media's obsession with her clothing. "It's very inappropriate. I wear what I want because I like it. It's not a news story, and it's no one's business," she argued. "It's not helpful to have [coverage] be positive or negative. It also implies that somehow women are dressing for someone else." 
Senate Democrats hold a precarious majority, and Sinema is frequently blamed for threatening it. She opined to Politico, "I've been concerned at the push that happens in both parties, this push to have no disagreements. To only have unity or to only speak with one voice. And some will say, 'Oh, that is our strength.'" Sinema added, "Having some disagreement is normal. It is real, it is human. And it's an opportunity for us as mature beings to work through it."
Sinema rarely responds to criticism, allowing her work to speak for itself. However, the senator made it clear she generally supported adding paid parental leave to the social spending bill, but she doesn't support raising taxes on corporations and other wealthy business owners. Sinema reasoned to Politico that she "will not support tax policies that have a negative impact on our economic climate." As Sinema argued, however, her fashion choices often overshadow the point she's trying to make, and her male colleagues don't seem to be held to the same standards.