The Real Reason Mahershala Ali Changed His Name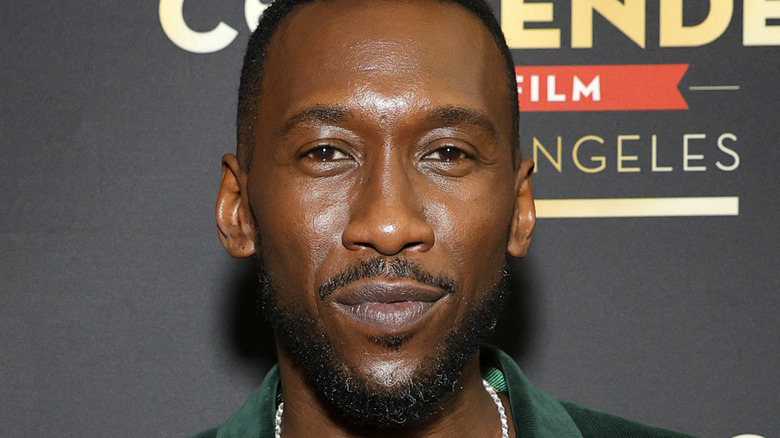 Amy Sussman/Getty Images
Before Mahershala Ali delivered an Oscar-winning performance in "Moonlight" in 2016, the California native had been working steadily as an actor for nearly two decades. His first credited role came in 2001 when he was cast as Dr. Trey Sanders on "Crossing Jordan," and he continued to act in smaller roles until he landed another recurring gig on the television show "The 4400" in 2004 (via IMDb).
Despite this consistent level of success, Ali didn't become a widely recognized name in Hollywood until 2014, when he was cast as Boggs in "The Hunger Games: Mockingjay – Part 1" and "The Hunger Games: Mockingjay – Part 2" the following year. From there, Ali delivered memorable performances in "House of Cards," "Luke Cage," and "Hidden Figures," to name a select few. 
It was his portrayal of Juan in Moonlight, considered to be one of the most perfect movies by Metacritic, that really propelled Ali into stardom. His performance earned him the Academy Award for Best Supporting Actor and paved the way for a flurry of dream-worthy opportunities (via The Hollywood Reporter).
After nabbing another Oscar for Best Supporting Actor in 2019 for his performance in "Green Book," Ali was cast in several exciting projects (via Vanity Fair). He's currently slated to star in "Sovereign" and the upcoming "Blade" reboot, per TheCinemaholic.
Ali's acting credits are piling up, but if you look at his previous projects, you'll notice that the actor initially used a different name at the beginning of his career.
So, what's the real reason Mahershala Ali changed his name? We did some digging to find out.
Mahershala Ali changed his last name after converting to Islam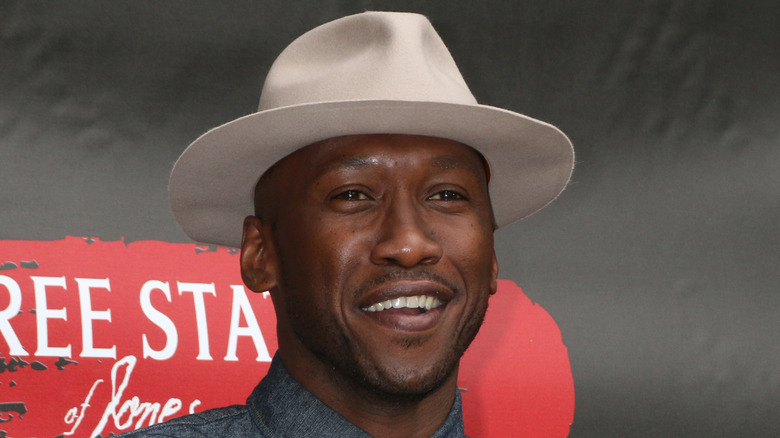 Kathy Hutchins/Shutterstock
At the beginning of his career, Mahershala Ali was acting under the name Mahershalalhashbaz Ali. According to The Things, Ali's parents chose the first name for its Biblical significance, as Maher-shalal-hash-baz is the son of the prophet Isaiah. 
As practicing Christians, Ali's parents wanted the moniker to reflect their religious beliefs. Their last name is Gilmore, so, when Ali was born, he was actually named and christened Mahershalalhashbaz Gilmore. This means he adapted both his first and last name when he began acting.
During a 2017 interview, Ali discussed in detail the reason behind his name change (via The Guardian). Ali had converted to the Ahmadiyya faction of Islam in 2000, and it was at this time that he dropped the last name Gilmore and adopted Ali instead. 
The change felt like a positive step for the actor, until the terrorist attacks on Sept. 11, 2001. Shortly thereafter, Ali revealed to The Guardian that he had been placed on a watch list for air travel because of his Islamic beliefs. Though it was difficult to face this adversity, Ali said he attempted to take it all in stride.
"If you convert to Islam after a couple of decades of being a black man in the US, the discrimination you receive as a Muslim doesn't feel like a shock," he told Radio Times (via The Guardian). "I've been pulled over, asked where my gun is, asked if I'm a pimp, had my car pulled apart. Muslims will feel like there's this new discrimination that they hadn't received before — but it's not new for us."
The actor decided to use his shorter nickname in place of his full name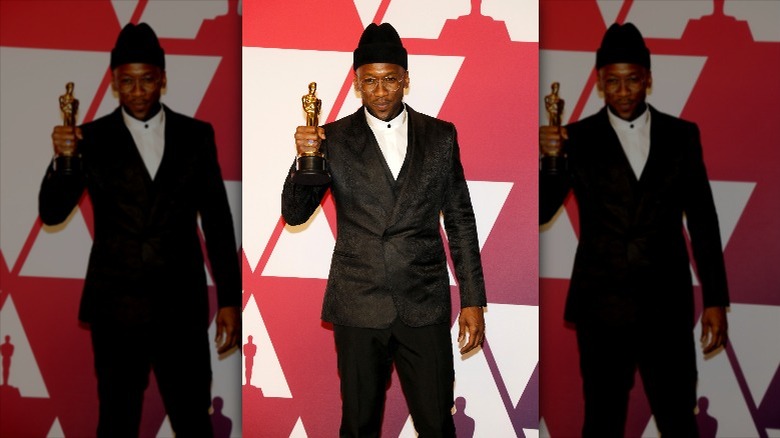 Tinseltown/Shutterstock
Despite the fact that Mahershala Ali used his first full name, Mahershalalhashbaz, for his earliest acting credits, the Oakland native decided to use a shorter version of his name around 2012. In an appearance on "Popcorn with Peter Travers" in 2017, Ali explained why he made the choice to go by Mahershala instead.
"My birth name is Mahershalalhashbaz, 18 letters from the Old Testament," Ali said to Travers (via ABC News). "When I was younger, I went by Hershal. And I kind of embraced more of my name Mahershala in high school and college and in grad school." 
He decided to stick with Mahershala for his acting career when he realized that no one referred to him as Mahershalalhashbaz anymore — not even members of his own family. As Ali said to Travers during the interview, everyone he's close with either calls him Mahershala or Hershal, so he wanted his famous moniker to reflect this preference.