Kamala Harris Finally Responds To Rumors About Her Role In The White House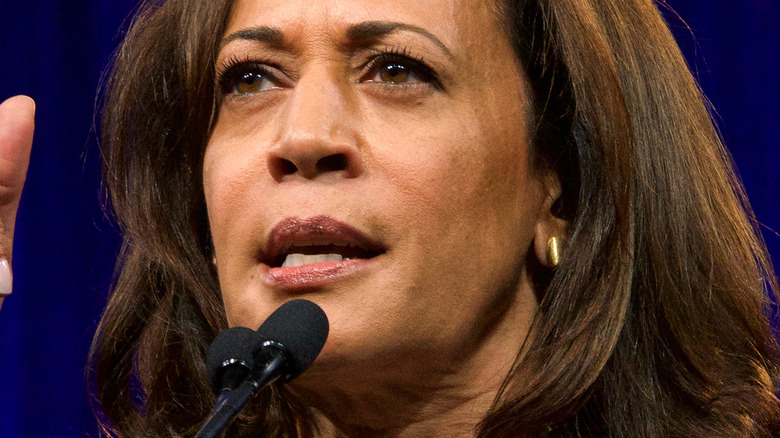 Sheila Fitzgerald/Shutterstock
When Joe Biden chose Kamala Harris as his running mate in August 2020, the moment was historic — and even more historic when they were both elected as president and vice president of the United States. Harris isn't just the first female vice president in U.S. history; she's also the first African-American, Indian-American, and Asian-American vice president. 
But in November, CNN published a report claiming that the vice president's office feels Harris has been sidelined, while the president's office feels it doesn't have time to deal with vice presidential needs as there are more pressing political and policy concerns.
The CNN report also delved into the fact that Harris is one heartbeat away from the presidency should anything happen to the 78-year-old president and that she supposedly isn't being prepared to take over the job at all, while claiming the Biden camp is looking for any signs of disloyalty from Harris. Now, Harris has a response to the much-talked-about CNN piece.
Kamala Harris addresses concerns that she and President Biden don't get along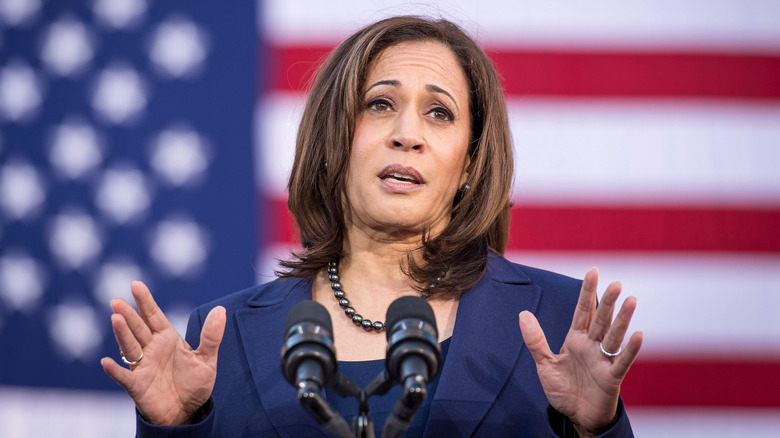 Nick_ Raille_07/Shutterstock
On November 18, Kamala Harris sat down with ABC's George Stephanopoulos on "Good Morning America" to address the rumors that things are not okay between her and President Joe Biden, along with how her role in the White House is going. She listed the signing of the bipartisan infrastructure bill on November 15 as a positive note for the current administration.
"This was a good week, and this week, when we got this Bipartisan Infrastructure Act passed and signed by the president, makes a statement about all of the hard work that has gone into it, month after month after month. I've traveled around the country, as has the president," Harris told Stephanopoulos. "We have convened members of Congress, we have convened people around our nation, asking, 'What do you want?' And this is a response to what they want ... We're getting things done, and we're doing it together."
When Stephanopoulos asked Harris if she feels "misused" or "underused," she was quick to strike those rumors down. "No, I don't. I'm very, very excited about the work that we have accomplished," Harris said. "But I am also absolutely, absolutely clear-eyed that there is a lot more to do, and we're gonna get it done."
Indeed, Harris was by President Biden's side on November 15 during an outdoor signing ceremony for the infrastructure bill, along with members of Congress from both parties, per the Associated Press.