The Real Reason Rita Ora Changed Her Name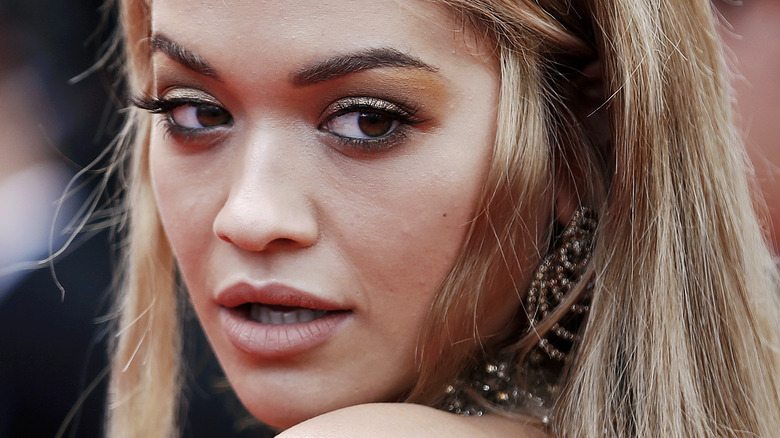 Andrea Raffin/Shutterstock
Rita Ora has made a name for herself as a breathtaking entertainer and vocalist with such hits as "R.I.P" and "How We Do (Party)," while also being an impressive judge on "The Voice" and presenter on "The X Factor." Looking at the star power she seems to hold these days, the real story of her early days may sound a little far-fetched to anyone who is unaware that Ora's parents fled war-torn Kosovo for the UK in 1991, when the singer was only one. "When the conflict started in what is now former Yugoslavia, my parents made the difficult decision to leave ... more than one million people were forced to flee, including my parents, with me and my siblings in tow," the singer told Vogue in 2020. "It was always tough growing up; there was a lot of prejudice and judgement. I was often called a refugee in a derogatory way," she added.
All that seems to have now been firmly placed in the 31-year-old's past as she has grown from those struggles to become a singer beloved by fans all over the world; fans who have undoubtedly come to associate her powerful voice and her music with the name Rita Ora. However, this particular grass-to-grace story could have had the name of a different protagonist. The singer was not always known by the name she has now become famous for.
What was Rita Ora's former name and why did she change it?
Andrea Raffin/Shutterstock
When Rita Ora was born in 1990 in Pristina, a region in present-day Kosovo, her parents had originally named her Rita Sahatçiu after her grandpa's favorite actress, Rita Hayworth, per The Sun. But as it turns out, Sahatçiu was not a name that could be so easily pronounced, considering the family had left their home for London in the early nineties. To make things a little easy for everyone, her dad added Ora to the family name. Ora is Albanian for time and is synonymous with the family's former name Sahatçiu, which loosely translates to watchmaker, according to WhatCulture.
It is hard to imagine that Ora would have a problem with being called any of her two surnames, but the musician definitely takes an exception to being called names by online trolls. "I've literally been called everything under the sun. I feel like it happens every day online. Towards me, towards loads of people," she told The Mirror. "They write stuff all the time like, 'you look horrible,' 'you look whatever,' 'why are you wearing that?' Stuff people couldn't say to you in real life," she added. To not let the trolls get to her, Ora takes time away from her phone to just relax.