Joe Biden's Response To The Kyle Rittenhouse Verdict Has Twitter Divided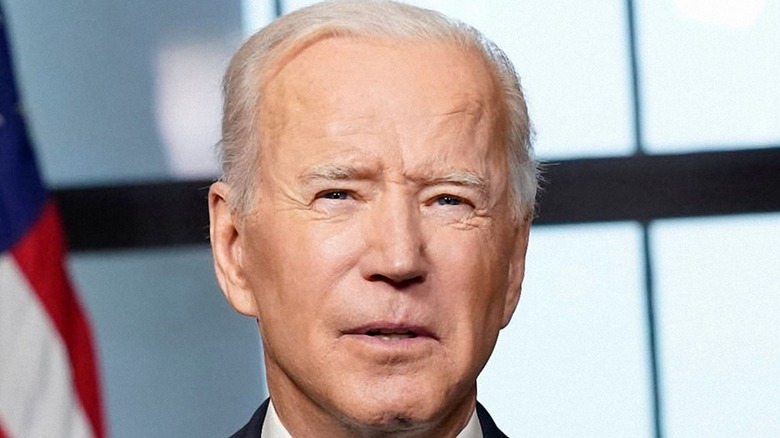 RedhoodStudios/Shutterstock
On August 25, 2020, Kyle Rittenhouse shot and killed two protesters, injuring a third, during a demonstration on police brutality and racial discrimination in Kenosha, Wisconsin, as reported by CNBC. The Kenosha protest was in response to the shooting of Jacob Blake, a Black man, by a white police officer. On November 19th, 2021, after over 25 hours of deliberation, Rittenhouse was found not guilty and acquitted of all charges, including intentional homicide and reckless homicide, according to CNN.
Responses to the verdict were immediate. In one tweet, Congresswoman Alexandria Ocasio-Cortez called out systemic racism and expressed sympathy for the families impacted by the shootings, writing, "What we are witnessing is a system functioning as designed and protecting those it was designed for. My heart still breaks for the communities and families whose grief now compounds, and the countless others who will be denied and deprived in similar scenes across the country." Activist Colin Kaepernick labeled Rittenhouse a white supremacist outright, writing, "We just witnessed a system built on white supremacy validate the terroristic acts of a white supremacist. This only further validates the need to abolish our current system. White supremacy cannot be reformed."
Though many turned to Twitter to voice their thoughts on the verdict, including those in support, President Joe Biden's response had a lot of people talking.
Twitter reacts to Biden's statement on the verdict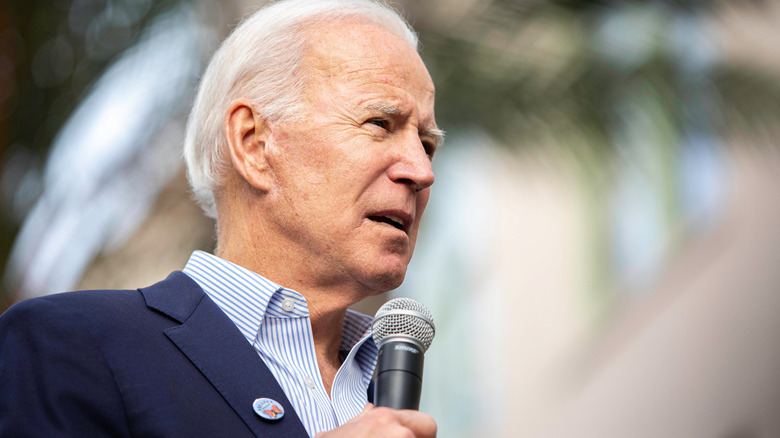 YASAMIN JAFARI TEHRANI/Shutterstock
After the Kyle Rittenhouse verdict was announced, President Joe Biden released a statement clarifying his position. In his statement, Biden acknowledged his anger over the acquittal and the inevitable divide it would cause, while also reaffirming his trust and belief in the American justice system (via The Guardian). "While the verdict in Kenosha will leave many Americans feeling angry and concerned, myself included, we must acknowledge that the jury has spoken. I ran on a promise to bring Americans together, because I believe that what unites us is far greater than what divides us. I know that we're not going to heal our country's wounds overnight, but I remain steadfast in my commitment to do everything in my power to ensure that every American is treated equally, with fairness and dignity, under the law," his statement read in part.
In the second half of his statement, Biden revealed that the White House and Wisconsin Governor Tony Evers were prepared to respond in the event of public upset. Twitter reactions were divided, with some viscerally disagreeing with his acceptance of the verdict and others co-signing their trust in the system. One person tweeted their disapproval of Biden's response, writing, "I disagree. If anything this only further proves the system is corrupt and broken," while another countered in a tweet that the decision was fair, writing, "It was the only right outcome based on the facts."
Why President Joe Biden's response is so controversial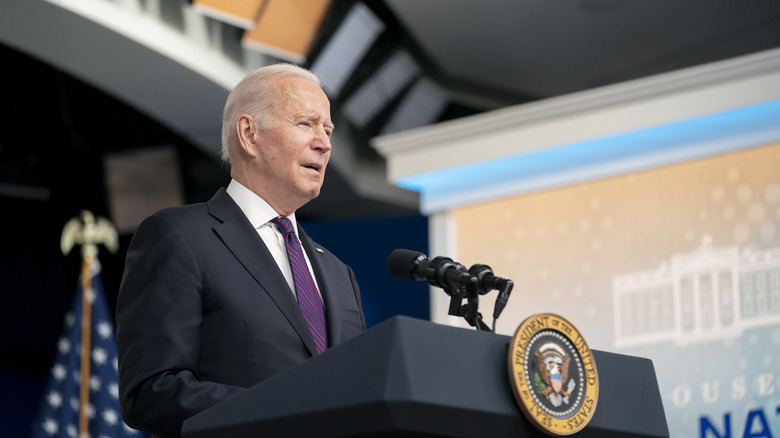 Bloomberg/Getty Images
There's another layer to the controversy surrounding Joe Biden's stance on the verdict. The Guardian pointed out that during his 2020 presidential campaign, Biden released a video montage on Twitter criticizing then-president Donald Trump for failing to condemn white supremacist groups. Included in the video was an image of Kyle Rittenhouse holding a semiautomatic rifle. Biden's accompanying tweet read, "There's no other way to put it: the President of the United States refused to disavow white supremacists on the debate stage last night."
After Biden released his statement, one user tweeted a screenshot of the president's September 30, 2020 post, writing, "Wait I thought he was a white supremacist?" Rittenhouse's lawyer Mark Richards also shared his thoughts on Biden's statement. "President Biden said some things, I think are so incorrect and untrue — he is not a white supremacist. I'm glad that he at least respects the jury verdict," he shared (via New York Post).