How To Pull Off Princess Diana's Timeless Eye Makeup Look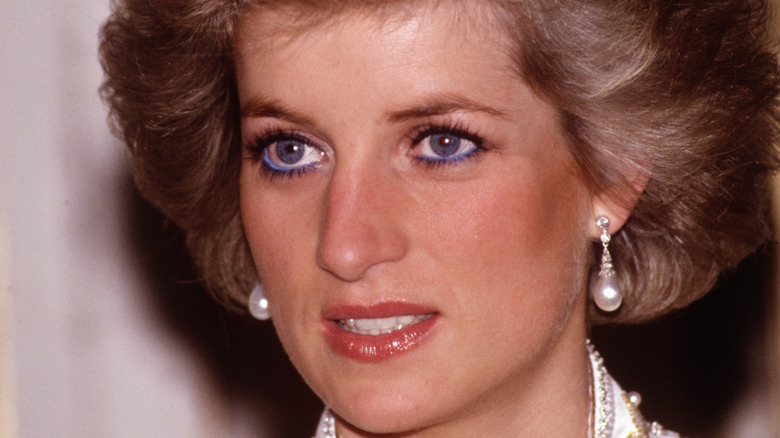 David Levenson/Getty Images
Princess Diana's legacy lives on to this day for countless reasons. Her true-to-herself energy, philanthropic efforts, down-to-earth vibe are just a few of the reasons why people love the late Princess of Wales. While there's no shortage of things to love about Lady Di, a popular one is her style. She truly never missed, always delivering iconic looks that people still strive to replicate to this very day. After all, we owe every biking shorts and oversized sweatshirt moment to her, though it still seems impossible to execute it with quite the same effortless flair as she once did (via Town & Country).
From glamorous events to her day-to-day life, Princess Diana always sparkled and caught every eye. A natural beauty, the Princess always perfectly mastered that subtle but elegantly beautiful makeup look at every event she attended. She's served countless understated but still glamorous looks that are goals to this day (via Tatler). Here's how you can achieve Lady Di's unforgettable touch-of-blue eye makeup look yourself.
Diana's former makeup artist Mary Greenwell shares the deets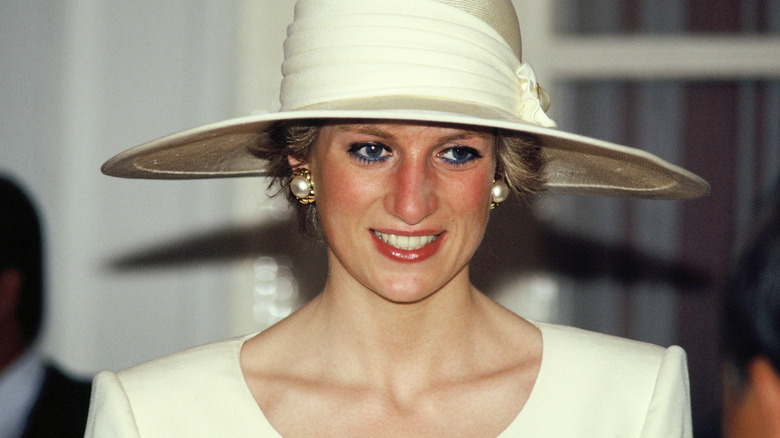 Georges De Keerle/Getty Images
Known for her dazzling blue eyes and youthful fresh skin, Princess Diana's natural beauty did a lot of the work when it came to her makeup looks. Her approach was always to emphasize and draw attention to, rather than fake it or add on. This is why fans often spotted the Princess with a pop of blue eyeshadow or liner to help bring out the blue in her eyes, while keeping the rest of the face minimal which was certainly unusual for the '80s to the '90s (via Huffington Post). The late Princess's former makeup artist and good friend Mary Greenwell joined Vogue to dish about all things beauty and Lady Di. "I loved enhancing her beauty, making her look glamorous for the red carpet and then making her look and feel relaxed in her own skin the rest of the time. She wore make-up extremely well," Greenwell shared.
A simple blue eyeliner is all you need to achieve this pop-of-blue moment. Just by adding a stroke of blue liner to your lower waterline, you can transform the simplest of looks to a pop that is sure to emphasize any eye color. You can complete the look with Princess Diana's personal favorite mascara that is still sold today. Greenwell shared that she swore by Lancôme's Hypnôse L'Absolu Noir Volumizing Mascara which is a newer version of the same mascara used on Diana to achieve the perfect fluffy blacker-than-black lashes (via Bustle).